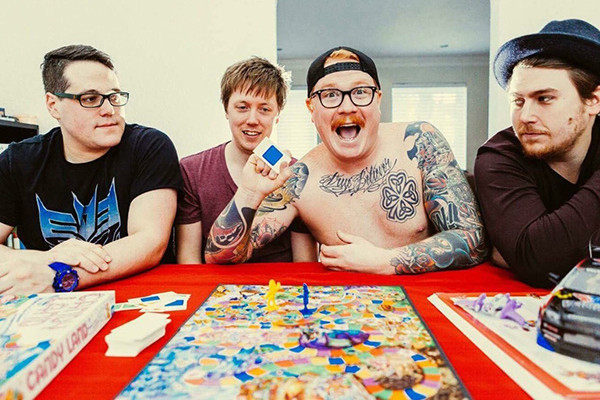 Punknews is excited to premiere a new video by Montreal's These Fast Times. The song, "Lights Too Loud," comes off of the band's forthcoming debut LP On The Other Side of Fear, which is due out July 20th.
The track alternates lighthearted 80s pop with a raw and visceral punk energy (and a tip of the hat the every's favorite Emilio Estevez flick). Lead vocalist Jeffery Vuorela has this to say about the separate natures of the song and the video itself:
It's a cluster of stolen ideas and nonsense. We were running out of time to get the video out before our album launch and we we're out of funds. I figured we had no choice but to go DIY which I don't mind because content creation is what I do for a living.

Lately I've been obsessed with the retro look and after I watched a talking heads video I thought man that would be fun. What if we just green screened our jam room, got dressed up and just made a bunch of nonsense. Even if no one likes it at least we had a bunch of beers and had a good time together. What we should have done (I was thinking as we put up 50 rectangles of green bristol boards all over the wall) was just paint the wall green. It would have been much quicker and easier than taping stuff to the wall but it's all about the experience ya know?

As for the music behind it. It has very little correlation to the actual song other than the literal sense of having the white lights blasted. The video wasn't meant to have depth like the song does, it was more meant to give insight to the viewers as to what kind of people we are as a band. Just a bunch of goofs that love each other immensely.

Lights Too Loud is about holding on to something that you're not quite sure is worth holding onto but you do it anyway. It's about having doubt in your partner and how it feels like prison or a life lived in limbo.
The album is available for pre-order on CD Digipack directly via the band's website, with CD Digipack and digital download pre-orders available from the Thousand Islands Records Bandcamp page.
These Fast Times will also be playing a few gigs in the near future, including a location TBA-release show on July 20th. You can check out those gigs, and the new video, below.
| Date | Venue | City |
| --- | --- | --- |
| Jul 20 | (Album Launch) venue TBA | Montreal, QC |
| Jul 21 | Thousand Islands Fest 2 | St-Eustache, QC |
| Sep 13-15 | Music 4 Cancer Festival | Ste-Thérèse, QC |