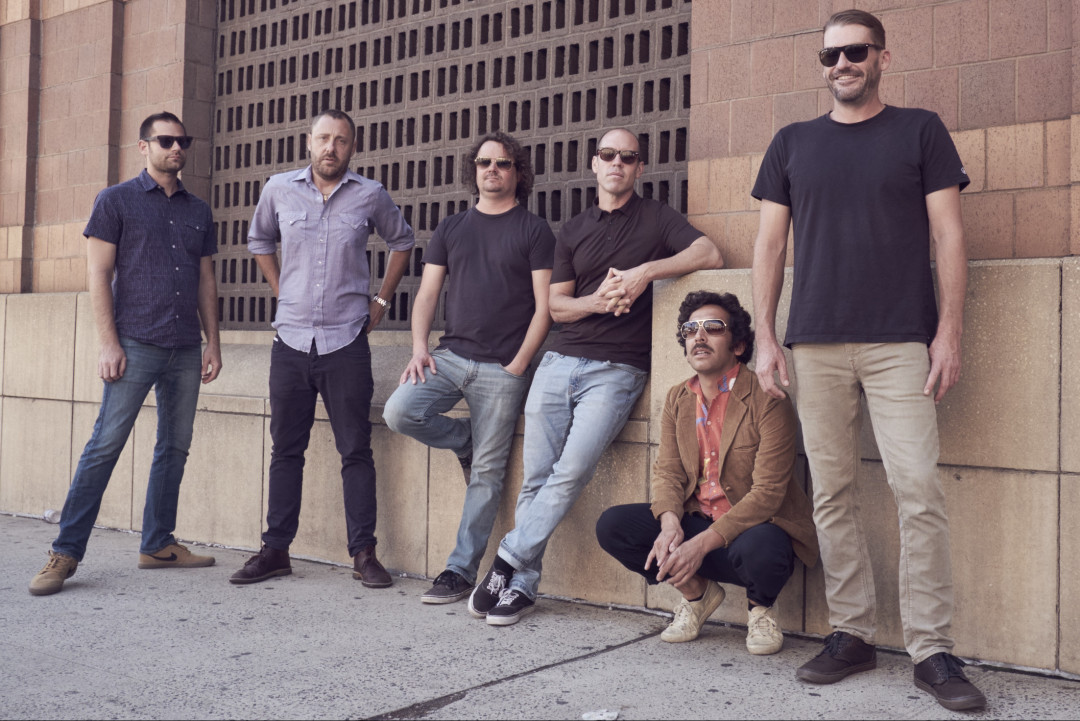 The Mad Caddies released their new album Punk Rocksteady earlier this year. The record finds the band converting punk tunes into ska and rocksteady type jams. To get some insight into the album, Punknews' Dan Donald spoke to guitarist Sascha Lazor about the new record. Check that out below.
I understand the band has been touring heavily all year, and that you are currently gigging in Europe right now. How have the shows been going? What have the highlights been so far? Tour has been very enjoyable. The weather has been great and the shows have been very fun. Lots of highlights on this tour. Hanging out with all the bands and crew on punk and drublic is def one.
You guys just released a new record Punk Rocksteady on Fat Wreck this month (Congrats guys, that rules). For those who don't know, the record is comprised of punk rock covers; did you guys have difficulty agreeing on the track list? Did it come together over a long period of time? Or was this a relatively new idea? Mike had the idea for a while but we just we not able to find the time. Finally last summer he mentioned it again and the timing was perfect. The process started with Mike and us corresponding through email. Sending different songs back and forth. We would try it out acoustic and if it worked we would write it down. It was very clear which songs would work so there wasnt much debate about which songs to do.
What was the most difficult track to re-work? Is there particular reason why that track was so difficult? Or on the other hand, did any of the songs come together easier and more organically than originally thought? Probably Bad Religion's Sorrow. The song has lot of chord changes which can make it difficult for writing basslines which is important in reggae.and the timing was quite tricky to get right. Besides that the songs were pretty easy. It doesn't take long to know of a song will make a good reggae/Ska tune.
How was working with Fat Mike throughout the recording process? Great. We've worked with him many times in the studio so were all used to his unique and interesting personality.
What has the band been listening to lately? Are there any new bands that we should be checking out (especially ones that may be new to us)? Recently I've been listening to gentleman's dub club, piñata protest, valee, jazz Cartier, koffee, and tons more. Not much punk on that list but that's ok.
What are things looking like for the Mad Caddies in the next few years? Any further recording plans on the horizon? We have one EP's worth of material ready to go and much more in the works. There will be lots of music coming out within the next year.
Are there any song ideas that didn't quite make the cut for Punk Rocksteady? Are there songs of other genres you guys would love to re-work and cover? Yes, we did a reggae/balkan/klezmer version of "blood stains" by agent orange. it was very interesting but didn't make the cut for this. IT will be released at some point. I would love to do a reggae cover record of country music. I Think that would work well.
Since you guys are on tour – do you guys have any favorite tour foods? Specifically, European tour food favorites? Absolutely, our rider consists of all the normal things like deli tray, veggies etc.. in addition we also get hard boiled eggs. That is kind of essential for a lot of us. It's definitely a vital tour food.
Outside of our rider we try to eat as local as possible when it makes sense. There are tons of euro favorites. Whatever is good in any given country we eat. My new favorite thing is cevapcici. Balkan madness. It is a truly perfect creation.
Thank you guys so much for taking the time to answer these questions! The new record is great, all the best on tour and with any future recording endeavours! If there is anything else you would like to add or throw in some shout outs go right ahead! Thank you very much have a good time all the time.