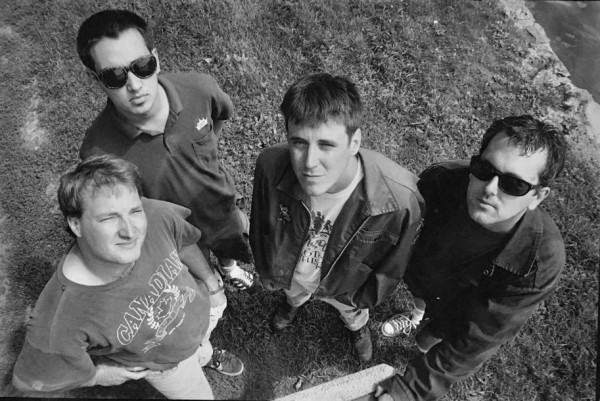 Long dormant since their heyday in the 90s, garage-rock act The Stand GT have returned. The band, who originally hailed from the farming community of Glengarry, Ontario, has only played a handful of shows since going quiet in 2001. Their next will see them take the Black Forest stage at Beau's Oktoberfest on Saturday, September 22. I had the pleasure of chatting with frontman Chris Page on what it's been like getting the band back together after all these years.
Photo by Shawn Scallen
The three shows you've played over the past year are the first The Stand GT gigs since the early 2000s. How easy was it to pick and start playing these old songs again?
It was incredibly easy. I was surprised how easy, actually. We played so much together as kids, and when we were young, this band was our entire lives. I guess because of that, everything came back so quickly, like riding a bike.
Given how much music you've made since, through Camp Radio and Expanda Fuzz and other projects, what's your relationship with The Stand GT's catalogue now? Every once in a while I stumble across something I wrote that many years ago and, I always cringe before looking at it. I'm worried it's worse than I remember it.
It's an interesting relationship for sure. I really enjoy going back to play Doug's songs. I'm not so much into mine, but at the same time, I don't dislike them or feel they're cringe-worthy, thankfully. There are a few very early songs that are not great in my opinion, but I was young and trying to figure out how to write songs. By the time our LPs came around, we were writing pretty good ones. I think we had lots of time to fall flat with our songwriting before we had the opportunity to do a record. I'm proud of the catalogue and what we accomplished overall. We were a band from the sticks, pre-internet, without a home city to call our scene, and we put out records on labels in the States, Germany, Spain and Australia.
Do you have any sense that The Stand GT's been re-evaluated by modern listeners? I was listening to Apocalypse Cow and it really struck me at how well it's aged, you don't hear as much earnest guitar rock these days that doesn't have some subgenre spin on it.
I don't have the sense it's been re-evaluated. I recently started getting the stuff on Spotify, so maybe the music will be re-evaluated and discovered by younger listeners, not sure. I agree, I think Apocalypse Cow has aged really well. Working with Rod Shearer was good for us. He was our mentor and taught us so much. I think that record really puts that relationship on display. Good On The River is a smoking record too, but that one didn't get much attention. It came out when we were winding down and touring less. As for having a subgenre spin, I recently listened to a Sicko (pop punk band from Seattle) interview on KEXP and Ean talked about how in the early 90s there really weren't many power pop guitar bands around. It wasn't a big thing in the pre-Green Day days. So bands like us, The Fastbacks, BUM, Punchbuggy, and Sicko all gravitated toward each other even though in some cases we were on different coasts.
Speaking of Apocalypse Cow, there's a cool connection between one of the songs from that record and the Oktoberfest lineup…
"Keep Your Engine Clean" from Apocalypse Cow is a cover by The Trapt, and they're playing at Beaus this year as well. We're psyched because they were our first tour pals back in 1990. We did a small tour with them, The Ripcordz and Random Killing. The Trapt played a few shows with us and we had a "bootleg" soundboard cassette of one of their shows that we played in the van for years. "Engine" was an unreleased song that we learned from that tape. Anyway, its fun that we're coming full circle to play with them again on the Saturday at Oktoberfest. I've seen them recently, and they're still really great live… and they play "Keep Your Engine Clean" in their set too! (It's also funny that I recently found a poster of us playing with Thrush Hermit during one of their first shows in Halifax… and Joel is playing this year's Beaus too.)
You've been playing the festival circuit this year with your duo Expanda Fuzz, playing Ottawa Explosion and Sled Island. What's next from that project?
Expanda Fuzz is a project that has really taken on a life I wasn't expecting. We started it on the idea we'd write songs for fun, that were noisy and slow, but still having a pop element to them. People have really gravitated toward it. Each of our releases so far has sold out. We're releasing our first full-length LP in October and have shows planned here in Ottawa and southern Ontario this fall. It's a 100% DIY thing, from the artwork to the videos to the recording, which is incredibly satisfying as well.
You recently released Decide to Stay and Swim Again, a slate of solo recordings revisiting some past material, what motivated this?
A song from Decide To Stay And Swim came on shuffle at some point this winter and piqued my interest so I sat and listened through the album. I'd forgotten most of the songs and how they sounded. It was a folk-punk record I put out in 2003 and I realized it was the 15th anniversary. I came up with the idea of revisiting the songs. I thought it could be an interesting way of drawing attention to them again, because I think are quite good and somewhat lost in space. So the idea is to release the new acoustic versions one at a time, over the course of the year. Hopefully they'll find a new audience.
Grant Lawrence recently retold the tale of how The Smugglers once filled the Stand's van with a whole bail of hay at the end of a tour. Did you ever get them back for that?
Not really. We kind of had the last laugh though because they spent a bunch of money on that bale of hay, when at that time a bale of hay was worth a dollar. They had no idea what to pay for it. And when you're a touring indie band, every dollar is critical! What's even more unbelievable is that I have that entire thing on video! I recently digitized it and it's a 16 minute short film sitting on YouTube that I haven't made public yet. Colin from The Stand had a video camera on that tour, which was totally unheard of in those days. So we have hours and hours of footage from that trip with the Smugglers, that includes live footage of bands like Huevos Rancheros, Field Day and even has us recording at Egg in Seattle with Kurt Bloch. I've started putting some of it online and I'll eventually get that hay episode up there too.
The Stand GT play Beau's Oktoberfest on Saturday, September 22 alongside The Trapt, Audio Visceral, Barrasso, Laureate, and more. Black Forest will raise funds this year to support For Pivots Sake, a nonprofit organization founded by the Ottawa skateboarding community to engage and mentor youth in the Ottawa-area.
This story is part of a reporting partnership between Punknews.org and Some Party, a weekly newsletter covering independent Canadian rock music. Subscribe at someparty.ca.