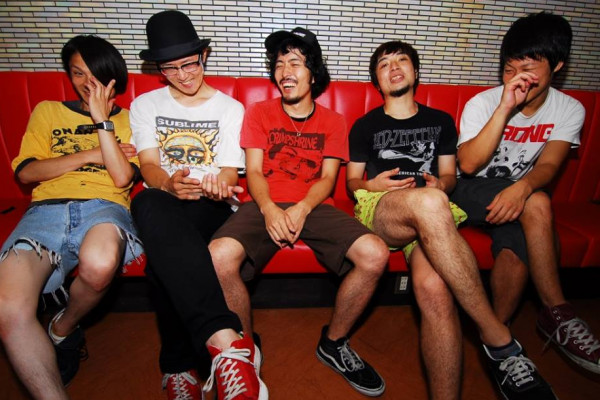 There's something beautiful about ending up at a show on accident. A quick post, a flyer on the street, word from a friend, realizing hey that's not too far from me maybe I should go. And that's more or less how I came to know The Sensations, a Tokyo ska band who deliver an amazing set of doo-wop, pop, and soul influenced ska that truly lives up to the name. After stumbling upon them in a basement in Shinjuku, and witnessing the raw, frantic, barely contained energy that they bring to the stage, they quickly became one of my favorite acts. And now they're coming to the US, to hopefully impress you just as they did me.
Jake Cooley spoke to their frontman Hiroki about the band, the scene in Tokyo, and their upcoming shows with Mustard Plug, including playing The Fest.
First, tell us a little about yourself! How did The Sensations come about, and how did you get involved? Hello, my name is Hiroki Osawa, I'm a singer of THE SENSATIONS. I'm also playing the bass in pop punk band GIRLFRIEND. Besides that, I'm managing a punk record label called I HATE SMOKE RECORDS in Japan.
THE SENSATIONS was formed in 2008. It was shortly after my previous band UNITED SKATES broke up. Most members were from UNITED SKATES and we started playing with 5 members. After some member changes, we settled down to current lineup with 4 members including me. Everyone is also playing in other bands like TROPICAL GORILLA, LACK OF SENSE, YONA YONA WEEKENDERS and more.
You've been a band for a pretty long time now, how do you think your sound has changed over time? Going back to days in university. I was madly digging records and going to see punk and hardcore shows everyday, and started two bands - UNITED SKATES and SEVENTEEN AGAiN. I guess it was around 2004.
At that time, I was into music like 2 TONE SKA, 3rd Wave Ska, 80's Hardcore, 90's Fast Core and Power Violence, so I tried to play sounds that mix them up in UNITED SKATES. As for Ska, OPERATION IVY, FALLING SICKNESS, ASSORTED JELLY BEANS, AGAINST ALL AUTHORITY, CHOKING VICTIM, FRUITY. Hardcore bands like 7 SECONDS, GANG GREEN, STIKKY, CHARLES BRONSON, SPAZZ etc etc… Too many to mention here.
When UNITED SKATES broke up in 2007, I was crazy about R&B, SOUL and POPS from 50-60's. Then I formed THE SENSATIONS with the theme like "Mixing them up and outputting the sound in punk rock passion".
SEVENTEEN AGAiN shifted to sounds like Pop and Melodic Punk around 2008. I was playing the bass, but left the band in 2016.
You also run a label, I Hate Smoke. How did that come about? What made you decide to start putting out records, and how do you choose bands to put out? It also started when I was in University. I've met so many cool bands from our generation while I was playing in UNITED SKATES, but there were no record label to release them. I'd say that Japanese indies scene was not quite active in that era. Then I made my mind to start record label, but as you can easily imagine, I didn't know anything about record release at the beginning. No idea how to create the printing stuff, much less how to press CDs. I managed to sign with the distribution company with support from my friends, and finally released the very first compilation album from I Hate Smoke Records (IHSR). However, it costed much more than I expected and I got broke. Sold so many records and books, and only ate pasta to survive for 2 months, haha. Please check discogs page if you want to know IHSR discography.
How do you choose which bands to put out on IHSR? Basically I'm just working with bands I like, but I have confidence that I've been choosing the bands that won't get carried away by the trend, and have strong unique style at the same time. The smoke easily gets carried away by the wind, right? The label name means that FUCK YOU to guys always chasing the trend and change their minds easily. So I'd say the lineup of IHSR is very unique. Last but not least, it's also important whether we can hang out and enjoy drinking together.
Do you think the DIY approach to putting out records has helped to define your sound in any way? I don't think that DIY approach of IHSR makes my sounds change, but I believe that DIY makes our relationship much stronger and tighter for sure. One of the greatest things of being DIY is that we can communicate our thoughts to listeners as close as possible. Also I can do whatever I want - this is a great thing of DIY as well.
You seem to pull influences from a lot of bands outside of normal punk and ska circles. Was this a conscious decision for this band, to diversify your sound? There's lots of soul, funk, and 60's pop influences in there, what kind of influences have helped you to achieve that kind of sound?
Around the time we started start THE SENSATIONS, I and our guitarist RED were deeply into Oldies music. MOTOWN, New Orleans artists like Huey "Piano" Smith, Allen Toussaint, British Pops like THE FOUNDATIONS and Tony Macaulay, old R&R/R&B like CHUBBY CHECKER, Buddy Holly, THE COASTERS, CATS & FIDDLE etc etc. As I answered to previous question, These music are one of the important element defining our sounds. As we had been listening to Punk/Hardcore music, we naturally came up with the idea to mix punk/hardcore with these new music to us. Music style is different, but bands like BIG BOYS or Minutemen are our goal.
I've been lucky enough to see you live, and the energy and intensity of the show is totally amazing. What do you think makes a live Sensations show such an event? Thanks! So glad to hear that.
I'm always using all passions and energy at every single show. Bands I like are doing the same way, and it may make me so. Also, I always want everyone at the venue enjoy our show. Live performance and records are totally different to me. I want to give audience the joy and excitement like "What are they going to do next!?".
Do you have any upcoming releases planned? We're going to release a new LP from Paper + Plastick Records for Florida tour in October. 10 songs total, and it compiles cassette tape "A Change Is Gonna Come (2015)" and CD EP "Dig Your Own Grave (2017)". Also IHSR has upcoming plans to release several bands, so please check label's facebook page for new release information.
What have you been listening to lately? I'm listening to Sheer Mag and Accidente from Spain lately. Both are now touring in Japan. Also I'm re-checking my old records especially 90's Pop punk, Melodic and Ska punk. I and Red have been sharing new good music from every genre as always.
How did these shows with Mustard Plug come about? It's like a dream. When I was a university student, I listened to the compilation album "Skankin' The Pit" and their song blew me out. It made me rush into the record store to buy "Evildoers Beware!" LP then I was getting deep into Ska punk music. They are definitely one of bands I love.
The Fest was confirmed first, and we wanted to play some more shows. I talked to our tour manager and he let me know that Mustard Plug is going to tour in Florida before the Fest. He's a friend of Dave from Mustard Plug, so took contact to him and added us to their tour. Nobody knows THE SENSATIONS in US, but they accepted our request.
I want to express huge gratitude to Mustard Plug and their tour promoter. So stoked to tour with them!
You can catch the sensations on tour with Mustard Plug, as well as at The Fest
10/25/18 - Will's Pub - Orlando, FL - with Mustard Plug
10/26/18 - Propaganda - Lake Worth, FL - with Mustard Plug
10/27/18 2:10pm - CMC Courtyard - Gainesville, FL - The Fest, Paper + Plastick Showcase