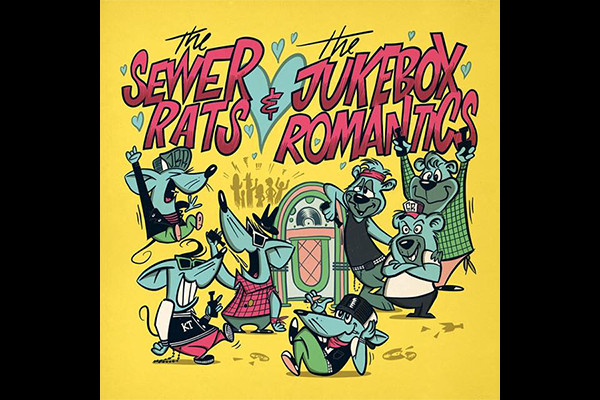 Fresh off of their joint EU tour, New York's The Jukebox Romantics and Germany's The Sewer Rats are taking a brief respite before gearing up for another joint tour, with The Jukebox Romantics this time playing host to their visitors for a series of gigs down the east coast USA. The tour will see them swing down from New York to this year's The Fest festivities (see specific listings for which band is playing when around The Fest), before swinging around and heading back up.
The bands are touring in support of their new split 7" which has just been released on Mad Drunken Monkey in Europe, and Creep Records in the USA.
You can check out the tour dates below.
| Date | Venue | City |
| --- | --- | --- |
| Oct 18 | Coney Island Baby / tour kick off party | New York, NY |
| Oct 19 | The Tusk | Philadelphia, PA |
| Oct 20 | The Sidebar Tavern | Baltimore, MD |
| Oct 21 | Norfolk Taphouse | Norfolk, VA |
| Oct 22 | The Calico Room | Wilmington, NC |
| Oct 23 | Sulfur Studios | Savannah, GA |
| Oct 24 | 1904 Music Hall | Jacksonville, FL |
| Oct 25 | Pre-Fest @ Durty Nelly's (The Jukebox Romantics) | Gainesville, FL |
| Oct 25 | Pre-Fest @ Loosey's (The Sewer Rats) | Gainesville, FL |
| Oct 27 | The Fest (The Jukebox Romantics | Gainesville, FL |
| Oct 28 | The Fest (The Sewer Rats) | Gainesville, FL |
| Oct 29 | Back Porch | Pensacola, FL |
| Oct 30 | SoHo | Columbus, GA |
| Oct 31 | Halloween Party | Murfreesboro, TN |
| Nov 01 | Cabin Party | Deep Gap, NC |
| Nov 02 | The Front Row | Roanoke, VA |
| Nov 03 | TBA | MD |
| Nov 04 | TBA | NJ |