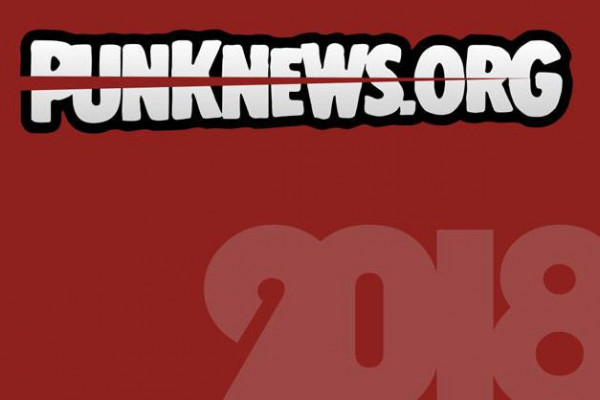 Well, we still have our site wide "Best of 2018" list to post (as determined by MATH), but until then, check out some of the favorite records of 2018 of some of your favorite bands, including Tsunami Bomb, Success, Bad Cop/Bad Cop, Death Hymn Number nine, Teenage Bottlerocket, Western Addiction, and many more! See the lists below!
Dom Davi and Andy Pohl of Tsunami Bomb
Dominic Davi – Tsunami Bomb Top 10 of 2018 in no particular order
1. Death Valley Girls – Darkness Rains LP
2. Alkaline Trio – Is This Thing Cursed LP
3. The Darts – Subsonic Dream/Bullet 7"
4. Thee Lakesiders – Si Me Faltaras Tu/Parachute 7"
5. Lone Wolf – Lone Wolf LP
6. L.A. Witch - Octubre LP
7. Amyl and The Sniffers – Some Mutts (Can't Be Muzzled)/Cup Of Destiny EP
8. Nobody's Baby – Demos EP
9. Jabber – Forever EP
10. Audio Karate – Audio Karate 7"
Andy Pohl –Top Albums of 2018 in no particular order
- Shame - Songs of Praise
- Mitski - Be The Cowboy
- IDLES - Joy As An Act Of Resistence
- Anderson Paak - Oxnard
- Cursive - Vitriola
- Hot Snakes - Jericho Sirens
- Laura Jane Grace & The Devouring Mothers - Bought To Rot
- Kamasi Washington - Heaven and Earth
- Failure - In The Future Your Body Will Be The Furthest Thing From Your Mind
- Snail Mail - Lush
Honorable Mentions:
- Unknown Mortal Orchestra - Sex & Food
- Alkaline Trio - Is This Thing Cursed?
- MXPX - MXPX
- Culture Abuse - Bay Dream
- St. Vincent - MassEduction
- Pllush - Stranger To The Pain
- La Luz - Floating Features
- Preoccupations - New Material
- Soft White Sixties - Alto, California
- Rainbow Grave - Sex Threat/You Are Nowhere 7" (God Unknown)
- Kinski - Accustomed to Your Face LP (Kill Rock Stars)
- Sleep - The Sciences LP (Third Man)
- Blue Cheer - the '67 Demos (Sundazed)
- High on Fire - Electric Messiah LP (Entertainment One Records)
- Dungen and Woods - Myths 003 LP (Mexican Summer)
- Nopes - Stapler LP (Magnetic Eye Records)
- Earthless - From the West LP (Silver Current Records)
- Grateful Dead - Pacific Northwest '73-'74: Believe It If You Need It 6x LP (Grateful Dead/Rhino)
- Mountain Movers - Pink Skies (Trouble in Mind)
In no particular order.
Noi!se - Mass Apathy (single)
These guys are good buds, and a great band. It's no surprise they keep getting better and better. Noi!se Will always be one of my favorites. And because this ripped so hard, I can't wait for next full length.
Swingin Utters- Peace & Love
I really feel like these others guys have locked in a really special line up leading up to this record. Lots of great players, and lots of great people in the same band. We all knew this album was going to be good. It's been on constant rotation for me.
Arch Rivals - A Constant State Of War
I was a really big fan of this band's last album "one more round". Although this one is a lot tougher sounding, it's still a really great album. The energy pushes from start to finish on this. I'm sure the crowds and lines to the songs on the upcoming tours are going to be fucking crazy.
Street Dogs - Stand For Something or Die For Nothing
I've been such a fan of the Street Dogs for so long, that I'm probably going to love anything they put out. This album was no exception, great energy, great sing-alongs, great record.
The Interrupters - Fight The Good Fight
This album crept up on me. So many of my friends told me I would love this band for so long, I definitely put it off for a while. But I finally gave this album a listen and I'm hooked. I'll check out every record these guys and gal put out from here on.
No Fun At All - Grit
I'm partial on this one, because I considered the guys in this band to be my family and some of my best friends. These guys of been in the game for so long, that it's no surprise this record was really, really good. It's got heart, it's got energy, it's got grit. It's totally worth it.
The Rumjacks - Saints Preserve Us
These guys are a new band to me, that I just found this year. But I ended up digging back through their back catalog because I enjoyed this album so much. I'm a huge Celtic punk fan. And I love that there are still bands doing it right.
Perkele- One Day (single)
My new band The Drowns are playing Punk Rock Bowling with these guys this year, and I couldn't be more stoked. These dudes play super solid street punk/oi and a very striped down and melodic way. Each one of their records is super addicting. I can't wait for the next full length.
Mercy Music - Until The End Of Your World
There is no way I couldn't put these guys on this list. It's a great record, from some of the most talented guys I've ever met. Mercy Music constantly throws good records out that don't get as much appreciation as they deserve. Good work fellas, this is another banger.
Night Birds - Roll Credits
This album is a ripper. And, it's a great follow-up to "Mutiny At Muscle Beach", which I love so much. These guys can do no wrong in my eyes.
Alkaline Trio - Is This Thing Cursed?
Joyce Manor - Million Dollars To Kill Me
The Longshot - Love is for Losers
Dirty Nil - Master Volume
Jeff Rosestock - POST
Melted - Thin Skin
Anderson .Paak - Oxnard
Smoking Popes - Into The Agony
Haunt - Burst Into Flame
Brian Fallon - Sleepwalkers
1. Idles - Joy as an Act of Resistance
2. Death Valley Girls - Darkness Rains
3. L.A. Witch - Octuber
4. No Fun At All - Grit
5. Surfbort - Friendship Music
6. Cheap Tissue - S/T
7. Prettiest Eyes - Pools
8. La Shok - (reissued) We Are Electrocution
9. The Coathangers - Parasite EP
IDLES - Joy as an act of resistance
Rolling Blackouts Coastal Fever - Hope Downs
Bad Sports - Constant Stimulation
Matt Caskitt and the Breaks - All good things come to an end EP
SHARP/SHOCK - youth club
Boygenius - EP
Car City - Car City
Cash Pony - Roughhousing
Cloud Nothings - Last Building Burning
Converge - Beautiful Ruin
Cult Leader - A Patient Man
Dead to Me - Fear is the New Bliss
Dead to Me - Would it Kill You?
Goggs - Pre Strike Sweep
Gouge Away - Burnt Sugar
Hot Snakes - Jericho Sirens
Lee Cory Oswald - Darkness, Together
Moaning - Moaning
Nine Inch Nails - Bad Witch
Parquet Courts - Wide Awake!
Protomartyr - Consolation
Re-Volts - Wages
Re-Volts - Equator
Slaves - Acts of Fear and Love
Slow Bloom - Hex Hex Hex
Superchunk - What a Time to Be Alive
Tenacious D - Post-Apocalypto
Turnstile - Time and Space
Ty Segall - Freedom's Goblin
Vacation - Mouth Sounds #2699
1) Metric - Art of Doubt
2) Night Birds - Roll Credits
3) Mugwumps - Clown War Four
4) Tightwire - Six Feet Deep
5) Swinging Utters - Peace and Love
1. Alkaline Trio - Is This Thing Cursed? I'm a fan of anything from this band, but this is everything I've ever loved about them over the years wrapped up into one much needed album, right here in the now. Waiting for a new release from a favorite band has never been so worth the wait.
2. Culture Abuse - Bay Dream This record hits all the feelers, in the most gentle, kindest, open, honest and vulnerable ways. It's simple and it's perfect. It makes me smile, it makes me cry, it makes want to call my friends and tell them I love them and it makes me stoked to be in a band. I dunno how they did it.
3. Odd Robot – Amnesiac I can't be more thankful that this band exists. Brilliant lyrics and song writing that exposes their influences, while forging them ahead with their own identity.
4. The Midnight – Kids Because Neil would kill me if this wasn't on the list. But really, an awesome record that revels in that 80's/90's nostalgia us Millennials are crazy for. I'm also a sucker for any song that glorifies the dreamlike state of Los Angeles. AND there's a saxophone.
5. Red City Radio - Sky Tigers "In the Shadows" is one the best song of 2018. Rad production, epic imagery and if 4 dudes singing 4 part harmonies doesn't get you going, then you should probably check your pulse.
1. Holy Wave - Adult Fear 2. Night Beats - Her Cold Cold Heart (single)
3. Ty Segall - Freedom's Goblin
4. The Fadeaways - Dirty Water EP
5. Death Valley Girls - Darkness Rains
6. Shovel - It's Fun To Be A Nothing
7. Beach House - 7
8. The Liminanas - Shadow People
9. Dream Wife - Dream Wife
10. Bishop Briggs - Baby (single)