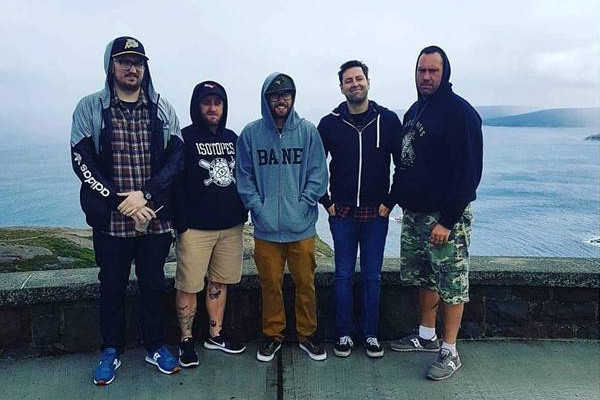 In the past several years many nostalgic punk rock bands have rediscovered themselves and decided to hop back in the van (or plane) and get back into the studio as of late. Coming out of Vancouver, Canada, Punknews' Dan Donald had the opportunity to sit down and speak with Daggermouth's guitarist Kenny "The Loose Cannon" Lush. Lush is known for many things, but they chew the fat over his experience as a professional wrestling champ and as a Canadian punk rock veteran returning to the stage and slugging it out in 2018.
Hey Kenny, long time no see! So, lets hop right to it, how are things going in 2018? I understand between the band and wrestling you have been keeping quite busy? Well since the bands been back up and running the wrestling is kinda taking a backseat. Plus I'm getting old and broken, but between the band and wrestling 2018 has been pretty busy which rules.
Since you first became involved with touring and punk rock what have you noticed as some of the biggest changes that have occurred between 2008 and 2018? How has that impacted the band? I have noticed that people who thought wrestling was lame in 2008 now think it's the coolest thing ever in 2018 - ha-ha. Gas is way more expensive too. It's almost cheaper to just fly now to the east coast than to drive there!!
As many people often wonder, what provided the motivation for the band to reunite and begin putting out new music? How does it feel to be releasing new music again after so many years in musical purgatory? I think after all the time apart we started missing hanging out with each other. Time heals everything I suppose. I saw Stu and Dana playing in their other band Youth Decay a few times and was jealous they were up there having fun, so when the talks of reuniting for Pouzza fest came up I was stoked. It's nice to be writing and recording new stuff again.
Following Daggermouth's rather sudden break up, were tensions high regarding the reunion? Or did things come together relatively organically? I think things came together really easy and painlessly. The first practice back was really fun and surprisingly it didn't take that long to figure all the old songs out.
Switching gears a little bit here, you've accomplished quite a bit in terms of wrestling over the last ten years, want to provide us with some highlights? I've been pretty lucky for a guy from Vancouver. Living in Western Canada is probably the worst place to live being an indie wrestler in North America. I've been able to do 5 tours of South Korea. I just recently completed a 3-week tour of Hokkaido Japan in June/July of this year. I also did some dark matches and stuff for Ring of Honour which was cool as fuck.
I have noticed that entertainment wrestling has gotten significantly more popular within the scene recently, any pointers or advice for the budding new wrestling generation? Stop thigh slapping so much on kicks and punches fuck! Also don't listen to so called vets that haven't ever done fuck all in their own career. Wait… Maybe that means don't listen to me then. Oh well!
I know that Daggermouth has toured quite a bit since returning in 2017, what has been your favourite place to visit since reuniting? Playing Chain Reaction in Anaheim last December was a fun show, as well as playing The Fest and Pouzza. Touring japan was probably the ultimate highlight for me though.
Do you think that the writing process has changed for you guys? Nah, not really. I think when we all get together the music comes out really easily. It is harder with a drummer that lives in Winnipeg so we aren't writing as much as id like, but we have an EP worth of material partially tracked that we are currently working on finishing.
What can we expect for the future of Daggermouth and the suplex champ Kenny Lush? I hear whisperings of new music from Daggermouth can you confirm or deny? Totally, we have a few songs we are slowly trying to finish. Stu [McKillop] is recording it and he is a busy boy, so hopefully this winter we can get it finished and put out. As for wrestling, I'd like to try and hit Korea up again as well as working with DEFY in Washington state – they have been putting on some great shows that I wouldn't mind being a part of, and maybe FEST wrestling next year too.
This is the part for band shout outs – new or old, who are some artists we should be paying attention to? The new Living With Lions is awesome. I hope I Am The Avalanche will put a new record out eventually. I'm not too up to speed on the current music world; I'm too busy trying to follow New Japan Pro Wrestling.