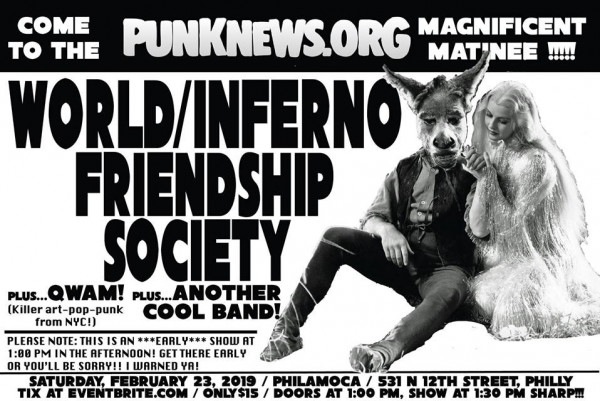 In one month's time, we are going to throw the afternoon shindig of the season! The legendary World/Inferno Friendship Society is going to play an intimate show at Philly's Philamoca in the early afternoon! The band has A LOT planned for this year, so it's going to be a special performance and the band has some REALLY cool stuff planned. They're brining the full band with 7, 8, or 9 members, and it is going to be the best afternoon party of 2019, that's fore sure.
Meanwhile, NYC's QWAM are going to play before Inferno and will just totally crush it with their wild style of early West Coast punk meets pop-punk. YEAH! PLUS, we're going to add on ANOTHER cool band that we'll announce shortly!
The whole thing goes down in a mere four weeks! That's February 23 at Philamoca in Philly at 531 N 12th St, Philadelphia, PA 19123. Our last Inferno show sold out, so if you want to go, advance tickets are HIGHLY recommended.
Please note that this is a VERY EARLY SHOW. Doors are at 1:00pm in the afternoon and the music starts at 1:30pm sharp! So, do not be late. You won't want to miss a second of this. This event is all ages.
You can check out the Facebook event right here and you can get tickets right here!