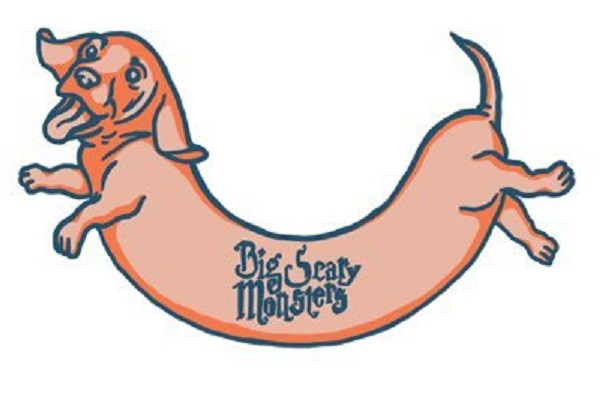 Big Scary Monsters is a happenin' record label out in Oxford, england. They've put out releases by a TON of bands including The Get Up Kids, Beach Slang, Modern Baseball, , Minus The Bear, mewithoutYou, Kevin Devine, Caspian, Balance and Complsure, Cursive, The Fall of Troy, Andrew W.K., Joyce Manor, Gnarwolves, Bear vs Shark, and more. They've got a lot planned for 2019, so Punknews' Sam Houlden met up with label head honcho Kev Douch to talk about running a bigger, small label.
Kev Douch on running Big Scary Monsters Records
Sam Houlden
Most alternative music obsessives (certainly those over 30) have a favourite label, right? Be that either past or present. Some people have sepia-tinged, beer-spattered memories of the times they were at the epicentre when a scene blew up; They remember label logos alongside band logos, emblazoning not only the walls of the clubs they went to, but the t-shirts and jackets of their fellow gig-goers and they remember feeling like that label might as well have been designed just for them and what they were about at that time in their life. Others keep tabs on current labels, who's signing to who, what direction their current favourite label are going in, etc. Following them and awaiting the next release with feverish anticipation. When it comes to this sort of label-love, it's generally confined to independent labels. It'd be surprising to see someone rocking a Warner t-shirt at a show, for instance. With the majors, you just don't get the same feeling that they're "one of us". That they're doing it for the love as much as the money. As a result, in the alternative music scene, where identity is (rightly or wrongly) such an important part of people coming together to share beers, a good time and their love of a band or type of music, independent labels make a huge amount of sense - and their more blue-collar, 'roll-your-sleeves-up' approach to running their businesses really helps to blur the lines between industry professionals and music fans.
Although people will typically cite labels like Fat Wreck, Epitaph, Relapse, etc. I'm incredibly happy to have witnessed the rise of some brilliant independent labels from this side of the Atlantic in the last 10-15 years. Since the collapse of Factory Records back in 1992 and then Creation Records in 1999, there was maybe a period of slight reluctance on the part of some British labels to truly experiment with what they promoted or put out, but that era seems to be well and truly behind us now, I'm glad to say – the British alternative/underground music scene is arguably in the best shape it has been in many years and this means that independent labels are able to pick who they support from a far larger pool than might have been the case 10 years ago or so. This in turn helps the labels to have their own character and allow fans to identify with them and their stable of bands/artists. Basically, good labels mean better exposure for better bands and it all feeds back into the community in the end.
One such label we have here in the UK is Big Scary Monsters. Run by Kev Douch, out of his base in Oxford (historic town about 50 miles outside London for the uninitiated). BSM was founded in 2001 by Kev, and in their time as a label have put out music from the likes of La Dispute, Nervus, Modern Baseball, Joyce Manor, American Football, Gnarwolves, Pulled Apart by Horses, Talons and plenty more besides. Kev was good enough to spare me some time out of his hectic schedule to answer some questions I had about the world of an independent record label in 2019: So Kev, what's your background with music and what led you to starting the label in the first place? Honestly, I had absolutely no background. Tried (for about a day!) to play guitar but clearly had no talent, didn't know anyone who worked in music, I don't think I even knew what a record label did. I just read a lot of magazines, went to local shows every week and listened to a pretty eclectic mix of bands. I guess it was an arrogant "how hard can it be?" attitude and some friends forming a band which really got it going. I helped them out with a few little jobs and that was it, I was hooked. Scarily I'm 35 and that was 18 years ago, so I've been doing this for over half my life now!
2018 was a pretty big year for BSM with releases from Delta Sleep, Gender Roles, Antarctigo Vespucci, Tiny Moving Parts and WWPJ, amongst others. I know there are some big releases coming up this year, too. Is 2019 shaping up to be another vintage year? I think 2018 was a big year in a few different ways. We put out a lot of brilliant music (229 songs, to be exact - but it's the things we did behind the scenes I'm most proud of. We're a small team of four people, but until three years ago it was just me, so we're having to constantly adapt and teach ourselves new skills, trying to do things differently and with a set of ethics and a culture which we're not just happy with, but that we'd like to instil in any future employees too. Josie joined last January, allowing us to expand what we do on the live and events side, which led to us organising our most successful popup shop yet and also throwing a big, three venue, totally sold out party.
So that was great, the problem now is how we step up again in 2019! We've got some ideas (ridiculous ones, if I'm honest) and a very strong set of releases, including the likes of American Football, Martha, The Get Up Kids, Orchards, Pedro The Lion, Gender Roles, Jamie Lenman, Nervus and loads more. I don't like getting carried away as we've learned the hard way that things can change in an instant, but I'm quietly confident this could be our best year yet.
How do you feel the alternative/underground music scene is faring at the moment? And how do you think the UK scene differs from the current state of play in the US? Overall I think things are pretty good. Artists have more tools at their disposal than ever before and coupled with a strong sense of community and DIY spirit, I think that's an incredible position to be in, and some are taking good advantage of it. I'm not sure about differences between the UK and US, though. Both countries are in a state of flux, to put it mildly, when you look at the politics going on around us all, so in many ways there's not all that much difference.
Is the vinyl resurgence good news for labels like BSM? It seems like independent labels are able to provide a more focused approach to what listeners want, especially in terms of physical products. Vinyl's been very good to us over the last few years. It plays a nice counterbalance to digital, I think, and the way people consume music has changed hugely. Not so long ago we thought a lot about price and how that drove sales but the way I see it now, convenience is king. For many people Spotify or Apple playlists are the extent of their music collection and that's totally fine. They're great platforms for music discovery and the most convenient way any of us have ever known to listen to an unbelievably large catalogue of songs. However, there are lots of people who combine that availability with a physical record collection, and that seems to be the space a lot of our fans live in. We pride ourselves on the quality of our records and are constantly bugging our manufacturers to tell us about new vinyl colours, effects, options for packaging, anything we can do to create something even more special.
Labels having a more defined character seems to be making a bit of a comeback with yourselves and Holy Roar at the forefront (in the UK, anyway). Do you think you're helping to forge a path for other independent labels to follow in your footsteps, and is that character something you actively try to nurture and promote? The interesting thing for both labels (and we know Holy Roar well, having been friends with Alex since before he began the label, and having shared an office for a couple of years) is that neither of us went out of our way to create a character. The initial foundations of both labels are built on our personal music tastes. Perhaps now we're just better at showing off that character or have really found ways to bring certain elements out. I'm always happy to take time out and help people looking to begin a label or in need of any advice because I remember how difficult it was (/still is!) without being able to ask anyone myself. If me learning from stupid mistakes can stop others making them, I'm all for it.
Does the shifting nature of the monetary aspect of the industry give you more headaches or opportunities at the moment? I try to find opportunities in everything so don't see any of this stuff as too much of a negative. Of course, that's easier said than done at times!
With heavy and underground music being largely omitted from the big UK festival stages (Download aside), do you think the rise of the smaller, more scene-specific festivals (Trees, ATG, Bloodstock, Slam Dunk, etc) is a good thing for alternative music in general, or is the lack of wider, big-stage exposure a concern? We've always been big advocates of smaller festivals. BSM actually runs the official merch tent at both 2000trees and ArcTanGent so we've seen first hand as those events have grown in recent years, while Slam Dunk and others have become absolute monsters. In my mind there's a place for them all though. I grew up going to Truck (at the time, maybe 2000 capacity) and Reading (80,000) every summer and always enjoyed the two equally, despite the obvious contrasts. Musically Reading and others have moved away from their traditional roots but if that's what the audience demands, that's what they have to do. There are still plenty of other awesome festivals out there (seriously, everyone come to 2000trees and ArcTanGent, you won't regret it).
Are you looking to expand your roster of bands and artists, or are you focusing on those you currently have? I imagine corralling some of your artists could be pretty time consuming! The first half of this year is really focusing on what we already have. Most of the bands we've signed in the past 18 months or so are either in the studio right now or will be soon, so there are loads of great records on their way. We have our eye on a couple of bands we've been after for ages though, and all being well, will be signing them up for albums in the second half of 2019. There's always a bunch of surprises, too. I don't think we've ever gone into a new year with this much in our schedule already, so it both excites and scares me to think what else might be around the corner
Outside of the BSM realm, what are the bands/releases you're most excited about in 2019? PUP are the best band in the world and I cannot wait to hear their new record
To others out there thinking about starting a label - what are the major pros and cons - and would you tell them to go for it? Pros are you get to do something you love, working with enthusiastic, creative, brilliant people. What's the old saying; love your job and you'll never work a day in your life? Cons are that it's hard. Really, really hard. People will always assume it's easy and just because you're at a few gigs a week or standing in the middle of a festival field, nothing's going on, but they don't see the 60 hour weeks, thousands of emails, constant setbacks or financial stress of running your own business which keeps you up at night. All in all I'd always recommend giving it a go, but prepare to learn every single day. https://open.spotify.com/user/bsmrocks/playlist/63IZUmzr148kXVJE6TzSjf?si=KfHaDKVhRZeGbbkTmH-iiQ&fbclid=IwAR1KAY1xI_TbBm64jzbjEiJwYvatbFJYIup-EumqCM3A4YKOhmnm0HbzeeU