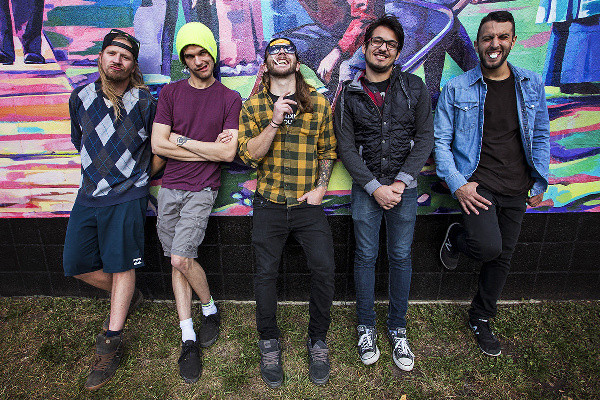 Edmonton-based melodic hardcore quintet Wolfrik have announced an upcoming tour of the UK/EU and eastern Canada to start this coming April. The band will be touring in support of the vinyl release of their debut EP Skeleton City (originally self-released on digital and CD in December 2017), which is due out March 1st via Thousand Islands Records and Lockjaw Records.
The UK/EU dates will have Belgium's The Affect Heuristic along for the ride, and the Canada dates will include Colorsfade. Note that a couple of the venues for the UK/EU dates are still being locked down on that side of things. Be sure to check the band's social media for updates.
Wolfrik will also be playing a one-off vinyl release show in their hometown this month, as well as two dates in support of Satanic Surfers and Belvidere. You can check out the video for the track "Predator," as well as all of those dates, below.
| Date | Venue | City |
| --- | --- | --- |
| February 17 | The Buckingham / vinyl release show | Edmonton, AB |
| April 12 | Dickens (w/ Satanic Surfers, Belvidere) | Calgary, AB |
| April 13 | Starlite (w/ Satanic Surfers, Belvidere) | Edmonton, AB |
| April 17 | The Birdcage | Portsmouth, UK |
| April 18 | The Fighting Cocks | Kingston, UK |
| April 19 | Manchester Punk Fest | Manchester, UK |
| April 20 | Out of Key Studio | Gloucester, UK |
| April 21 | Poco Loco | Kent, UK |
| April 23 | Antwerp Music City | Antwerp, BE |
| April 24 | Paardcafe | Den Haag, NL |
| April 25 | Lola | Groningen, NL |
| April 26 | Franken | Berlin, DE |
| April 27 | Import/Export | Munich, DE |
| April 29 | Bloom | Mezzago, IT |
| April 30 | TBA | Porto Sant'Elpidio, IT |
| May 1 | Alvarado Street | Roma, IT |
| May 2 | TBA | Ravenna, IT |
| May 3 | SBAM FEST | Wels, AT |
| May 4 | Desi Nurnberg | Nuremberg, DE |
| May 5 | Oetinger Villa | Darmstadt, DE |
| May 24 | Bar Sportif La Zone | Gatineau, QC |
| May 25 | Rock Café Le Stage | Trois-Rivières, QC |
| May 26 | La Source | Quebec City, QC |
| May 27 | Turbo Haüs | Montreal, QC |