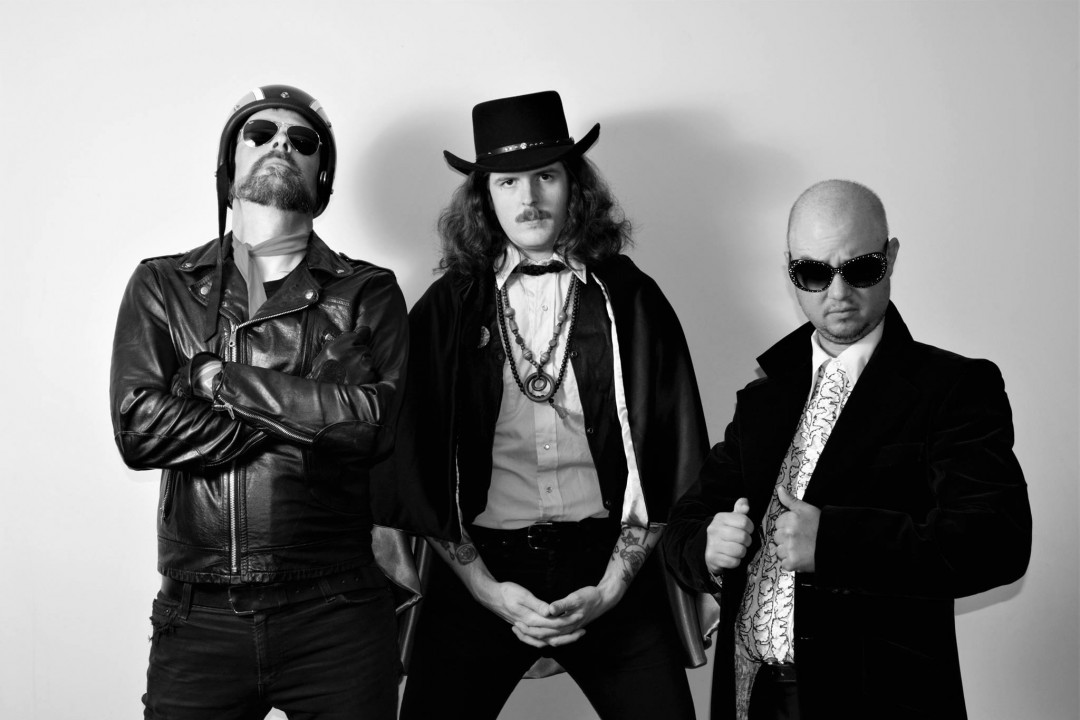 Last fall Hamilton trio Flesh Rag released Inside Your Mind on Schizophrenic and Loose Lips Records. The record took the Ontario band's rust belt punk'n'roll and cast it off into space. Adrift in the void of trash sci-fi and illicit substances, the band's well-honed Stooges-worship had a complete psychedelic freak-out. Vocalist/guitarist Matthew Ellis spoke with us about three songs from the new record.
Today Punknews and Some Party team up to launch a new feature. We'll be bringing in some cool underground bands and breaking down three of their favourite new tunes.
Adam White: Flesh Rag's regularly released music in various short formats over the past few years, including a 12" back in 2015. How do you consider this new record in relation to the rest of your discography? Is it the first proper studio album? A sophomore effort?
Matthew Ellis (guitar/vocals): This is our first proper LP. The self-titled 12" was originally supposed to be a demo for a label, but they liked it so much they wanted to put it out, which we were fine with. It was written rather quickly after we formed and released in a speedy manner.
The new album, Inside Your Mind, was nice to do because we took some time with it. We recorded it on Halloween weekend 2017 in our home studio and took it to Sean Pearson at Boxcar Sound to give it some proper mixing and mastering and finishing touches. It was great to be able to take our time releasing it. Which came out one year later on the next Halloween weekend
Did you treat the songwriting differently, knowing it was going to be a conventional studio album and not something looser or more concise like another tape or a 45?
Yeah, we tossed a lot of songs to the side. I feel like since it was our first proper album we wanted it to be our best material. I love releasing 7"s because you get that quick release where it's kind of in the moment. But for the LP we worked on these songs for about a year. We demoed a lot of them at home before we sat down to record, and we wanted it to have a sound so we did it live off the floor. It takes time to set that up and make it great, but once everything's set you can blast out the album.
Give me the one-pager on Flesh Rag. I know (drummer) Nathan Burger's from the TV Freaks universe. You and (bassist) Eric Felgner were backing Jimmy Vapid for a while. How'd it all come together?
About five years ago I was in between bands and losing my mind. I had nothing going on and was actually thinking about packing music in. I've played in a lot of bands but after my last group (Mystics) broke up the way it happened, I was burned out.
Burger's my childhood best buddy. We've been pals since we were like 5 years old. We've played in a lot of bands. We played a lot with a band called Rocket Reducers and did a few LPs and tours. We met Eric through The Vapids as we would open for them a bunch.
At the time Burger was going full steam with TV Freaks and I wanted to try a few songs, so asked him to play drums. For years he always played lead guitar in bands. A lot of people don't know but Burger is just as deadly on guitar (or bass) as he is on drums. We wrote a few songs and Jimmy Vapid actually mentioned that we should ask Eric, because he had nothing on the go. Up until that point me and Eric had never been in The Vapids at the same time, so it was a first for us starting a new group. I think pretty quick we all knew we dug the songs and this was a band we were all excited to work with. The three of us have a natural chemistry and the band after 5 years feels like our weird little dysfunctional family.
Song 1 - "In Another Dimension"
This track really sets the tone for the record, bringing in more psych and space rock than I can recall hearing from your earlier stuff. Tell me about this one.
It's about being stuck in a rut and caught in another dimension and clawing your way out. It's also totally about smoking DMT. I believe psychedelics can really help you figure some shit out. DMT is basically like going to another dimension, anyone that's tried it knows its terrifying and feels like you're a million miles away from home in some fucked up alien land with little creatures talking to you. But you also feel really happy and excited that there seems to be something there that you can talk to and it understands and tells you: "Hey, it's ok! All that shit is no big deal!"
I also feel it's important to take what you can from those experiences and move on. I've learned a lot but it's not something I do very often anymore. At the end of the day, it doesn't matter if that stuff is real or just in your head. Its what you take from it. That's kind of the theme of this album. Self-discovery and looking inward.
Also, it's as simple as I love sci-fi. I've always been into the idea of altered states and alternate dimensions. What's real, and in what regard? Is tripping and talking to weird little creatures any less real than going shopping at the mall to buy shit you don't need to feel happy? I don't know, hah, but I do know that the proper use of psychedelics is grounding and makes me a better and happy person.
Have your listening habits shifted along with the use of psychedelics? It sounds like you guys might have been on a bit of a Hawkwind binge at times. It seems like a new element whereas a lot of your earlier stuff had a very rust belt Stooges / Dead Boys sound (which of course fits Hamilton like a glove)…
My all-time favourite bands are classic punk and rock 'n' roll like The Stooges, Dead Boys, and Ramones. Teenage Head and Simply Saucer in Hamilton. Really hard hitting, simple rock 'n' roll. We definitely have part of the Steel City sound, it's wired into our rock 'n' roll DNA. But the last few years Hawkwind has been a huge influence. Early Black Sabbath and a lot of 60s/70s psych. There are lots of newer bands doing great stuff and lots of friends making great music, and I don't want to sound like I'm caught in the 70s, but a lot of that stuff was so groundbreaking its hard not to appreciate the cultural significance and the sonic templates that were laid down by the forefathers of rock.
All the good songs have been written. Rock 'n' roll is a continuation. It's now about paying respect to those who came before you but still looking forward. I'm honoured when people compare us to the Stooges or MC5 or say 'you sound like a Hamilton band." We're not reinventing the wheel. We are just playing rock 'n' roll and trying to take our craft serious because it's what we do and it makes us happy. We just wanna help keep rock 'n' roll alive.
Song 2 - "Sunday Morning"
This is one of the big psych jams on the rew record, with a really satisfying instrumental bridge. I don't want to go too far and call it poppy, but it takes some more room to breathe than the earlier, nastier Flesh Rag tunes. How'd this change of pace come about?
Still a touch of psychedelic sunrise to this song! Ha ha ha. I went to see Simply Saucer one night and I was in a bad mood. They played this little tiny bar in Hamilton called Rebel Rock to like 15 people. and played so well for a small crowd it reminded me the power or rock 'n' roll. I felt so amazing the next day. I wrote the song about just waking up on a Sunday and having that bad feeling slip away. The chorus "my brain has got no place to go" is just the idea of like being transfixed and totally at peace with where you are. Just right here right now, and I'm all right.
Its definitely got a pop edge to it. We talked about how we wanted to do a song that was a bit lighter and had some serious melody. There's a ton going on in this song: theremin, a Tibetan singing bowl, and little mediation cymbals. Its still got a little touch of our signature dark edge. For a moment in the bridge, there is the "shouldn't do that" lyric because we all have that little voice in our head. But fuck that. You should probably do it and have a good time.
Song 3 - "Revolution No. 69"
The campy "Revolution No. 69" feels like it comes from a totally different place than "Sunday Morning." This is one seedy rock'n'roll song, full of gloriously grimy Alice Cooper vibes and big classic riffs…
You nailed the vibe: It's Alice Cooper at full speed. Its kind of a funny song about nuclear holocaust. It's like when the bombs drop everyone dies except for a small group of mutants who rule the world, but rule with love. It's also got a little mutant love vibe, a little sexual tension: "hey now baby, let's give and take and run it for all its worth. Down in fallout and were making love gonna watch the whole world burn." So although it's about the end of the world and the end of humanity there's still hope. Even mutants can find love. Of course, I picked the number 69 in tribute to the sexual position. This song is about pleasing your lover at the end of the world and being satisfied at the same damn time. It's not too serious and has some scoff vibe. Very simple, fast, and it's got that speeding off the rails feel, which I love in a song.
Best enjoyed loud!
If you're in Ontario you can catch Flesh Rag on the road next week. The band's embarking on their Weirdo Weekend, starting with a gig at Waterloo's Harmony Lunch with Jean Daddy and Sundiver on Friday, February 15. Saturday, February 16 they'll be in London at the Richmond Tavern with Johnny Terrien, Audio Viceral, and Nervousmen. Finally they'll wrap up on Sunday, February 17 at the legendary Rex Hotel in Welland with Dboy and Street Legal.
This story is part of a reporting partnership between Punknews.org and Some Party, a weekly newsletter covering independent Canadian rock music. Subscribe at someparty.ca.