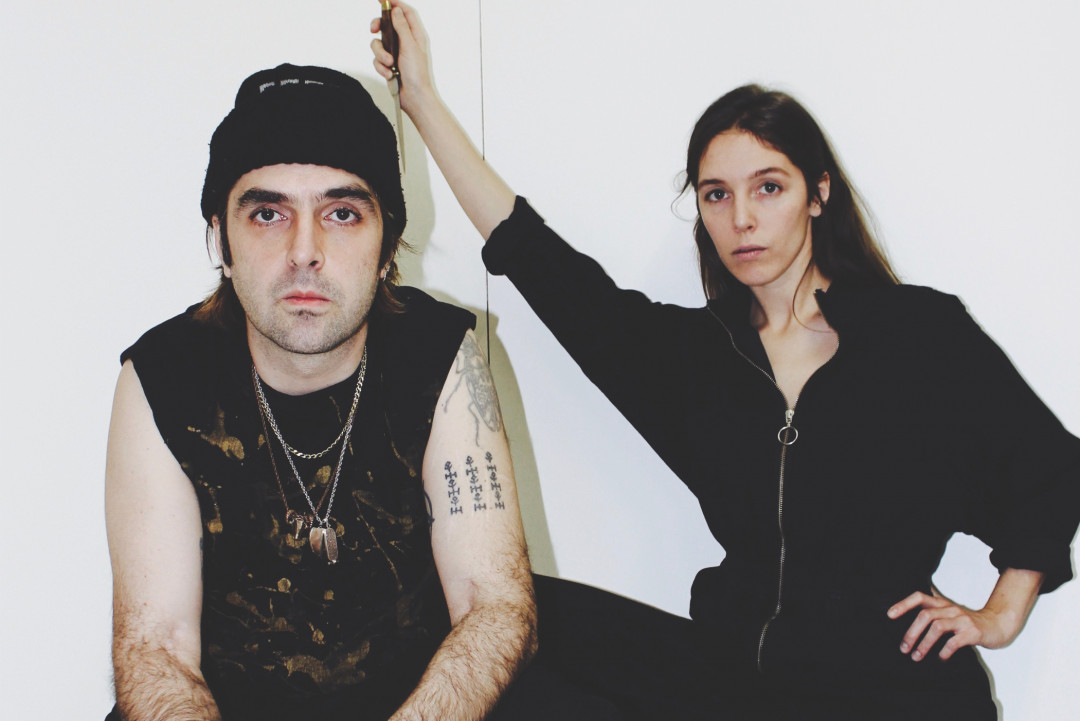 Montreal's Red Mass is an art collective lead by Roy Vucino and partner Hannah Lewis. Vucino's a musician, actor, and filmmaker with deep roots in the city's garage punk scene. He served in siminal groups like CPC Gangbangs, Les Sexareenos, and PYPY, wrote for the likes of Duchess Says and King Khan, and produced over a hundred solo releases. Red Mass is billed as a Free Creative Enterprise, with the lofty mission to "create punk music and art, in various mediums while incorporating techniques of automatic creation, chaos magic and liberation through art." We're thrilled to bring you a song today from the upcoming Red Mass full-length Kilrush Drive, the haunting pop tune "Dark Days."
Kilrush Drive arrives on March 22 from No Coast Records and Label Étiquette. The group recorded the 11-song LP with Mingo L'indien (of Les Georges Leningrad), Jace Lasek (of The Bernard Lakes), Sebastien Perry, and producer/engineer Martin Bisi (Sonic Youth, Iggy Pop, Herbie Hancock). You can preorder the record now, and check out the first single "God's House" at Brooklyn Vegan.
The supporting tour will include a release show in Montreal on March 22 backed by Canadian psych groups FET.NAT and Absolutely Free, with a New York release show in Brooklyn on the 30th. This tees up a monthly residency at Gold Sounds in Brooklyn.
| Date | City | Venue | Support |
| --- | --- | --- | --- |
| Mar 22 | Montreal, QC | Église Saint Édouard | Release show w/ Fet.Nat & Absolutely Free |
| Mar 30 | Brooklyn, NY | Gold Sounds | NY release show |
| Apr 12 | Milwaukee, WI | Milwaukee Psychedelic Fest | w/ Acid Mothers Temple, Psychic Ills and many more |
| Apr 13 | Madison WI | Crystal Corner Bar | w/ The Hussy |
| April 27 | Brooklyn, NY | Gold Sounds | TBA |
| May 25 | Brooklyn, NY | Gold Sounds | Improvisational set w/ local noise musicians |
| June 29 | Brooklyn, NY | Gold Sounds | TA DA performance w/ projections & guest performance artists |
This story is part of a reporting partnership between Punknews.org and Some Party, a weekly newsletter covering independent Canadian rock music. Subscribe at someparty.ca.