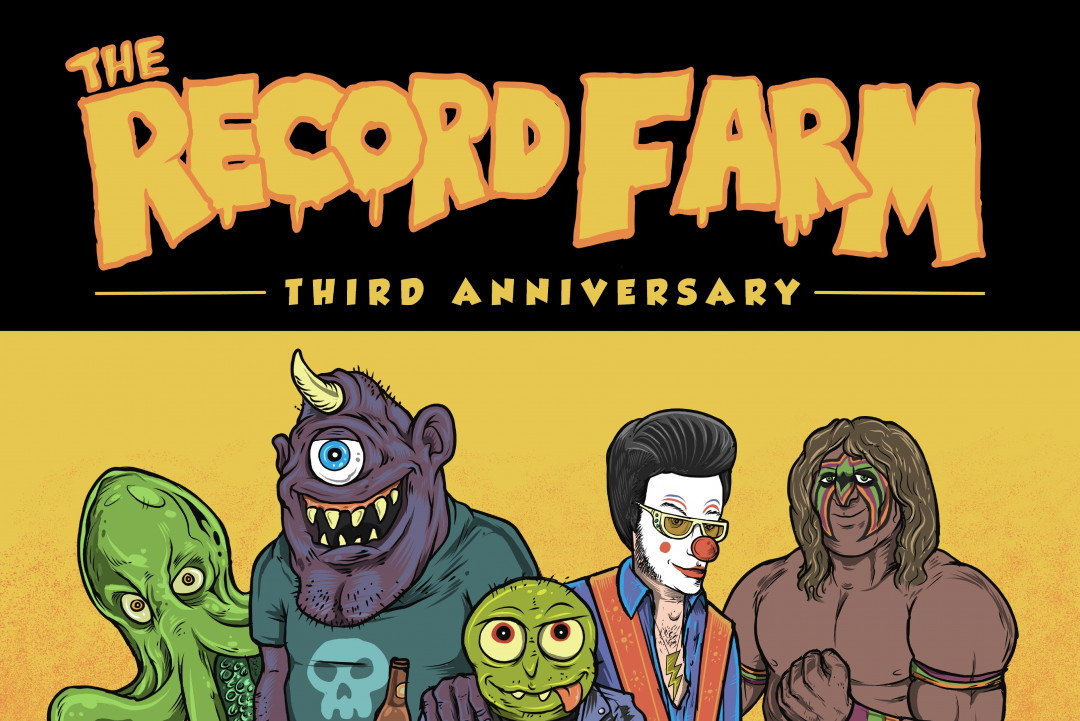 The Record Farm in Logansport, Indiana will be celebrating its third anniversary on Saturday, March 16th at the State Theatre of Logansport! Indiana punk legends Sloppy Seconds are the headlining, and will be joined by Harley Poe, Clownvis Presley, Brother O' Brother and The Tentakills. Punknews is one of the sponsors of the event and Punknews' own Tom Trauma is very excited about the party. So, he sat down with the record store/label heads and got the story of their intertwining history. Check it out below!
A Brief History of Failure Records & Tapes and The Record Farm
Tom Trauma

The Label
It's hard to drive into Logansport, Indiana without thinking about that misquoted line from the 1989 Kevin Costner film Field of Dreams, "If you build it, they will come". There are corn fields in every direction, and it certainly doesn't seem like the kind of place you'd find a record store that specializes in punk and metal, let alone a record label and a small but respectable music scene. The Record Farm sits on the edge of downtown Logansport, and has become an oasis for vinyl lovers in rural Indiana.
Logansport is a city of 18,000, centered in the vast swath of farmland between South Bend, Fort Wayne, Indianapolis and Lafayette. It has a decent size downtown, and a suburban area with chain restaurants and hotels. While not big by most standards, it dwarfs many of the surrounding communities. It's probably a good place to grow up, but likely loses its luster for teenagers and young adults. That's just the way it seems to go in America's heartland. Creative kids eventually run off to bigger cities in search in search of excitement. Once in awhile, a couple of guys will stay home try to build something where they live. That's the real story of Failure Records & Tapes and The Record Farm.
Dangerbird - "Bad News"
The Record Farm is celebrating its third anniversary, but its roots go back much further. It all started with a friendship between local boys Matt Swisher and Adam Wilson. Swisher recalls, "We have been friends since elementary school, and played in a few different punk/metal bands together. In fact, I don't think I have ever been in a band without him, other than in high school."
The pair's first venture, other than those bands, was a record label. "I have always loved the physical music. Always. I can tell you what my first cassette was, first CD and the first LP. I love reading the liner notes, and going into stores talking music with people," Swisher explains. "Couple that with the fact that in 2001 Adam and I were in a band called A Failed Escape, and we were looking to release our own stuff. We just always put it out on our own. We called it Failure Records. Failure Records stuck for years. We added the "& Tapes" several years later when we started re-issuing stuff on cassette."
Sloppy Seconds - "Johnny Be Dead"
As the name of the label indicates, they weren't planning to get rich. They just wanted to make records for themselves and their pals. "Our first eight or nine releases were all for A Failed Escape," Swisher says. "We had no expectations, and all we did was put out our stuff or our friends' stuff, for probably the first 15 releases."
Eighteen years later, Failure Records & Tapes has amassed an impressive 41 release discography. Swisher struggles to pick his favorites. "They all hold a very special place in my heart, and they reflect a certain time period in my life. They really do," he reveals. "You go back in and look at the creative process of each one. What did we know at the time? What didn't we know? Was this thing a success or a flop? How fun was the creative process? I'm really proud of the entire Split Hits the Fans series. We have to work pretty hard to lock those bands into working with a little label like us."
Bass Amp and Dano - "That's American!"
After a decade and a half of relative obscurity, their perseverance is starting to pay off. FRT has greatly increased their national profile over the last couple of years with their Split Hits the Fans series. These random colored seven inches are limited to 500, and pair an established punk act with a mostly unknown midwestern band. So far they've included heavy hitters like The Queers, Sloppy Seconds and The Dwarves. Swisher has a simple explanation for how he convinces the bigger bands to get involved. "Relentless emailing and messaging, plus we cut a pretty fair deal for the artists. Everyone has usually been pretty cool," he admits.
Swisher is hesitant to name the artists that he'd love to make records for, but it's clearly something he's thought about. He says, "If we're talking dream, I guess Descendents, Dinosaur Jr., NOFX, The Replacements, Eyehategod, a reunited original lineup of Sepultura or Venom maybe? Hell, I don't know!"
Ultimately, Swisher still gets a thrill out of running the label. "It's all about the juice! When you lock that band in, and they agree to release something, or when you take a release live and get a big response, or your distributor orders a ton of copies, that's all the juice! I live off the juice," he claims. "Unfortunately the juice is short lived, and sandwiched between weeks and weeks of tedious shipping, artwork delays, project delays, template issues, shipping issues, and seemingly always running behind. But yeah, the juice is well worth it!"
The Store
A record store would seem like a logical offshoot of the label, but it wasn't always the plan. "We originally wanted to open a record pressing plant," Wilson explains. "After countless conversations with engineers, the idea became unlikely. Around the same time, Matt and I combined some of our duplicate or unimportant albums and set up at a local record convention. We made like $500 that day and decided to open a record store instead!"
Despite their early enthusiasm, they weren't entirely confident that a record store could survive in rural Indiana. "There are countless musicians, bands and people who support the scene around here. Music has always played a huge role in our lives and friendships. We really didn't know if it would work, but it was worth trying," Wilson recalls. "Shortly after the opening of the first store, the vinyl market just took off. We didn't expect it, but we're glad it did!"
Against The Grain - "Here to Stay"
A couple of years later, in late 2017, The Record Farm opened a second location in nearby Rochester. Rochester is bigger than Logansport, but is a similar kind of city. It's a hub for the smaller towns surrounding it. While there are no current plans, Wilson could be open to more Record Farms. "The two current locations are in our home towns. We both feel very passionate about their locations," he says. "The new store is only a couple months in, but already kicking ass! It definitely makes the idea of expanding a possibility, but not in the near future."
Both The Record Farm locations have something for everyone, and pack a lot of stuff into a small space. There is, of course, a great selection of vinyl, CDs and cassettes. On any given day, you might also find turntables, games, bobbleheads and who knows what else. They also carry a small amount of supplies for musicians like guitar strings and picks, and drumsticks. They've been able to adapt their inventory to give the locals what they want and need.
The Record Farms have been a success, but Wilson is not willing to say that they've found a model that makes record stores work in smaller towns or rural areas. He says, "I'm not sure we've ever had a model. It's just two dudes selling records because we love music."
The Scene
Logansport is within a couple hours of a handful of bigger cities, but has its own music scene too. "Logansport has always been a rock and roll town. There are at least two or three bars hosting live music every weekend, and probably three or four events a month at The State Theatre," Swisher explains. " Add that to the shows we host inside the actual store, and there you have it."
Swisher and Wilson have been booking shows for years. "Honestly, it goes back to the late '90s and early 2000s, booking rental halls, dive bars, skate parks and friend's parties in and around Logansport," Swisher says. "It has always existed, we just injected the punk and metal element about 20 years ago. Compared to a lot of other scenes and cities I'm sure it's not much, but it's ours and we hold it dearly."
Harley Poe - "I'm a Killer"
The original Record Farm is literally attached to The State Theatre of Logansport. It's a spacious, mostly restored downtown theater that is a throwback to a different era. It couldn't be more different from the dingy dives where most punk and metal shows take place. "Adam and I started renting from them three years ago. They have always been cool as hell to deal with. We have booked some ridiculous shit at the Farm, and they have never second guessed anything!" Swisher says. "We have had loud, pummeling black metal that echoed through the downtown. We have had crowd surfing, circle pits, you name it. They never question a thing and truly treat us like family."
Since it's The Record Farm's third anniversary, the guys decided it was time to step up the celebration. The State Theatre on March 16th will be the scene of the crime, and Indiana punk royalty Sloppy Seconds will be headlining. They will be joined by the horror folk punk of Harley Poe, the noisy sludge of Brother O' Brother and the surf punk of The Tentakills. The show will be hosted by the one and only "King of Clowns" Clownvis Presley.
Swisher gives us an idea of what to expect. "Fun, camaraderie, bodies flying, drinks, smiles, a food truck, four amazing bands and the undisputed "King of Clowns" as an MC." He concludes, "It's quickly becoming a fairly enjoyable annual event!"
Punknews is a sponsor, and you can get your tickets here. You can check out the facebook event here.