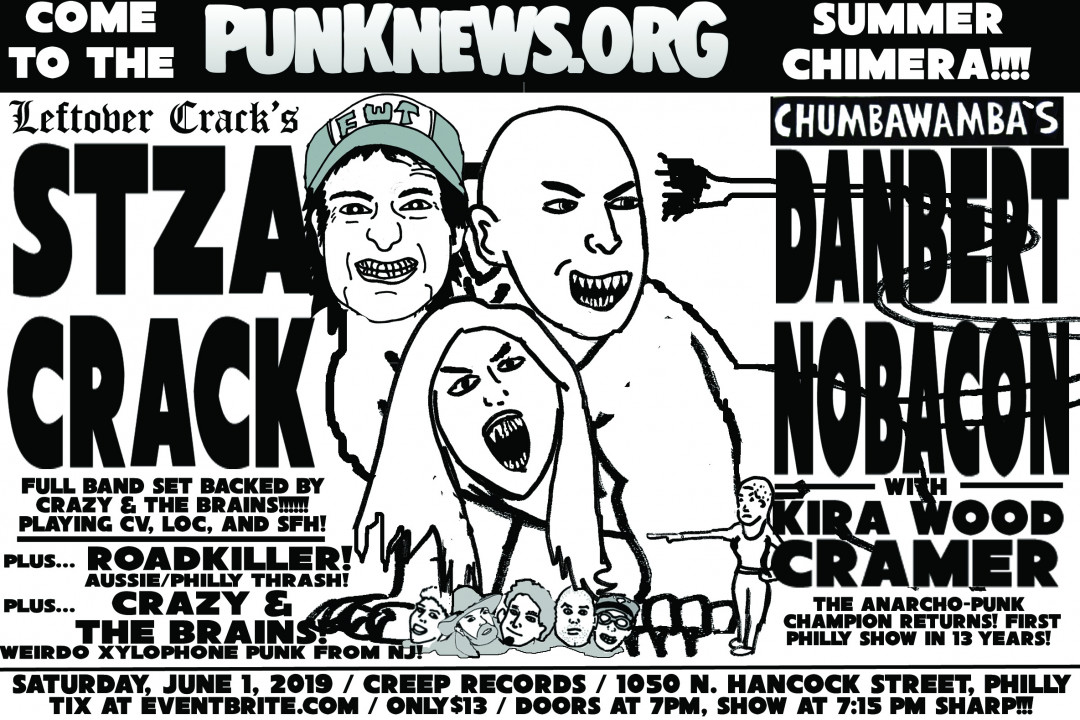 GET TICKETS RIGHT HERE! WATCH OUT! Have we got a KILLER three pronged attack for you this summer… THE PUNKNEWS SUMMER CHIMERA!
Last year, Stza Crack did an AMAZING full band set backed by Crazy and the Brains and they ripped through an AWESOME set of Leftover Crack and Choking Victim tracks! Well, we're doing it again this year with a different set! YOWZA!
But, that's not all!The legendary anarcho-punk champion Danbert Nobacon of Chumbawamba is ALSO doing a full set of jams with Kira Wood Cramer! This is Danbert's first time back in Philly in almost 10 years and it will RULE. WOWZA!
But, that's not all! Aussie/Philly metalheads Roadkiller will kick off the show with a set of ripping Motorhead-meets-thrash and, on top of that, Crazy and the Brains will be doing a set, too! YEEEOWWW!
The whole thing is Saturday, June 1 in Philly at Creep records. Doors are at 7pm and the show starts at 7:15pm sharp! Do not be late, you won't want to miss a moment!
This event is all ages and it will rule! The Facebook event is here and you can Get Tickets Right Here!