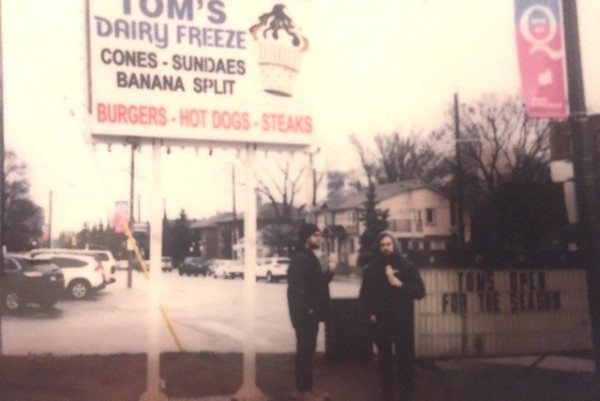 Toronto low-fi rock duo Low Sun will return this year with a new collection of songs titled New/Shiny, it's the group's follow-up to their 2017 album Reservoir of Impermanent Light. Low Sun features the brothers Peter and Robert Johnson, the principles behind the label Art of the Uncarved Block (and who formerly played together as Shahman). We're thrilled to premiere the first taste of this record with the single "Don't Hesitate." The band commented on it obliquely, stating "We left it open, the door to the henhouse… The fox slid right in."
Low Sun gave us a bit of their history running up to this record:
Low Sun began sometime in 2017. They self-recorded a full length on a finicky 1⁄4 inch tape recorder in the middle of winter in a cabin on the edge of a frozen, moaning lake, without running water, heat or much light. The experience produced Reservoir of Impermanent Light, a droney rock album that probably wasn't the best thing to make in 2017, but they liked it so off it went into the world. After the release they toured Eastern Europe, from the mountains of Slovakia to the mouth of the Baltic sea. The album also took them to Japan and a short round of performances in Hong Kong. Now, two years later, they present to you, New/Shiny, a collection of songs that took way too long to record. After spending nearly 8 months with a new bass player, the bass player ended up leaving a month before their 2 week European tour with Czech hardcore band, DNO. They re-wrote the entire EP, wrote more songs, and self-recorded it in one day. Born again as a self-described post-industry, loser-rock band, Low Sun awaits their next leap of faith.
Low Sun will promote the new release with a two-week European tour in April and May. Those dates are below. Check your local sources for venues and other info.
| Date | City |
| --- | --- |
| April 25 | Ostrava, Czech Republic |
| April 26 | Innsbruck, Austria |
| April 27 | Biel, Switzerland |
| April 28 | Lyon, France |
| April 29 | Livradois, France |
| April 30 | Barcelona, Spain |
| May 2 | Zarautz, Spain |
| May 3 | Toulouse, France |
| May 4 | Tours, France |
| May 6 | Paris, France |
| May 7 | Liege, Belgium |
| May 8 | Frankfurt, Germany |
| May 9 | Ústí nad Labem, Czech Republic |
| May 10 | Prague, Czech Republic |
This story is part of a reporting partnership between Punknews.org and Some Party, a weekly newsletter covering independent Canadian rock music. Subscribe at someparty.ca.