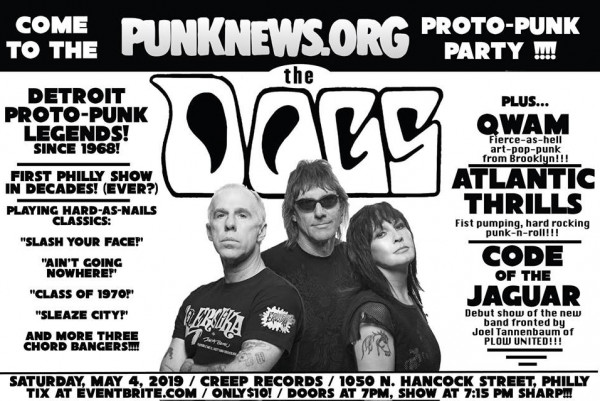 Hit the deck! We have got an extra special show for you, real soon!
On May 4, proto-punk heroes The Dogs will play Philadelphia! This band has been bashing it out since 1968 and has influenced all your favorite first wave punk bands. Plus, they put out tons of KILLER material including the iconic "Slash Your Face" single! This band was punk before punk was punk. This is a special show in a small venue and this is either the band's first Philly show in decades… or maybe ever! (Our records only go back to like 1981). Also, this is one of only two east coast shows the band is playing this year. This will rock.
But, we have got MORE planned!
Brooklyn art-pop-punk crushers QWAM will return to the city of brotherly love and bring their amazing catchy/mean punk rock style! This band rules, people. PLUS, punk-n-rollers Atlantic Thrills will rock the hell out!
PLUS, Joel Tannenbaum of Plow United debuts his brand new band with their first ever live show - Code Of The Jaguar! They'll also be selling their new EP for the very first time! WHOA. This is a show to see.
The event is May 4 at Creep Records in Philly. Tickets are only $10 and the event is all ages. You can check out the Facebook event here. You can get tickets here!