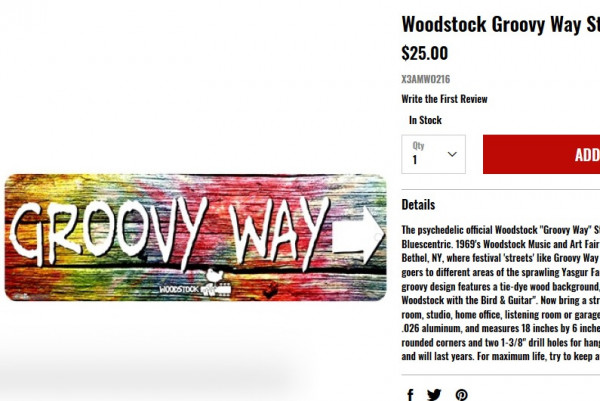 Now, it's personal. The battle across the ruins of Woodstock 50 rages onward, with no end in sight for this post-apocalyptic melee for the scraps of a once great symbol, now forever tarnished by infighting, deception, paranoia, and malfeasance. If only we all could remember that it's not who's to blame that's important, it's making trailer loads of cash off the back of the hippie movement.
As you may know, Woodstock 50 is still currently planned to take place in mid-August, but it's facing significant problems. First, a few acts, including the Black Keys, dropped off the bill citing "scheduling conflict." After that, it was revealed that Woodstock 50 still had not obtained permits necessary to host the event. Then, last month, investor Dentsu pulled out of the event and even stated that the event was "Canceled." Woodstock Ventures, LC, the portfolio that owns the intellectual property of Woodstock, shot back, stating that not only was the event not canceled, but that Dentsu had no right to make such a statement and that Woodstock 50 would continue as planned, bigger and better and more expensive than ever. (Tickets, which still are not on sale, are expected to be about $450, plus taxes, fees, and costs). Well, after that bold statement was made, the production arm of the event, Superfly, also pulled out, leaving Woodstock 50 seemingly crippled. Yet, rallying its troops, Woodstock LC once again stated that Woodstock 50 would STILL take place.
Woodstock LC co-owner Michael Lang is striking back and taking no prisoners, as reported by Pitchfork!
Earlier this week, Lang sent a five-page letter to Dentsu. The letter claims that Dentsu "illegally swept approximately $17 million from the festival bank account. We also have evidence that Dentsu representatives have gone so far as to say that should the talent back out of Woodstock, they would be seen favorably by Dentsu and that this could result in their performing the 2020 Summer Olympics in Tokyo, where Dentsu is a major organizer. In these actions too, Dentsu has acted not only without honor, but outside of the law."
Lang also stated that the event is STILL on and that "It is one thing if your company, Dentsu, wanted to back out of its commitment to Woodstock because it would not make as much money as it had hoped, but to try to suffocate and kill Woodstock so that we could not have a festival for our Golden Anniversary without you is puzzling for any company, let alone one that claims reform."
If you are interested, you can help out the Festival by purchasing the $18 Woodstock Psychedelic tube, or perhaps the $25 Groovy way street sign. Otherwise, this battle will rage onward, claiming countless dollars as victims, with no end in bloody sight. Why, dear reader, why can't we all stop this fighting, stop this hatred, stop this IRE, and come together in the name of making rich people richer? Isn't that what it's all about at the end of the day, anyway?