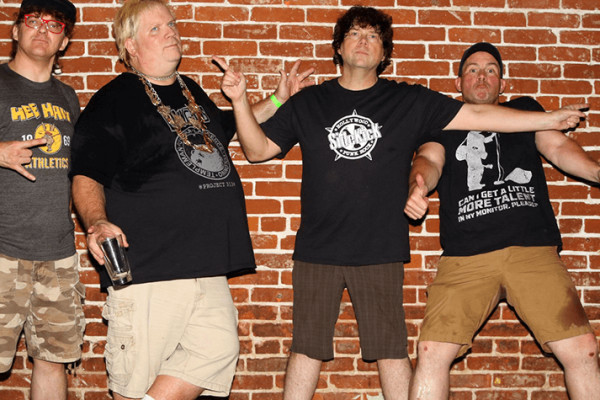 Junk rockers Sloppy Seconds are famously fans of Ramones, drawing their genius-disguised-as-stupidity aesthetic from the Queens Foursome, as well as their love of AM pop melody. Ten years ago, they released their ode to the sadly departed Joey with the snappy "You Can't Kill Joey Ramone" 7-inch.
Since Joey's birthday is this weekend and since the release is long since out of print, the band is re-releasing the 7-inch through Failure Records & Tapes. To that end, Punknews' Tom Trauma caught up with vocalist BA for a quick chat about the re-release. Check it out below.
You Can't Kill Joey Ramone!: An interview with BA of Sloppy Seconds
Tom Trauma
The entire punk rock world was crushed when Joey Ramone left the mortal coil on April 15th, 2001. Most just walked around bummed out for a few days. A few creative types used it as inspiration to make something positive. Long running Indianapolis junk punkers Sloppy Seconds turned it into an extremely enduring song called "You Can't Kill Joey Ramone". The song first appeared on Sloppy Seconds' 2009 LP Endless Bummer. The following year it was released on seven inch by Wallride Records with Anti-Nowhere League's "Can't Stand Rock'N'Roll" on the B-side.
After nearly a decade out of print, Failure Records & Tapes is reissuing the now classic single. It will be ready just in time for Joey's birthday, but only 400 copies will be available on hot pink wax. Punknews' Tom Trauma briefly caught up with Sloppy Seconds frontman BA to discuss Joey Ramone, the song he inspired, and Sloppy Seconds' upcoming Punk Rock Bowling debut.
What can you tell me about the inspiration behind "You Can't Kill Joey Ramone"? Well, I started writing it about six months after Joey died. I didn't actually get the news from television. I saw it on my Yahoo homepage. It didn't occur to me to write anything initially, but at some point the vacuum Joey left was just impossible to gloss over. The verses came really easily, denial, futility, lack of acceptance. Dr. Kubler-Ross would be so disappointed in me. At first I felt the choruses were kind of clunky and awkward. So I just thought, what would Joey do? He was the king of simplicity, so "no no no, Joey don't go." That pretty much sums it up. The last verse is kind of a paraphrasing of "Casey at the Bat", because there was no joy in Mudville. The news doesn't get much sadder than that. At our next rehearsal, we had the song down cold in five minutes. Sometimes it's just a no-brainer, and that song clicked immediately.
What was it about Joey that made him so universally loved? How could you not love that guy? He was a totally damaged geek who made himself into one of the greatest rock stars who ever lived. When you hear people talk about how the Ramones inspired them to believe they could form a band, I think a lot of it was Joey himself. If that guy can front a band, in fact, front the greatest band in the world, well then why not a drunk fat guy for instance?
How do you feel about the song 10 years after its original release? It's one song I personally never tire of playing. We knew instantly that it was going to be one of our cornerstone songs we would always perform. It seems to have really hit home with a lot of fans, and I'm really happy for that. We certainly owed him that recognition. I'm really glad Failure wanted to do the reissue of the seven inch single, because even if people already have the album or have downloaded the tracks, that single is kind of a keepsake in a way. The fold-out portrait artwork that Kevin Wright did is beautiful and it spotlights the lyrics really well.
How excited are you to hit Las Vegas, and to finally play Punk Rock Bowling? It should be a lot of fun. We get a lot of people who plan vacations and road trips to catch our shows, as you well know. [I may be guilty of occasionally following the band around deadhead style- TT] Something like Punk Rock Bowling makes that more of a universal experience. People are coming from all over the world to this event, and everyone has their own personal "Holy Grail" band, or maybe more than one. That's a great atmosphere to be a part of, and I'm really glad we were invited. It'll be doubly fun, I think, since we have the main event set on Sunday, plus we're playing the Pool Party on Monday. That was a nice bonus. Hopefully that means nobody in attendance has to miss us this year.
The "You Can't Kill Joey Ramone" reissue (as well as an Endless Bummer repress on D-Tour Records) is out in time for Sloppy Seconds' first appearance at Punk Rock Bowling. Sloppy is a band that must be seen live to be full appreciated, and fans at PRB will get two chances. Sin City and Sloppy Seconds are a match made in hedonistic heaven.