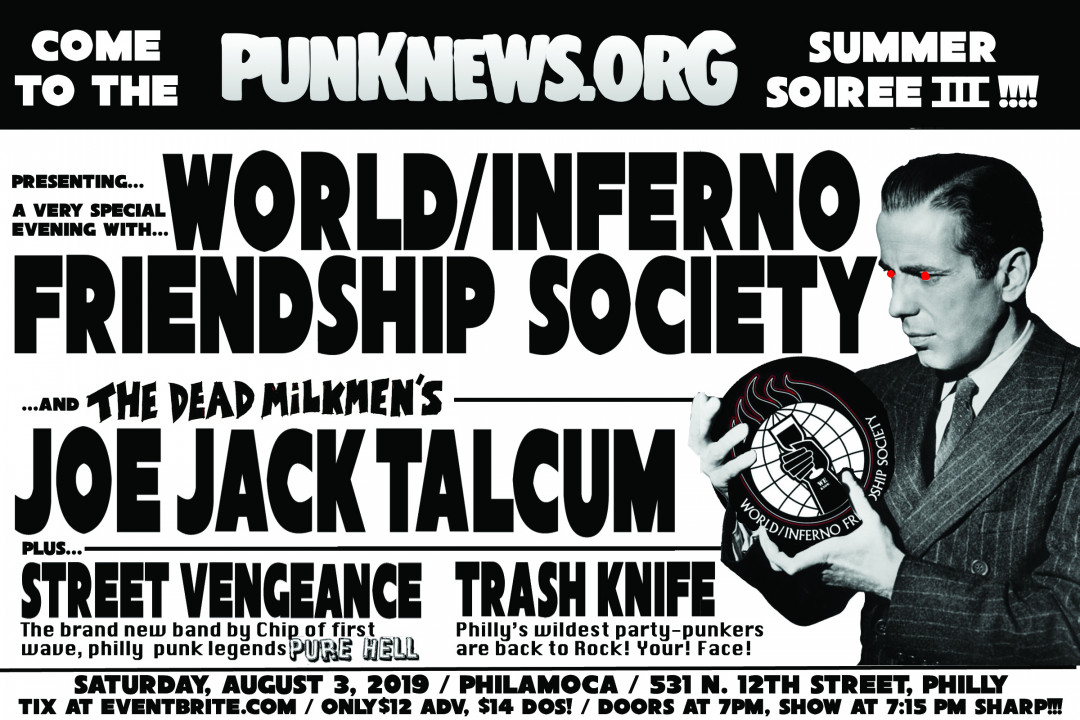 GET TICKETS HERE!!! ***COME TO PUNKNEWS SUMMER SOIREE 3!!!!***
OoOoOoOoOohhhhh SNAAAAAAAAPSSSS! Punknews Summer Soiree 3 is comin' at ya! Have we got an AMAZING shingdig just for you! It's a co-headline blowout baby!
The absolutely amazing WORLD/INFERNO FRIENDSHIP SOCIETY will be bringing their big band punk attack to the stage and blasting through a full set of classics, new hits, and maybe some surprises. Having just re-released Just the Best Party and with a new album coming out October 31, WIFS will make this a set to remember, baby!
BUT, also co-headining is JOE JACK TALCUM of the Dead Milkmen! Joe is forever a man of mystery and we have no idea what he's going to do. He said he might play solo, he might show up as his band Danjo (which also features DM's Dandrew), or he might do something totally different. Joe always plays a KILLER show and usually blends the mega hits with deep cuts with some brand new stuff. Who knows what this set will be, but it will be AWESOME.
BUT THAT'S NOT ALL! We've got another super special set for you. Chip of first wave, philly punk legends Pure Hell will be debuting his brand new band, STREET VENGEANCE, to you all! This surely will be a three chord, explosive blast!
And that's still not all! Philly's greatest and wildest party punkers TRASH KNIFE will kick off the proceedings and tear the place up! This is one of the most exciting bands in philly, right now, people.
PLUS, we'll be playing the Punknews trivia game PUNX POINTS between one of the sets! PLUS, everyone that comes to the show gets a mystery present! PLUS, we've got an extra special intro planned for you all. PLUS, we'll be giving away cool stuff throughout the show! PLUS, we might even play the Punknews dating game, PUNK CONNECTION! PLUS, we've got even more planned! Hot dang!
THIS WILL BE THE EVENT OF THE SEASON, DARLINGS. BE THERE.
The event is August 3 at Philamoca in Philadelphia. Doors are at 7:00pm and the event kicks off at 7:15 sharp. Be there at 7 because you won't want to miss a second of this, I'm telling you! This show is NOT on punk time- when we say 7:15, we mean 7:15!
The show is only $12advance; $14 day of show. The event is all ages.
SEE YOU THERE!