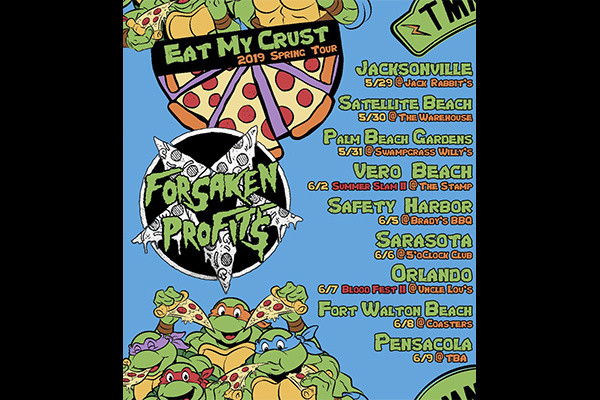 Georgia-based reggae-punks The Bastard Suns and hardcore/thrash Forsaken Profit$ have announced their joint Eat My Crust 2019 spring tour. The tour will see the bands travel up and down Florida for a week and a half, spreading general mayhem.
The Bastard Suns last released Long Live Songs in 2013, and Forsaken Profit$' most recent album was Forsaken Pleasures in June of last year.
You can check out the tour dates below.
| Date | City | Venue |
| --- | --- | --- |
| May 29 | Jacksonville, FL | Jack Rabbit's |
| May 30 | Satellite Beach, FL | The Warehouse |
| May 31 | Palm Beach Gardens, FL | Swampgrass Willy's |
| June 2 | Vero Beach, FL | Summer Slam II The Stamp |
| June 5 | Safety Harbor, FL | Brady's BBQ |
| June 6 | Sarasota, FL | 5'oClock Club |
| June 7 | Orlando, FL | Blood Fest II Uncle Lou's |
| June 8 | Fort Walton Beach, FL | Coasters |
| June 9 | Pensacola, FL | Rodeo Rock |