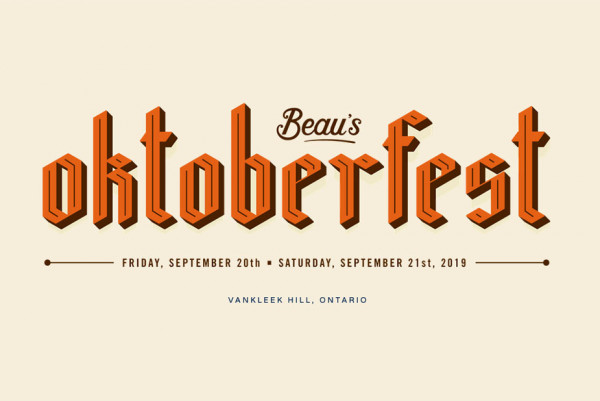 Canadian craft brewery Beau's Brewing Co. has announced the lineup for their annual Oktoberfest music festival and charitable fundraiser. The event marks its 11th year in 2019 with Vancouver indie rock supergroup The New Pornographers headlining the main stage on Friday, September 20 and Canadian hip-hop luminary Shad capping the event on Saturday the 21st. The event will once again play host to the punk-focused Black Forest Stage, headlined this year by Winnipeg duo Mobina Galore and Montreal's Pale Lips, with bands like The Penske File, Lost Love, Audio Visceral, and Bussieres among the performers. Oktoberfest takes places in Beau's rural hometown of Vankleek Hill, Ontario, which sits about halfway between Ottawa and Montreal. Punknews.org and Some Party are proud to co-sponsor the Black Forest Stage once again this year.
Last year's event (despite a slight tornado-based setback on the opening night) was an absolute blast. It attracted over 17,000 attendees and raised $94,323 for local community groups. Since 2009 the event's brought in $711,212 in funding.
This year will bring in Bavarian-style food from local restaurants, 65 different beers to sample (with 14 brewed by Beau's and the local Halcyon Barrel House), "School of Bock" classroom sessions lead by experts from the brewing world, and an array of games, activities, and competitions.
Main Stage
Jenn Grant
Neon Dreams
Birds of Bellwoods
Caravane
John Jacob Magestry
What If Elephants
Walter Ostanek
Hosted by: Taggart & Torrens
Black Forest Stage
The Peelers
L'Affaire Pélican
Fairmounts
The Hallions
Thunderkok
The Readys
Northgang
Rob Moir
Will Whitwham
Hosted by: House of Targ's Remi Royale
Black Forest will raise funds this year for For Pivots Sake, a nonprofit organization founded by the Ottawa-area Birling Skate Shop to engage and mentor youth in the Ottawa community. Since 2012 the organization has refurbished decks from parts donated by skaters in the community to give back to local youth.
Confirmed charities supported by Oktoberfest as a whole include Hidden Harvest, Ottawa Riverkeeper, Healthy Eating for Better Learning, Vankleek Hill Agricultural Society, Hawkesbury Rotary, Big Brothers Big Sisters Cornwall, and the United Way Ottawa and Stormont, Dundas and Glengarry.
Round-trip bus transportation for attendees will once again be available from Montréal, Ottawa, and Cornwall to the festival grounds. Ottawa festival-goers can also sign up for a United Way fundraiser bike ride to the grounds. Camping passes are available to add on to a ticket purchase. Tickets for the 2019 Beau's Oktoberfest are on sale now at www.beausoktoberfest.ca. Weekend passes are $45, single-day tickets $32. Child (18 and under) passes are $5 when accompanied by an adult.