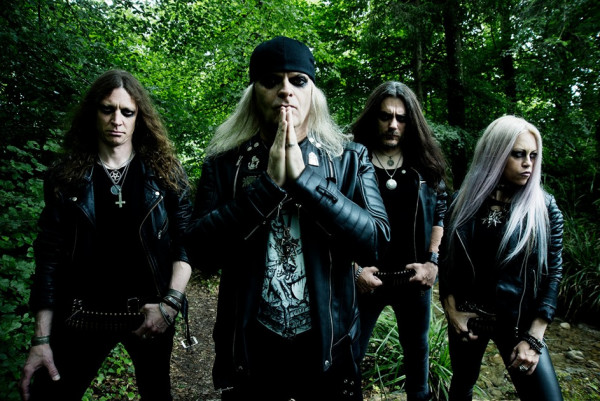 Tom G. Warrior of Hellhammer/Celtic Frost/Triptykon previously announced the Triumph of Death project, which is described as Warrior, Mia Wallace, Alessandro Comerio, and André Mathieu playing Hellhammer songs live. Warrior made it a point to state that the shows are not a "Hellhammer reunion." Today, he revealed that some of the live shows will be taped. If Warrior deems the recordings sufficient, he will release them as a live EP.
The project released a statement" Triumph Of Death, Tom Gabriel Warrior's tribute to the seminal early extreme metal group Hellhammer, will at long last bring a full set of Hellhammer's music to the stage for the very first time this week. The group will play two warm-up club concerts in Germany and then proceed to play major performances at the venerated Hellfest and Kilkim Zaibu festivals in France and Lithuania. The first warm-up concert at Nachtleben club in Frankfurt is now sold out. Further festival and concert appearances are to follow throughout 2019 and 2020. Several of the concerts will be recorded for a possible release of selected songs on a live EP."
The project will also release more live dates. Check out the announced ones below.
| Date | Venue | City |
| --- | --- | --- |
| June 19, 2019 | Nachtleben | Frankfurt, Germany (warm up concert) |
| June 20, 2019 | Zeche Carl | Essen, Germany (warm up concert) |
| June 21, 2019 | Hellfest | Clisson, France |
| June 23, 2019 | Kilkim Zaibu Festival | Varniai, Lithuania |
| August 1, 2019 | Wacken Open Air | Wacken, Germany |
| August 8, 2019 | Party.San Festival | Obermehler Schlotheim, Germany |
| August 9, 2019 | Brutal Assault Festival | Jaromer, Czech Republic |
| August 17, 2019 | Psycho Las Vegas | Las Vegas, USA |
| November 30, 2019 | Black Winter Fest | Parma, Italy |
| December 15, 2019 | Merry Christless Festival | Warsaw, Poland |