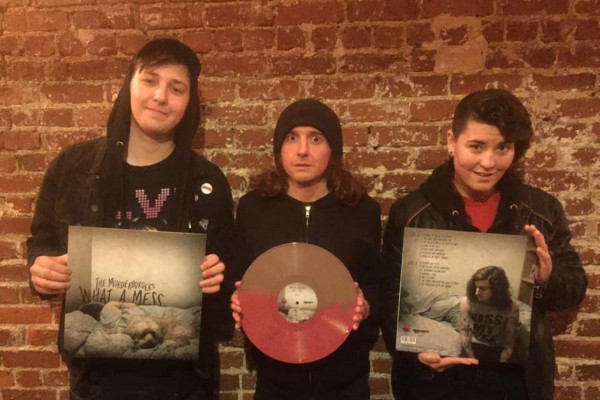 Per a post on Facebook, Fraser Murderburger of The Murderburgers has announced that after 10+ years and multiple LPs, EPs, splits, etc., the band will be going on hiatus at the end of the year. The post did state, however, that they will be honoring their currently scheduled touring and gig commitments, including an August-September UK-EU tour with Off With Their Heads; and will only be calling it a day once those are in the books.
The Murderburgers' most recent album, What A Mess was released in March of this year.
You can read the full statement, and those remaining tour dates, below.
It's with great fingers and a huge keyboard that I inform you all that The Murderburgers will be going on an indefinite hiatus as of the end of this year. All tour dates listed on our website for the rest of the year are still going ahead, and I'll be adding some more in October, November and December, but that'll be it for now. After over a decade of constant touring with this band, it seems like a good time to take a break from it to do something else music-wise. I've been working on a bunch of songs for a new band that I'm excited about, and my other band Bike Notes are finally recording our first album this year, which will unfortunately strip us of our 'Laziest Band in the World' title that we're strangely proud of.

Thanks a lot for everything so far. I'll see a bunch of you again when I'm Murderburgering for the rest of the year, starting tonight in Belgium. See you all again soon when I'm doing some new stuff after that, then maybe see you all again down the line when I'm far too old to be playing in a band with a name as dumb as The Murderburgers.

The rammy never dies.

Fraser
| JUL 2 | Den Tip | Vorselaar, BE |
| --- | --- | --- |
| JUL 3 | SubstAnZ Osnabrück | Osnabrück, DE |
| JUL 4 | Asta Wohnzimmer | Lüneburg, DE |
| JUL 6 | Finnegans Irish Pub | Altenburg, DE |
| JUL 8 | Café Carina | Vienna, AT |
| JUL 9 | Sputnik Rockcafe | Linz, AT |
| JUL 11 | Cafe Bar Balthes | Ravensburg, DE |
| JUL 20 | Crowleys bar Hastings | Hastings, UK |
| AUG 31 | New Cross Inn | London, UK |
| SEP 3 | Audio Glasgow | Glasgow, UK |
| SEP 4 | Rebellion Manchester | Manchester, UK |
| SEP 5 | Exchange | Bristol, UK |
| SEP 6 | Hangar 27 | Edegem, BE |
| SEP 8 | Kulturzentrum Faust | Hanover, DE |
| SEP 11 | ARENA WIEN | Vienna, AT |
| SEP 22 | Lucky's Luke | Trier, DE |
| NOV 10 | Mind Fest 2019 / Albert's Nottingham | Nottingham, UK |