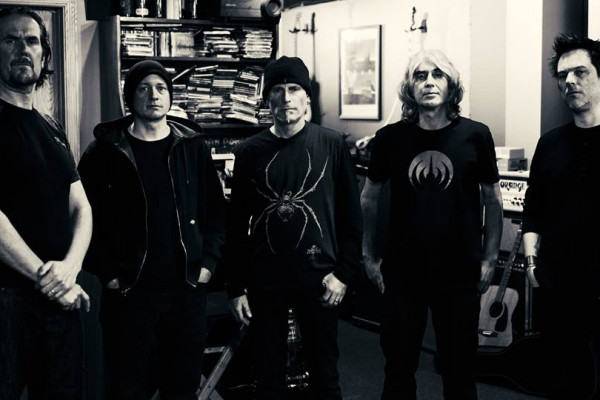 Unfortunately, it has been a tumultuous twenty four hours for Tau Cross and Relapse records. Yesterday, Tau Cross' facebook page announced that, surprisingly, the band was severing ties with Relapse records before the release of their third LP, which was expected to be out later this summer.
Earlier today, Relapse issued a statement to Brooklyn Vegan wherein the label stated that the band had been dropped because Gerard Menuhin was thanked in the liner notes. Gerard Menuhin has published a book denying that the holocaust took place. According to Relapse, Tau Cross singer Rob Miller was inspired by Menuhin's works- however, also according to Relapse, Miller stated that he was not a holocaust denier.
About ten minutes ago, the remaining members of the band issued a statement to Punknews, which you can read below. We have also reached out to Miller and will let you know if he responds to us.
Update: Rob Miller has issued a statement of his own, which you can see below
Relapse statement from earlier today
"Over the weekend the German magazine Ox brought it to our attention that a person named Gerard Menuhin was prominently thanked in the new Tau Cross album, and specifically credited in the liner notes for inspiring Rob Miller. All Relapse records go through a vigorous proofing process–checking for spelling and punctuation mistakes, mostly. We all read this name, but didn't recognize it or think that it was anything other than a personal friend of the band's, that we did not know. Ox however recognized the name as a far right conspiracy theorist, focused specifically on Holocaust denial. Suddenly the lyrics and themes of the new record were cast in a new light, for me. I spoke with Rob Miller, who is the individual in the band who Ox was interviewing, and while he denied being a Holocaust denier, I cannot comfortably work on or sell a record that dabbles in ideologies such as these. There are certain issues that rise above mere political differences and this is one of them. I spoke with the rest of the band on Monday, and NONE of them had any idea who Gerard Menuhin was, and were as shocked by these references in the record, as we at the label were. I firmly believe that these references and mentions in the record do not represent the band as a whole. but rather just Rob Miller's. In light of all this, Relapse swiftly decided we cannot move forward with this album–we gave the masters back to the band, together with the rest of their catalog."
Statement of Tau Cross Members Andy Lefton, Jon Misery, Tom Radio, Michel Langevin
This is a statement from Michel, Andy, Jon and Tom regarding the recent events with Tau Cross and Relapse Records.
On Monday, July 1st, the four of us received a very concerning e-mail from Relapse stating that they will not be releasing our upcoming album and severing all ties to any previous work. To say that we were blindsided by this news is an understatement.
During initial production of the album, we were asked individually to provide our thanks list, which for us consisted of family and friends.
Now, the four of us were informed that Rob Miller has submitted a thank you to a notorious right-wing author who none of us are familiar with. We promptly researched this author's history and we are adamantly against anything relating to this kind of ugliness. We've been vigilant in our attempts to get answers as to why this has happened and, frankly, how it could possibly happen considering our background and beliefs.
We are all crushed. We've worked so hard on this album—to have something of this nature destroy it is absolutely devastating. For the many of you who know us, you're aware that we are sincere and honest with ourselves and with the world. Tau Cross was an outlet for us to experience the love and passion we all have, while staying true to our beliefs and ideals. It is truly beyond comprehension to see it take this very unexpected turn.
With that, we want to extent our love and appreciation to Relapse Records and all our friends and family who have supported us.
With love and light,
Michel, Andy, Jon and Tom
Rob Miller Statement I would like to second the sentiments of the other members of Tau Cross, i do owe them an apology for not explaining my lines of enquiry or the people who have influenced my view so dramatically over the past few years,they are not in any way to blame for anything i have written or read,and i understand the need to distance themselves from that subject. i wish them all the very best in their futures and treasure the times we have shared together. The book 'tell the truth and shame the devil' by Gerard Menuhin is available on Amazon and Kindle,and also in good reads, where it gets a consistent 4.5 stars out of 5,so not exactly obscure or unavailable, unless you live in Germany where it is forbidden to engage in any conversation on some of the matters contained within those pages.
There are a number of people languishing in Prisons over there for expressing even a slight academic interest in the matter, so effectively all discussion is shut down and we live in a state of what can only be described as Religious obedience. it is a Religion,and anyone approaching the matter is in danger of being charged with heresy and publicly executed, so you can feel free to examine yourself and see if you believe this is a good thing or not.
As a singer in a band i have always been serious about the Truth, trying to refine the material and ideas to some kind of overarching theory, i cannot simply skim the material,i have to go into it and prepare to be changed by that journey. that has happened on a number of occasions, through reading Menuhins book,through John Lash and his work,through 9/11 research,through the Europa-the last battle video series that is constantly popping up and being pushed back down on youtube.
If I stop asking questions I stop being true to myself,so i have no choice. For 99 percent of people they have already made up their mind about me based on the words of another man written in a book they have never read, and that is enough to make a judgement,so on you go,join in the feeding frenzy of virtue signalling and outrage if you like but i stand by my endorsement of this book as it was such an important part of this journey, this is not to say that i like the Author as a person or even know that much more about him,the book is primarily a collection of quotes and original source materials, a book to study and not for salacious gossip. Others will see what is real in this situation and what is not.
Messengers of deception is probably our best album to date, it continues the enquiry and refines it through the lens of the Gnostic heresy and what that really was,why it had to be completely eradicated and what that means for our World today, the irony of having released a single about the inquisition and the suppression of speech should not be lost on anyone. Love and Light to all who want it, Rob Miller–Tau Cross…over and out.