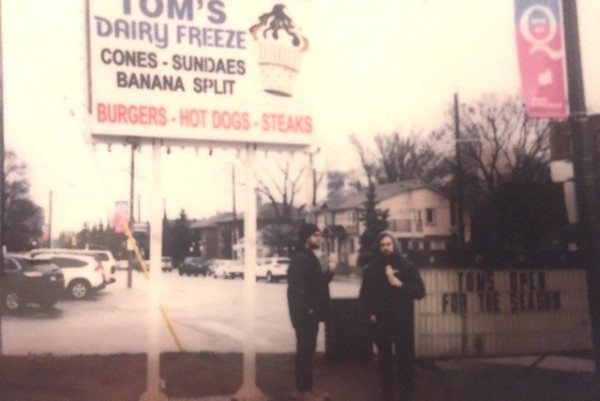 We're thrilled to share the haunting, grungy new single from Toronto's low-fi duo Low Sun. The band, self-described as "post-industry / loser rock," are a week away from the release of their new EP, the appropriatey-titled New/Shiny. That record arrives on July 20 from Art of the Uncarved Block on cassette.
New/Shiny is Low Sun's follow-up to their 2017 drone-rock album Reservoir of Impermanent Light. While the tour supporting that record took the band through Eastern Europe, Japan, and Hong Kong, that momentum didn't make the follow-up any easier. The group spent 8 months with a new bass player, only to lose them just prior to a European tour with the Czech hardcore band DNO. Out of necessity Low Sun was reborn as a duo, rewrote their EP from the ground up, and started this, their second life.
Low Sun features the brothers Peter and Robert Johnson, who together run Art of the Uncarved Block (Mildew Mildew, PAX) and previously played together as Shahman. When asked about "Cold Light and a Fare," the band commented:
"I don't remember much, but I remember it being the end of something. I recall the light more than anything. And the feeling. That feeling that sticks to you like the humidity that makes the walls sweat."
Low Sun will launch the record with a pair of shows next weekend. They'll play Weekend At Bernie's in their hometown alongside Milwaukee's Large Print, and locals Pretty Matty and Blankscreen on July 20. The next day they'll be in Ottawa with Large Print for a show at Pressed.
This story is part of a reporting partnership between Punknews.org and Some Party, a weekly newsletter covering independent Canadian rock music. Subscribe at someparty.ca.