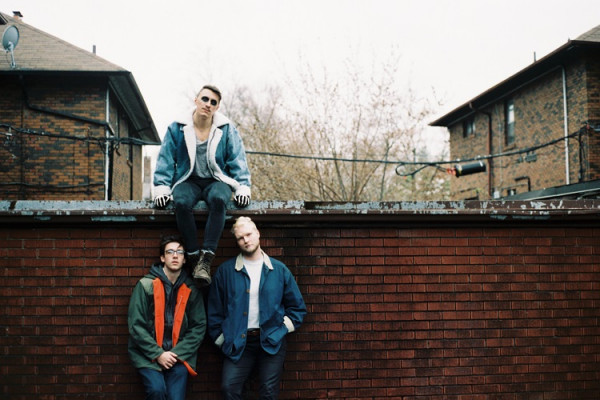 Punknews is thrilled to premiere a new song today from Toronto's up and coming punk three-piece Pacer. Their stand-alone single "Rapture" was conceived in the wake of a psychotic episode suffered by lead vocalist Shawn Kosmo. The trio, which features Kosmo on vocals and guitar backed by bassist Dan Pearce and drummer Evan Matthews, draws from 80s college rock and 70s proto-punk, with a particular love for the Replacements and Pixes shining through.
Photo by Shireen Stroke
The press release digs into the band's spin on the potentially touchy subject matter that drives the song:
"Rapture" is a song about psychosis and mental health, but instead of channeling the weight of the topic, the group seeks to tap into their exuberant side to purge the demons. The song sheds the stigma of discussing mental health by channeling that energy in the studio and on stage. Shaw n's lived experiences with mental health disorders has challenged him to find a way to explore new avenues for coping with difficult subjects. If he can't talk about them, then he'll sing about them at the top of his lungs.

…As a band with a queer-identifying frontman, Pacer also believes that the future of rock and roll is bright for those who aren't straight or gender conforming.
Pacer last released the digital singles "Bangers" and "Piledriver" / "Lose." All of which can be found at Bandcamp. Before stepping into the spotlight with Pacer, you may have encountered Shawn Kosmo's work as a video director, having put together clips for bands like PONY, Twist, and Tommy and the Commies.
This story is part of a reporting partnership between Punknews.org and Some Party, a weekly newsletter covering independent Canadian rock music. Subscribe at someparty.ca.