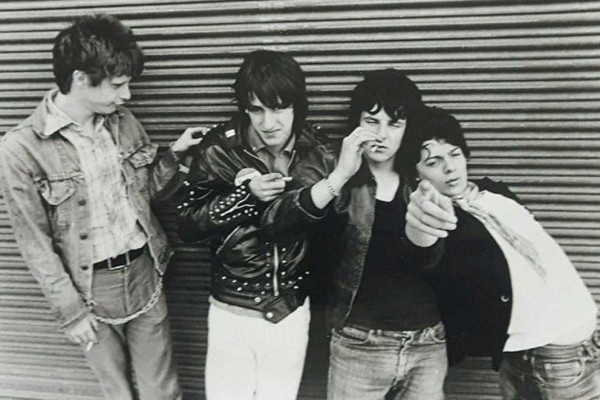 Singer Wayne Barrett McGrath recently published a public Facebook note stating that he is firing the other members of Slaughter and the Dogs, including co-founder Mick Rossi. The dispute appears to stem from Rossi's playing with Walter Lure's LAMF group. Barrett has stated that he will resume Slaughter and the Dogs once he forms a new lineup. See his statement below.
Wayne Barrett McGrath Statement
To my beloved Slaughter and the Dogs fans,
Today, I had to make a very hard decision. I have decided to temporarily suspend the band Slaughter and The Dogs due to Mick Rossi's lack of interest and his other endeavors after working with him for over 45 years. I finally opened my eyes about him as a person. I don't like airing my dirty laundry online but here it is:
First, my mother died and of all the people I have known the longest in my life, the one who never called me to offer condolences, to say, "Hey Wayne. You hanging in there ok? Is there anything I can do?" It was most likely because there was no money involved so he wasn't interested as his only interest is making a buck even if it's a second rate hack background touring guitarist.
Second: I have been waiting for him to work with me on doing a European tour for this winter, only to find out he's working with a wannabe Johnny Thunders band. He did tell me that he was going to be playing only one show in Los Angeles with the line up,and he then told me that he was taking our bass player and drummer and squeezing out the great John Tyree (who for information, brought back Walter Lure from the Ibises and the brink of nothingness,) but thanks to a certain woman, he once again couldn't control John. Mick got his side kick in, the mediocre drummer Mark Reback, who bends over backwards to stay close to Mick and this has now extended to LAMF wannabe's J.T.'s until November of this year, meaning I have to wait for him to be free once again. (Watch out about what you're trying to do in Japan Mr. Rossi. I've heard quite a bit of negative news about you trying to screw people over to make a quick buck.) He has been trying to control me throughout the years and I've known him and his shady ways but always turned a blind eye to it.
Now, that's enough. So I, Wayne Barrett, creator and owner (legally in the USA, UK and Europe,) of the name Slaughter and the Dogs say to Mick Rossi, Dan Graziano and Mark Reback, you are OFFICIALLY no longer members of my band that I legally own, Slaughter and the Dogs. You WILL in the future use the word EX-Slaughter and The Dogs when referring to my band or face a lawsuit handled by my wife. Thanks for the ride boys, but like you, life is short and I don't want to wait for you lot. I will be back on the road with new musicians this winter-bigger and better than before. THAT I promise.
Wayne Barrett McGrath