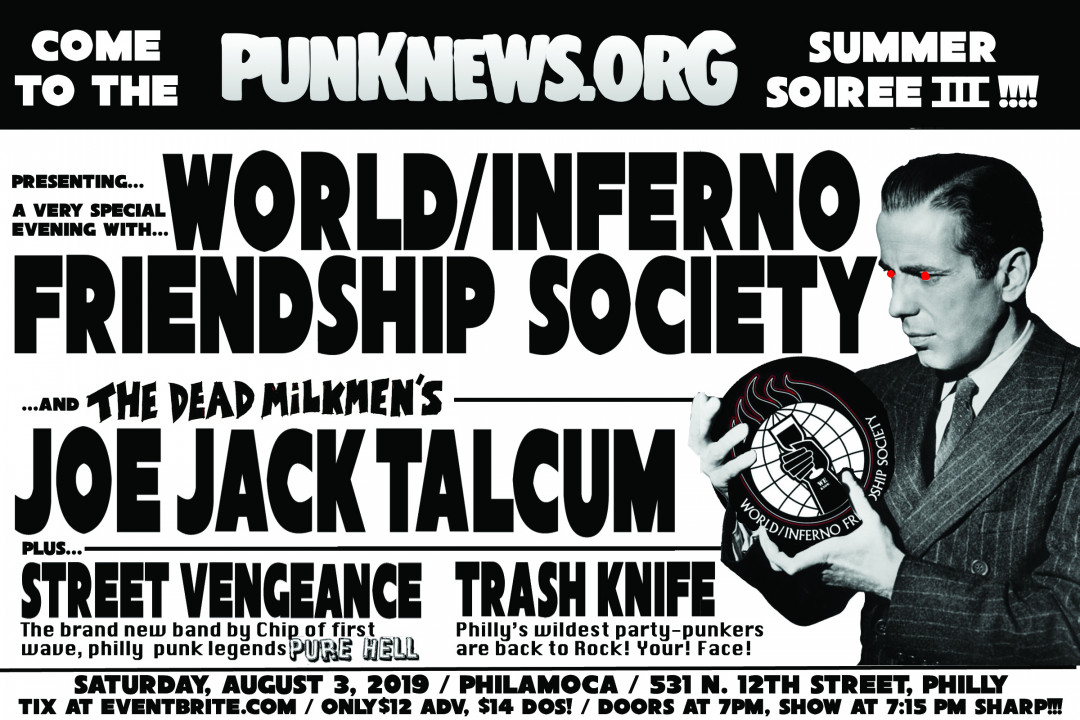 Summer Soiree Three
John Gentile
As a mildly superstitious person and as a record collector, I like the number three. There's something about the numeral that suggests "a series" rather than a one-off or two random occurrences and also has a sort of majesty. So, for summer Soiree 3, Punknews' third annual Philly blowout, I wanted to go big.
But, also to that end, if you attended Soiree 1 (the first show we ever threw) or Soiree 2 (our most frenzied endeavor), then you know that on the production side, a big part of the thrill for us was the wanton chaos of the whole thing. When we threw Soiree 1, we literally had no idea how to throw a show… but somehow we did it (with help from some chums of course). Soiree 2 was born in a frantic chaos that thrives right up to the show itself. So, it was somewhat… different, perhaps, to throw a show where we basically had an idea of what to do, what with Soiree 3 also being the tenth show that we've thrown in Philly, and about 14th show overall.
So, if the waters of chaos have dried up, there's only one thing to do and that's taking the effort that you used to use in making sure the ship stayed upright and applying it towards making the show itself extra, extra special… and on top of that, I wanted to sort of pay homage to the previous nine Philly shindigs. Luckily for us, most people in the punk rock world are really, really cool. So, there was only one thing to do and that was book a DOUBLE headline show.
Being that this was the tenth Philly show, and being that World/Inferno Friendship Society is one of my all time favorite bands (and maybe the best band ever), I asked if they would be willing to swing on down and, being the party animals they are, they were down. But, who could equal the might of World/Inferno on a co-headlining bill? There is, perhaps, one man in Philly capable of holding his weight against a mammoth nine member cabaret circus punk group – the grand vizier of Philly punk rock, Joe Jack Talcum himself. Meekly, humbly, and with some trepidation I approached the icon and asked if he would grant us a boon and play our show. Joe Jack, being the magnanimous person he is (and being the kind of guy that really walks the talk) quickly agreed to the show, and yet, being the enigmatic person that he is, wasn't direct about exactly whom would be playing with him… One does question Joe Jack, one merely respects, and therefore, I set the show up for Philly's fames Philamoca venue- a former mausoleum now film house that does punk shows and has a balcony, as well as wide array of Malaysian film art.
But, who to open? How do you kick off an event anchored by two titans? Few bands in Philly could be the hierophants for Inferno and Joe Jack, so I called up Philly heavy hitters, the relatively new party punkers Trash Knife who keep the chaos of early punk and hardcore in their music while projecting a decidedly modern view point. And for the other opener- none other than Street Vengeance, which features Chip of first-first-first wave punkers Pure hell, now back in action after some 30 years of mostly music-retirement.
Before I knew it, three months before the show melted into the day of the show and we opened the doors at exactly 7:03. Doorman to the stars KB Vickers held down the front of the house and handed out the venings flyers which had info about the bands and the soiree. Before you knew it, the house was packed and sold out while waltzes of the '20s played across the PA- the Blue Danube waltz, the Jubilee waltz, the Voices of Spring Waltz- they were all there.
And then, finally, we kicked off the show with a surprise opener. Circus music cracked through the venue and Mackenzie Moltov took the stage. An accomplished circus acrobat and performer, Moltov did several contortions tricks including fitting her entire body through a hoop that was about as wide as a Frisbee- you try to do that! After that, the music snapped to Dr. John's "Right place, wrong time" and Moltov swallowed a sword long enough to chop anyone in two. The crowd was equal parts amazed and caught off guard.
With little time to recover, the music switched to "Night At Bald Mountain" and just at that song's crescendo, Yours Truly bounded onto the stage while the explosion rocked the PA and as "Bald Mountain" morphed into high octaine New Orleans bounce music. I hyped the crowd by screaming "Are you Ready for Woooorld Infeeeerno Friendship Soooociettyyyy?!" and "When I say 'Joe,' you say 'Jack!" With the crowd primed, I leaped through a banner that read simply SOIREE (held up by Ginger Knight of Droogettes and Ramoms and another attendee) and Trash Knife took the stage.
Just before Trash Knife played, one of the members got some mildly bad news, so they came to battle and they did. That anger was channeled into an explosive, berserk performance. Guitarist Steve Firth who walks the lines intersecting Johnny Thunders, David J, and Cheetah Chrome blasted out snappy, lashing riffs, while maintaining that cold sneer seen in so many classic bands photos- was he pissed off, indifferent, gilled with hatred, or just thinking things true. The best bands don't always look like they're having fun on stage and Steve didn't look like he was having fun- he looked like he was there to split heads and splitting heads he was- few musicians can play powerful, Spartan riffs without sounding retro and Steve's music is as current as today's newspaper, let me tell you. Meanwhile, singer Lauren McFadden was going crazy. Immediately, she jumped down into the crowd and grabbed them and shouted at the and generally made them take two steps back, which made her take three steps forward. She sang about partying, equal rights, skateboarding, and Ronda Rousey all while keeping the fire of Penelope Houston and Darby Crash in her soul. The crowd was a little scared, but they were into it. Sometimes it's good to be scared.
A few '80s reggae tunes bounced across the speaker and Street Vengeance was on the stage, with guitarist Chip looking as cool as ever. Chip, who could have stepped out of CBGBs circa 1976, has been playing guitar since then and he hasn't lost a step. In fact, his playing, which draws from blues, punk, and classic rock, is that of a master's touch. As the band blasted through about eight punk meets hard rock numbers, Chip ripped out solos that were as classic as punk can get. Meanwhile, in a slight nod to Pure Hell, the band ended their set with a rambunctious cover of "These Boots are Made for Walkin'." Not band for their fourth or fifth show ever!
Yours Truly went through the audience and collected raffle ticket donations for St. Jude's Children's Research Hospital- the grand prize? TWO twenty five dollar gift certificates to Sit & Spin records AND one of their coveted tote bags, which grants the beholder 10% off for life! Not too shabby!
And then, the headliners began. Joe Jack Talcum took the stage, surprising the audience by appearing as DanJoMar- Joe Jack on electric guitar, Dandrew Stevens (also of Dead Milkmen) on electric bass, and Marshall Fischer on drums. DanJoMar was in full band, electric mode and they came to ROCK, opening with a cranked up, high energy strike of the Milkmen classic "Dean's Dream." They were on FIRE. As a three piece, the band makes every element count, utilizing Joe's talent for melody, and, also, his perhaps understated acerbic attacks. Joe Jack is often thought of having a kind soul, which he does, but equally as often, his music takes on a cynic, comically pessimistic view which gives the happy and sad song all that much more depth.
For the soiree show, DanJoMar focused on the rarities an ultra rarities. Joe Jack solo cuts from all eras were given a run through. Some of his earliest, pre-Milkmen songs were kicked out as were some of his brand new songs, off his new split release with Gravey Train. Meanwhile, the trio dug waaay back and blasted through the pre-first DM album track "Girl Hunt!" On top of that, in tribute to Dandrew, they played a song by the short lived Low Budgets band. Few people can walk the line between power and thoughtfulness, and DanJoMar presented just that in their unique voice. There is an suggestion to never meet one's favorite bands because they will probably let you down. I don't agree with that sentiment at all. I am grateful for meeting Joe Jack Talcum, who, time and time again, has proven that he is a top ranking champ all while refusing to acknowledge that he's anyone aside from "just someone in the crowd." Joe has repeatedly refused the laurels that I (and everyone else) have thrown upon him, perhaps because they make him uncomfortable or maybe because he sees separating the art from the audience as "not punk rock.". Well, I don't care. He deserves every compliment, tribute, and prize he gets times three.
And then finally, World/Inferno Friendship Society took the stage to their iconic, booming intro "Tattoos Fade." Singer Jack Terricloth slid on stage like a viper with a bottle of wine in his hand and the crowd erupted into a huge sing-a-long with the refrain "FaaaAAAaaaAAAaadddde!!!!" World/Inferno came to rock.
The band recently reformed in a newish lineup with a few members that have been in the band for about three or four years and some newbies and the new band BOOMS. The horn section is as strong and rich as it has ever been and guitarist Matt Dallow brings an eccentric melody with his keyboards and accordion. Bass player Gina Rodriguez likes a quick striking, rapid rumble. Meanwhile, for his part, Terricloth sounds as rich, as powerful, and as on point as ever. The man loves the stage.
For most sets, World/Inferno likes to mix up the new and the old, the hits and the rarities. For Soiree 3, they appeared to play a special greatest hits only set. You know me, I love the rarities, but there was something very special about the band blasting from slammer to slammer without stopping, every song a home run. "Only Anarchists Are Pretty" got an extended, house rattling second section. "Your Younger Man" was amped up in speed and finesse, with the quiet parts really quiet and the loud parts really loud. "Ich Errinre Mich An Weimar" was shot with a doze of big band rampage-swing. "I am sick of people being sick of my shit" kicked like a mule with those hard piano strikes smashing everyone's face and fill in drummer Jon Lango (of crazy & the Brains) really just beating the crap out of those drum heads. "Just the Best Party" was brought out for an amped up sped attack. The band was ON FIRE, BABY.
World/Inferno collapses and re-manifests every four year or so and the current manifestation is all about speed and power. This is excellent. But, perhaps even more importantly, the band, as much as ever, is about having fun and that splashed out onto the audience. Merely one foot separated the audience from the band and at times they merged into one with the band tumbling out onto the audience and at others, the audience getting on stage to sing a line or two.
Few bands have managed to keep the power and style and sense of revelry that World/Inferno has for twenty years, and somewhat strangely, it seems that the band is having as much fun as ever and may even be entering a new golden age. As their closing number "Zen and the Art of Breaking Everything in the Room" displayed, they are amped up and appear to hold their core tenets closer than ever. THIS is what punk rock is about.
And like all the soirees, it was over seemingly as soon as it began, four hours squished into a mere moment or two. As the sweaty audience (and boy there they sweaty as multiple hugs and handshakes attests) they each got a goodie bagged packed with stickers and flyers from Alternative Tentacles, Sit & Spin Records, free records, and even the exclusive Punknews Summer Soiree 3 tabletop action board game. (You had to be there to get one, only two hundred made!)
While the element of danger and unpredictability was mostly gone (knock on wood), I must admit, that I had the most fun at the soiree than any other show that I've thrown. After ten shows, I was revaluating the frequency of Punknews Philly shows, and even if they should continue at all. Leave it to Joe Jack and the Inferno to reignite one's passion, but the crusade shall continue, as fiery, as sincere, and as whimsical as ever before. See you next year… and probably before that…