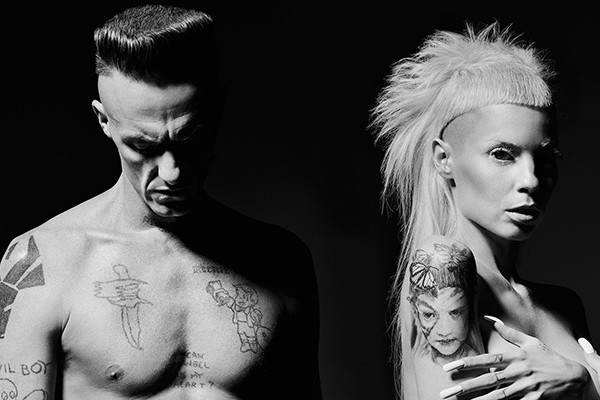 A video from 2012 appears to show Die Antwoord vocalist Ninja (Watkin Tudor Jones) assault Andy Butler of dance music group Hercules and Love Affair, while Yolandi Visser repeatedly calls Butler "faggot." After the attack as the video still runs, Ninja and Visser are heard discussing an accusation that Butler sexually assaulted Visser moments before the video starts, with the appearance that they are fabricating details about that assault.
After release of the video, which was uploaded to YouTube on August 4th, organizers of both the Louder Than Life and Life is Beautiful events have announced that Die Antwoord have been removed from both festivals.
On Sunday, August 18th, Ninja released a statement on the matter via Die Antwoord's social media. In that statement they make claim that the video has been maliciously edited by their former cameraman in retaliation for his termination several years ago, and that the incident in question was a fight between two parties based on the assault on Visser, and not in any way related to Butler's sexuality. He also states about the accusation that they were fabricating Butler's initial assault on Visser:
In the heat of the moment I quickly told ¥o-landi to be as dramatic as possible about what happened so that we wouldn't be detained for this guys bullshit story he was busy spinning to security.
(see the entire statement on Facebook here).
You can watch the video in question below (note- the video apparently keeps being taken down. PN will try to update the embed when/if this happens)