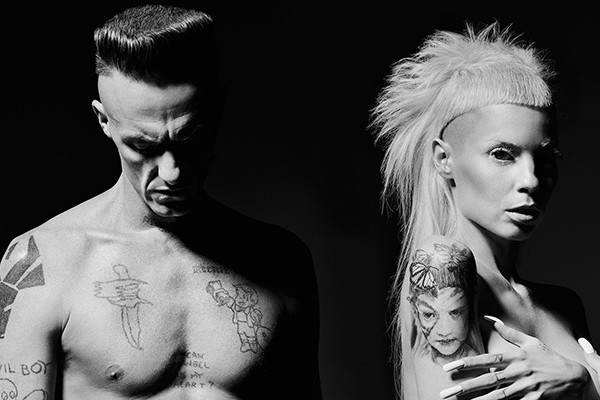 The news keeps getting worse for the stars of the 2015 film Chappie, as Riot Fest has announced via social media that they have dropped the South African duo Die Antwoord from this year's event.
Earlier this month a video from 2012 surfaced which shows Ninja (Watkin Tudor Jones) and Yolandi Visser of Die Antwoord perpetrating a hate crime against Andy Butler of Hercules and Love Affair. Throughout and after physical confrontation initiated by Ninja, Visser repeatedly calls Butler, who is openly gay, "faggot." The pair have been accused of fabricating a story to explain their assault as, later in the video, Ninja can be heard clarifying first that Butler sexually assaulted a young girl, but that story quickly alters to indicate Visser herself was the victim. After release of the video the Louder Than Life and Life is Beautiful events were the first to drop Die Antwoord from their festivals. Die Antwoord has released a statement relating their version of events before, during, and after those depicted in the video. You can see that statement below.
Riot Fest will announce a replacement act at 10am this morning (not specified, but likely CDT). Punknews will update this article appropriately once that act is announced.
Ninja speaking.

In relation to the"hate crime" video in Adeliaide filmed by our ex-cameraman Ben Crossman:

Ben has cleverly edited this video clip to make it seem like me and ¥o-landi commited a hate crime towards a person because they are gay. However Ben beat up the guy from Hercules himself while filming this same video clip.

This was just a fight with someone who fucked with us. Not a hate crime.

This fight had nothing to with the fact that this guy was gay. We dont care about people's sexual preference. Our DJ and best friend DJ HITEK is gay, and alot of people in our crew are gay.

But if a person (no matter what their sexual preference it) keeps harrassing us over and over, then physically harrasses ¥o-landi, there will obviously be repercussion.

Ben Crossman has been on a rampage to make us look bad in the media because we fired him years ago, for being mentally unstable, and malicious towards our family.

Here is what happened during our Australian tour that lead up to the incident in Adelaide:

While Die Antwoord were on tour in Australia (8 years ago) during the Big Day Out festival, ¥o-landi and I were having breakfast at a hotel when some guy we did not know pulled up a chair at our table and said: "I need to speak with you guys."

I told the guy, "We are having some private time."

To which this guy replied:

"Oh you are always having private time, aren't you" then he walked off.

A minute later, the guy walked past us again and said to us : "You need to get slapped through the face with my dick," and he walked off again, and sat down at a table nearby with a friend.

We asked around later if anyone knew who this person was, and we found out that he was a singer from some band called Hercules.

We were on tour with all the bands from Big Day Out for 7 shows, and everywhere we went, this guy kept stalking us and passing fucked up comments at us over and over.

At the end of the tour, during our final festival in Adelaide, the guy from Hercules followed ¥o-landi into the girls bathroom and wouldn't let her out, and she had to physically push past him to get out of the bathroom. She then ran to me and (our camera man) Ben and told us what just happened. This is why we all got up and ran after this guy (which Ben has not included in his edit).

As I ran up to the guy from Hercules, he threw a drink at me and punched me so I hit him back, and he ran off.

Ben (our camera man) then chased the guy and got into a scuff with him. During this scuff Ben punched the guy from Hercules in the face. The guy then ran away screaming for security to arrest us.

In the heat of the moment I quickly told ¥o-landi to be as dramatic as possible about what happened so that we wouldn't be detained for this guys bullshit story he was busy spinning to security.

The festival asked us if we wanted to press charges against the guy and we said no, as the incident was now over.

At the end of the day we are kind people with good hearts who make surreal art and hardcore rap music. We dont look for trouble, and we believe in love, respect and equality. But if you fuck with us, we gonna pull up.

Increase Da Peace