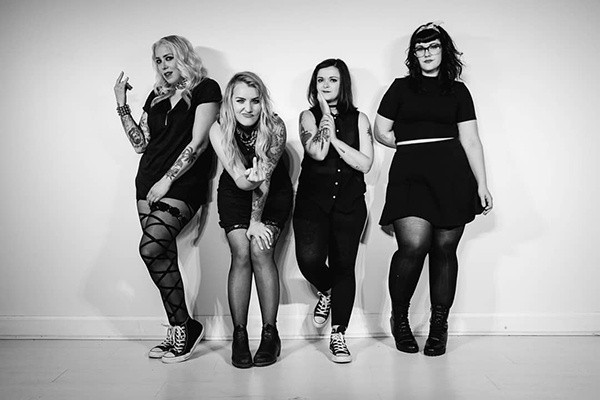 Punknews is beyond the moon to premiere for you a new video from Toronto's The Anti-Queens. The video is for their single "Worse Than Death," which comes off of their debut, self-titled LP, which is due out September 13th via Stomp Records.
Vocalist/guitarist Emily Bones has this to say about the song and video:
We are super stoked to release the new album! This is one of our favourite tracks. The theme of the video is to break out of the awkward corporate mold and give the big middle finger to conformity and society's standards.
The Anti-Queens are going to be super-busy over the next month-and-a-half as they embark on a record release tour in Canada before heading out to the EU for a tour with The Creepshow (dates indicated with *), and then playing a few more dates back in Canada upon their return.
The album is currently up for pre-order on vinyl, CD, and digital packages, or you can pre-add from Spotify or Apple Music here.
Now to the really good stuff: you can check out their new video, and all of those dates, below.
| Date | City | Venue |
| --- | --- | --- |
| Sep 12 | Montreal, QC | Katacombes |
| Sep 13 | Jonquiere, QC | Le Deluge |
| Sep 14 | Quebec, QC | L'Anti |
| Sep 20 | Toronto, ON | Bovine Sex Club |
| Sep 26 | Berlin, DE | SO36 * |
| Sep 27 | Prague, CZ | Klub 007 Strahov * |
| Sep 28 | Lindau, DE | Club Vaudeville * |
| Oct 01 | Düsseldorf, DE | Pitcher * |
| Oct 02 | Hamburg, DE | Knust * |
| Oct 03 | Hannover, DE | Subkultur * |
| Oct 04 | Magdeburg, DE | Factory * |
| Oct 06 | Bochum, DE | Matrix * |
| Oct 07 | Ludwigsburg, DE | Rock'n'Roll Bar * |
| Oct 08 | Tubingen, DE | Sudhaus * |
| Oct 09 | Luzern, CH | Schüür * |
| Oct 10 | Vienna, AT | Viper room * |
| Oct 11 | Ostrava, CZ | Brick House * |
| Oct 12 | Dresden, DE | Club Puschkin * |
| Oct 18 | Brantford, ON | Blackout Fest |
| Oct 19 | Oshawa, ON | Atrium |