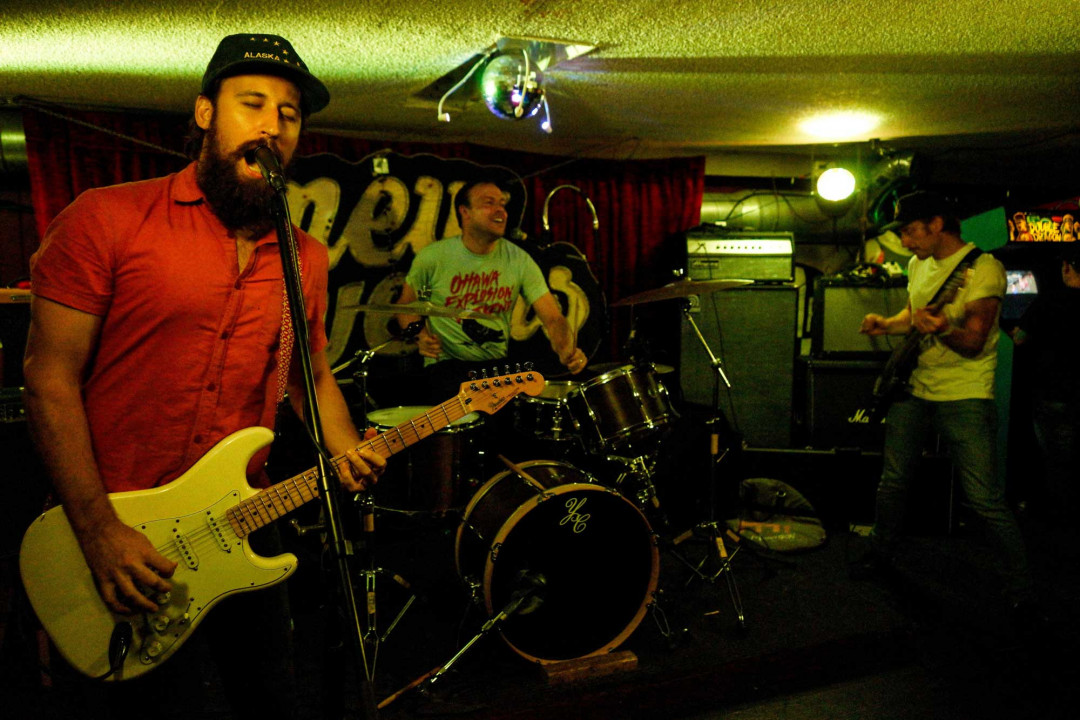 After a few years performing as live band Ottawa trio Warp Lines are finally set to deliver a proper studio album. The bands' first full-length finds them mashing up influences from the members' long garage-punk resumes (Million Dollar Marxists, the Steve Adamk Band, etc) with the pop hooks and vocal harmonies of 90s Canadian alt-rock (Sloan, Thrush Hermit). The band's first full-length will be titled Human Fresh and is due on September 27 from Portland's Dirt Cult Records. We're thrilled to premiere one of the album's 12 tracks, the memorable "Hell is Great," below.
Warp Lines features the entirety of the defunct bass-and-drum post-hardcore duo Big Dick, pairing long-time collaborators Johnny O (guitar) and Dave Secretary (drums) with bassist Kurt Rafuse (formerly of The Yips). The trio has further connections in the capital's busy punk scene, with members having played at one time or another in groups like Van Johnson, Uranium Comeback, and The New Calling, among others.
Warp Lines will launch the new record with a release show at Ottawa's House of TARG on September 28, supported by locals Mushy Gushy and Organ Eyes. Dave Williams of Crusades and Surrender will be on site to DJ some synth-pop gems as well. A slate of shows in Ontario and Eastern Canada is scheduled for early 2020, with dates to be announced.
You can pre-order the Human Fresh LP from Dirt Cult now!
This story is part of a reporting partnership between Punknews.org and Some Party, a weekly newsletter covering independent Canadian rock music. Subscribe at someparty.ca.