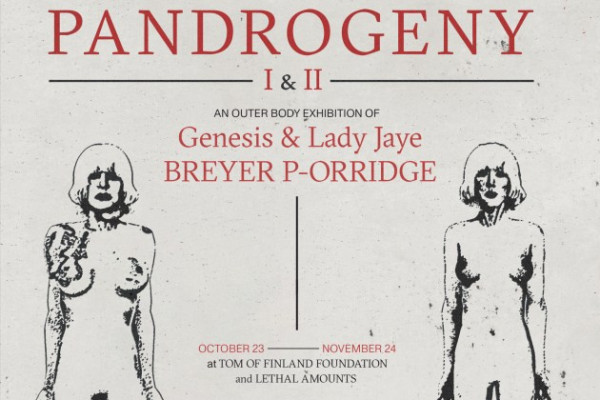 Genesis Breyer P-Orridge of Throbbing gristle and Psychic TV has announced a dual art exhibit, also credited to the deceased Lady Jaye. It's called PANDROGENY I & II and it's at Tom of Finland Foundation (part I) and Lethal Amounts Gallery(part II) from October 23 - November 24 in Los Angeles. The opening night reception will feature a talk with Genesis.
Genesis released a statement: "Both spaces will explore the many facets of Breyer P-Orridge's art and h/er influence through a selection of paintings, photos, sculptures and installations, that will reveal the ways that gender has shaped the artist and h/er work particularly with the project Pandrogeny (which started in 1995) with other half (dominatrix, registered nurse, performance artist, and musician) Jacqueline Breyer—aka "Lady Jaye". In July 2019 s/he received the Kamookak Medal from the Royal Canadian Geographical Society for her explorations on projects in popular and social culture and gender geography.
Some people feel they are a man trapped in a woman's body.
Some people feel they are a woman trapped in a man's body.
A pandrogyne just feels trapped in a body.
"