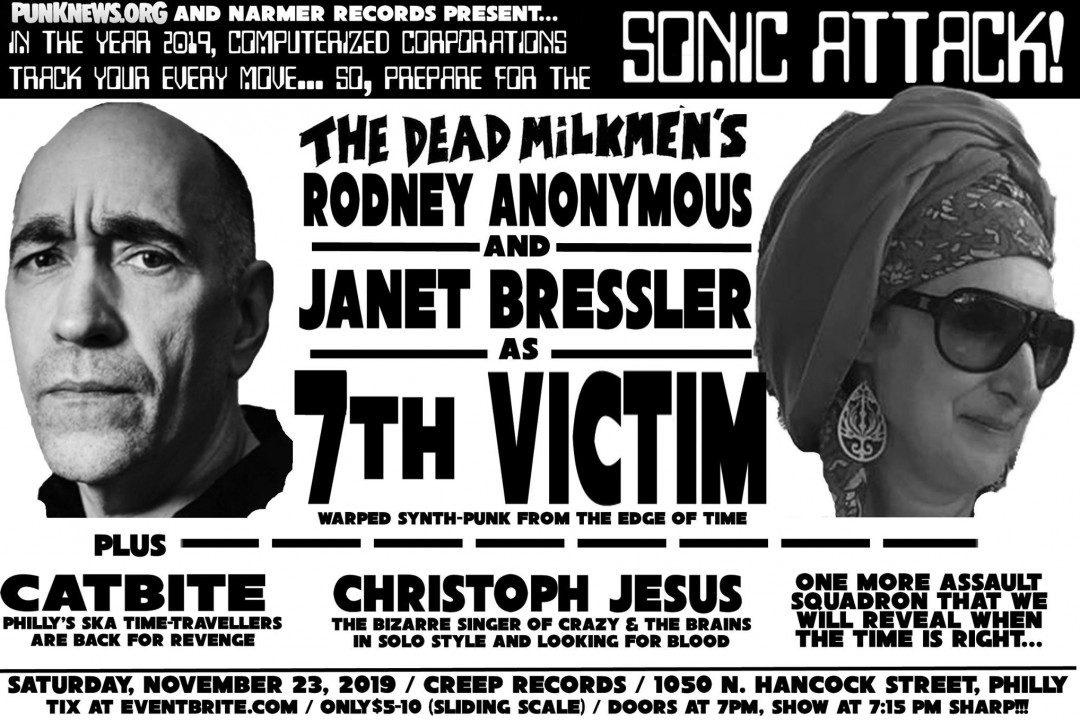 In the far future, the year of 2019 where flesh and synthetics have merged, mandatory miniature computers track your every move, mysterious, corrupt governments legislate human organs, unfathomably rich power-barons control what you see, hear, read, and taste…
On November 23, 2019, a band of underground agents will meet for the… SONIC ATTACK!
The Dead Milkmen's Rodney Anonymous and Janet Bressler will perform as 7th Victim, a synth-punk duo from the edge of time. Before that, Catbite, ska-time-warpers from the year 7079 will cross the temporal plane and bring their two-tone meets Sun rock'n'roll styles to you. And before that, psyche-Shogun Christoph Jesus, frontman of Crazy and the Brains will travel down from the demilitarized nuclear warzone that is Jersey City and will perform a set of classics, covers, and oddities. On top of that, a secret fourth cabal will appear, to be announced then the time is right…
The show is November 23 at Creep Records in Philly. The cost is $5-10 on a sliding scale. If you get an advance ticket, you also get a surprise goodie bag at the show, that includes a free record and cool other stuff.
Gates open at 7pm and the show starts at 7:15 sharp! This is NOT on punk time, so get there at 7pm, sharp! You can check out the facebook event page here.