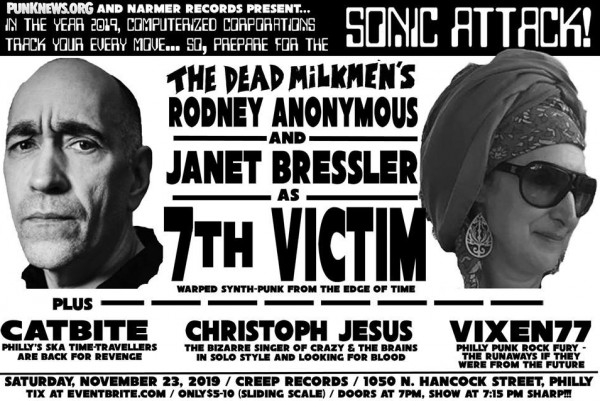 On November 23, we're throwing the SONIC ATTACK in Philly at Creep Records. Dead Milkmen's Rodeny Anonymous and Janet Bressler will headline the show as the synth-punk unit 7th Victim. Catbite is bringing their classic ska-meets-Little Richard stlye and Christoph Jesus of Crazy and the Brains is bringing his one-a-kind weirdness and awesome jams.
We're THRILLED to announce that Philly's own Vixen77 will also be playing the show! Vixen77 take the classic punk attack of the first wave bands, add in a little Runaways edge, and just kick out fast and snappy tunes. You can hear some of their tracks below!
The cost of the show is $5-10 on a sliding scale. If you get an advance ticket, you also get a surprise goodie bag at the show, that includes a free record and cool other stuff.
Gates open at 7pm and the show starts at 7:15 sharp! This is NOT on punk time, so get there at 7pm, sharp! You can check out the facebook event page here.