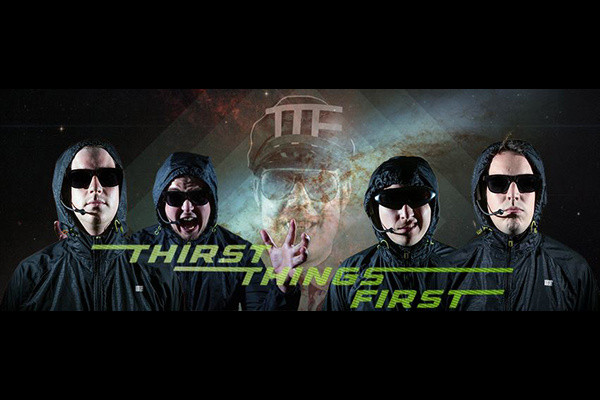 Punknews is excited to premiere a new EP by one of our own. Thirst Things First (feat. PN reviewer Mikey Elfers) is an avante-garde band in the vein of DEVO and The Aquabats mixed with some The Vandals, and with a decidedly interesting theme.
I would try to explain, but it is probably best to let TEAM TTF do it themselves (and, yes, they always write in caps as that is "that's kind of (their) thing"):
MOST OF LOILTY WAS RECORDED IN 4012 WITH A TEAM OF SCIENTISTS AND MATTHEW SCOTT SANDERS AT FUSE RECORDINGS DEEP IN LINCOLN, NEBRASKA, UNITED STATES WORLD. ROBOT MIKE TRAVELED TO THE FUTURE IN 4018 TO RECORD ROBOT MIKE WITH MATTHEW SCOTT SANDERS WHILE ONE ANDROID JACKSON MOGIS WOULD BE WORKING ON THE MATERIALS. THE MASTER MIXES WERE THEN QUICKLY SHIPPED DIRECTLY BACK TO MATTHEW SCOTT SANDERS SO HE COULD MAKE THE ALBUM LOUD ENOUGH FOR EVEN THE MOST ADVANCED HUMAN EARS. ARTWORK WAS BRILLIANTLY ERECTED BY RYAN CONNOLLY.

ALL SONGS BY LORD BOOT: AND TEAM TTF EXCEPT "WHY I CRY" WHICH WAS WRITTEN BY NO NAME HUMAN BAND THE MAGNETIC FIELDS.

BOOT: ASSEMBLED TEAM TTF AND DEPLOYED J.O.R.D. TO LINCOLN, NEBRASKA, UNITED STATES, WORLD WITH THE SOLE PURPOSE OF ASSEMBLING A TEAM OF NO NAME CAREER TELEMARKETERS AND LASER WHO LIVES IN HIS GRANDMOTHER'S BASEMENT IN ORDER TO FURTHER SPREAD AWARENESS ABOUT THE IMPORTANCE OF OIL CONSUMPTION ON PLANET WORLD AND SURROUNDING AREAS. THROUGHOUT THIRST THINGS FIRST'S WORK RELATIONSHIP IT BECAME A VIABLE OPTION TO PRODUCE ENTIRE EP'S ABOUT MIKE'S DEAD NEIGHBOR, THE LETTER E, AND ROCKIN' THE GOLDEN TORCH. THE RELEASES WERE INSTANT CLASSICS, AND WITH PALINDROME-MAN JOINING TEAM TTF ON GUITAR, AND ARMOUR A AND MEGASPAIN IN THE MIX, IT WAS CLEAR THAT THIRST THINGS FIRST IS IN IT TO WIN IT. WHICH REMINDED TEAM TTF THAT THEY SHOULD PRODUCE DEMONSTRATIONS ABOUT REALLY IMPORTANT SUBJECTS LIKE DIGGING HOLES IN PEOPLE'S BACK YARDS, CARPETS, AND HOW MUCH BETTER TEAM TTF IS THAN OUR ARCH NEMESIS THE MAGNETIC FIELDS.

DRINK OIL TO PUT THIRST THINGS FIRST.