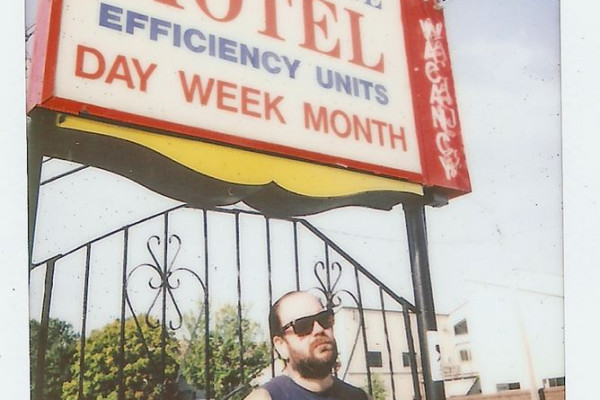 Montreal's finest Hugo Mudie has been stirring up punk chaos for the last 20+ years. He is a creator of the very successful punk festival Pouzza Fest and singer of Saint Catherine. He is an influential yet very humble fixture in a scene that is thriving. Editor Samantha Barrett sat down with Hugo Mudie to talk about his new collaboration with DFL, Pouzza Fest turning 10, and his band turning 20.
You just released a kick-ass track with Dead Fucking Last. How did this collaboration come about?
Dead Fucking Last was a band that I really liked when I was young. I thought it would be really cool to try a song with them. I sing in French now and I never heard a song in that style is sung in French so I thought it would be a pretty unique thing to do so that is why I started to try it. They played Pouzza a few years ago, I organize Pouzza and have the privilege to have a relationship with these bands. I hung out with them and we got along and that is how it happened.
You mentioned how you sing in French now, this particular track is mostly in French and there is some English involved.
My part was in French and their part was in English. I thought it was really cool to do a bilingual song. Here in Montreal, most people speak both languages which are pretty cool to have a bilingual song, it is pretty unique, we are probably the only people that can understand 100 percent what everyone is saying in the song, and it is kinda cool.
That's rad! I am assuming that kinda came about organically then?
That was definitely not planned in any way, and that is what I like about it. Sometimes I kinda get a bit depressed about the state of the music industry and how people are treated in a band. A lot of times it is based on who is popular, who is cool and how should I get my stuff out there and who should I hang out with. That was definitely the case of NOT that at all. I don't really profit in any way with doing a song with DFL, here in Quebec like they are not really that well known. Same for them, there is no advantage for them to do a song with me. People in Los Angeles have no idea who I am and what I am saying in the song. I really like the idea of just doing stuff for the heck of it. Not all planned and marketed.
I guess especially now sing the industry is very English speaking centric. The fact that Montreal has a unique way of how you operate out there with being bilingual/trilingual… The fact that you guys have incorporated what you're about and what they're about is what is awesome.
The track reminds me of a 80s hardcore which is something you are not known for. What did you take as inspiration to create this gem of a track?
It was pretty much their song. I wanted to do a track in that style. I was never a fan of hardcore music in a general sense. I like Minor Threat, DFL, and Bad Brains but that is pretty much sums it up. So I was never into hardcore but I really like that style of hardcore. I think that there is something really free about it and even hip hop in a way. I don't know how to explain it but there is something really cool about those bands. I wanted to do a song like that, I really tried to do it on my own on my first solo record. I did two songs that were kinda inspired by them but it was not exactly how I imagined it. So I thought the best way to do it would be to do it with the best band that does this style. Minor Threat was NOT available so DFL was the second best.
That is amazing! (Laughter) Will we be seeing more collaboration of this sort in the future?
I would love to do more songs with DFL, definitely, I wish we could do this song live at some point, maybe Pouzza 10. Yeah, that is how I sort of go now, I do singles. I do records, where I write songs with friends but other songs between the records I can pretty much do whatever I want so that is what I did. At the same time I put out the DFL song, I put out a song called "Gatorade" which is a collaboration as well with a DJ called Figure 8, He is like a hip-pop/techno DJ. For me it is not a big difference, I like whatever style of music, whatever it is well done and well thought out and sounds good. A melody is a melody and I pretty much do whatever I want. Yeah, I will definitely continue on that path. Anytime I have these ideas on collaborations with a band I think it is cool. I will definitely try to do it and then it is more on their side if they want to do it or not.
Maybe, you can come out with a "Collaboration LP" one day…
Maybe. I would like to do a song with Dillinger Four one day. That would be a good match.
Didn't they play Pouzza like 4 years ago?
Maybe more like 5 years. Yeah. I think they should return this year. I am not saying they are but it is their time…
Speaking of Pouzza, the Fest is turning 10 next year (holy shit that is amazing). The fest has been growing with every passing year. What is your vision in celebrating a decade of the festival?
I am not sure if it is growing anymore. In the last 2-3 years, it has kinda been the same. I thought about that a lot last year. I think what's important about it is the sense of community that comes through it. All of the people that you don't see a lot, we all come together and see each other at Pouzza. Maybe celebrating the fact that we are all misfits and we do not care about popular culture and we have different views of the world and all. You kinda forget about it but we have a very unique lifestyle and way of seeing things, we have a very unique culture and it is not celebrated enough. Sometimes we are kinda looked down on when you say you are in a punk band or you organize a punk festival or whatever punk work you can tag on. It is just not getting the credit it deserves because it is not popular now or not what the cool kids listen to. Which I think is fine, it is where it should be anyways. That is what I think about.
Switching over to another project you have been working on, Sainte Catherines just turned 20 and you just played an anniversary show. How was that?
It was cool, it was an outdoor show, and it rained so we moved it to Turbo Haus at the last minute. It was really fun, really packed and great.
Reflecting on the fact your band has been alive for 20 years. Did you ever in your wildest dreams think that Saint Catherines would still be around?
Of course not. I started Saint Catherines when I was 18 years old. I just wanted to be in a band, be on a stage and hang out with other people I thought were cool. That was pretty much what I wanted to do. We grow into it, then you try to get more out of this project for yourself, then for people that like the band. That's the thing you realize that you might not have had when you were younger. For a lot of people, it means a lot, especially for people in Montreal, to have a band that people look up to, to be proud of, that gets them through hard times. For me, I think it is also the reason why I still have fun playing those songs. I know when we play them, people might feel a bunch of things and they enjoy it, it might remind them of high school when they were younger, a breakup or a fucking love story. It's all the things that I care a lot about.
It is close to the end of the year, what records have you been jamming to lately?
Humm… seriously for the last 6 months, I have only been listening to Weezer. I am going into the studio soon to do a new record and it is very Weezer influenced. I really studied their albums so that is pretty much it. Nothing new, really. I kinda like some of the Post Malone songs, I like the Lost Love album from last year. I probably listened to other things but mainly Weezer.