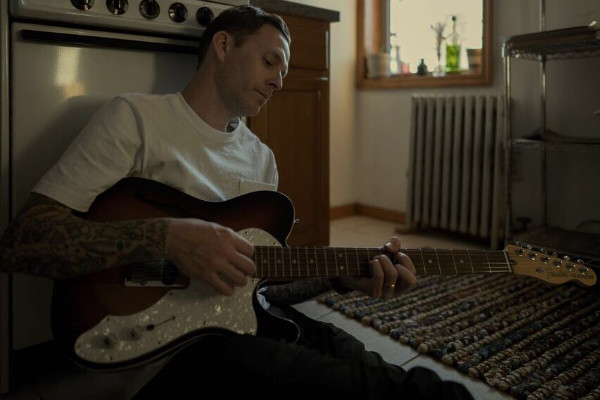 Punknews' Eric Rosso caught up with Vinnie Caruana on his most recent solo tour at its Philadelphia stop. Vinnie Caruana released his latest solo effort Aging Frontman earlier this year on Know Hope Records. The pair talked about the decision that led him to scrap an entire album before the release, the writing process behind Aging Frontman, and caught up on future plans with the prolific frontman's other band I Am The Avalanche.
One of the first things I did as I was doing research for this interview was go back and look at previous interviews you have given. Over the past couple years, you've talked about being a working class musician and I think it fits into the name Aging Frontman of your new album. You were talking about setting up tours around your family and with different bands. Figuring out your schedule a year in advance to make working in music for a living. I'm curious about the reality of what that's like? Sometimes it feels like it's the best job ever because it's not work. The most work that I do where it feels like work is to travel. I feel like my job is to drive more than play. I drive ten times more than I play. It's stressful as hell. I'm not a rockstar. I'll never be and that was never the goal.
Now that I'm 40, I've been going hard and making a lot of music but totally starting to think that I need to find a job that's not music. Does that mean I'll stop making music? No, but to depend on music the rest of my life to make a living is unrealistic. I have to figure out some shit. I have to figure out something where I'll make some money and do what I love, which is to play shows and travel. That's where I'm at.
That being said, I have no time to do any of that until at least February. I'm on the road, working on records, writing, and producing other people's records. That will all pay the bills. Long term, there's no security there. That's not the fun part about this — worrying.
I think a lot of guys in my position, guys at my level, who have a small but loyal fanbase who come to see me as long as I give them records and good songs, they'll stick with me. That's where I'm at currently.
I feel that permeates from Aging Frontman as I listen to it and pick up on the lyrics and narrative on the record. I read you scrapped an entire album at one point and then came back and recorded this. Can you talk about the difference between them and what led to that decision? There were songs that were folky and still me. Like "City By The Sea" is a Frank Turner-style folk-punk thing. That's not who I am at all. I don't want to be Frank Turner. Frank Turner is the only one who needs to be Frank Turner. I don't listen to folk-punk and I felt like I had done that already. I was writing songs I really liked, but I didn't care about those songs. So I stopped writing lyrics to those songs, took some of those words that are all in my book, and stopped writing on an acoustic guitar. I started writing on a telecaster with a little Fender combo amp.
My boy Jason Klein at Fender is an old hardcore kid. I asked what he could sort me out with where I could write in my apartment and not get evicted. I need small amp and I don't want to write shit on an acoustic guitar even though there are acoustic guitars on the record. There will also be electric. It's not going to be full rock, but it's got to be vibes. He sorted me out.
I wrote 20 percent of this record on an acoustic guitar. Most of it I wrote on a telecaster with a dirty tone. I played a telecaster on the record along with my acoustics and those are the only guitars on the record; a tele and a Fender Paramount acoustic and a Martin acoustic as well.
There's a lot of experimental sounds on the record that I haven't heard on your discography in the past. That's one of the things as a fan that really stood out to me. In my review, I compared it to Lou Reed. It seems like it has a different vibe to me. I was curious why that transpired and if I'm reading that right? I think it was just me. It wasn't like I'm going to go nuts and not my own thing. I told the Ratt who produced it, my partner in Avalanche and Movielife, "I want to do this record with you, but it's got to be different than anything we've ever done together. Let's not do something we've already done."
He totally got it. When he heard the songs, he said it was already different. We just fucked around and got some tones referencing some of the things that I'm into. I love listening to The Magnetic Fields, Belle and Sebastian, The Breeders, The Libertines and stuff like that. A lot of that made its way onto the record with my own sensibilities attached to it.
I was going to make a full-length and I remembered what happened with Survivor's Guilt. People were like, "Woah, sick!" and then they didn't listen to the second half of the record. People don't fucking listen. I do it to! People only need an EP, that's all they have time for. Give me 18 minutes and I'll give you some of my best songs ever. I won't bore you and I won't let you lose your attention span. Just live in this place with me for 18 minutes and if you don't like it, never listen to it again, but I'm pretty sure you are going to start it over and get to love these songs.
That's the other thing. When I go out on tour on a full-length, you don't play 10 new songs. You play three new songs. Why do all that? I feel this has more of an impact and I think it's right because I see what songs are affecting people and I play those.
Friendship is a big theme throughout your discography. I noticed particularly in Aging Frontman, the way you are singing about friends is wanting to leave them behind with more positive in their life than negative. In working with the Ratt and shaping a record that does something different, it really feels like the friends you surround yourself who are also musicians really bring out different sides in you - whether it's Steve Choi in Peaced Out or Brandon Reilly in The Movielife. Can you talk about how your own friendships intersect with this music and how it feels putting out an album that is so uniquely you at this point? This is the first solo release Steve Choi is not on. That's why it becomes a little more uniquely me because I'm playing all the guitars. I'm not really known for my guitar playing, but this record doesn't call for soaring solos and really noodly stuff. Me and Ratt have a deep-seated musical connection. It's why I work with him on everything. I didn't want to give him the ultimatum of recording with someone else, but we needed to do something new. Me and him go deep with this shit.
As I was writing the new songs, I didn't show anyone the old songs. Nobody, but my wife heard me writing it. I have a peer group that I share music with just to be like 'let's smoke some weed and check out this tune or jam kind of thing.' That peer group is just my tight little group of buds. Mike Ireland is my man. We've traded music back and forth are entire friendship. Alex from Crime In Stereo is another. Me and him fuck around. They've been writing a new record for a long time and recording it. I've been involved in some of that. He'll say, "Yo, come over. I don't know where the fuck to go here. What about this?"
A lot of my friends through music I don't talk to all the time. My best friends in music, the ones I also talk to on the phone, text, and hang with all the time, are Ratt, Mike Ireland, Alex Dunne, Steve Choi, and Matt Embree. Those are the guys who always make time to talk on the phone and always make time to share music together. I respect all of them a lot as musicians. I want to talk to them about it. I want to see how they feel. I want to see what they're up to. I want them to know what I'm up to. Those kind of things are definitely the interactions that keep me steering the ship for a release like this.
A lot of the press materials around Aging Frontman reference you turning 40 this year. As you look over the next 10 years, what do you want your musical legacy to be? I'm not the kind of guy who lies about his age or fakes his bio. I'm more like, "Hey let's joke about me getting old." That's the whole idea with the artwork which is fun loving with the cover being a little cute picture of me. At the same time, the inside is real heavy and addresses the not funny side. I'm not a kid anymore. I'll never get to be a kid again. I'll never get to be young again. Here's where I'm at in my brain especially in 2019.
The last three to four years have been really ugly and disgusting. The shame that has been brought upon our country is flat out fucking disgusting. America will always have a stain for this shit. That's the black cloud that's hanging over our heads. Everyone lives with it. Everyone is worried about it. Everyone is stressed out. This place is fucked up and it sucks here. Get me out of here. I don't want to look at that guy anymore or any of his evil henchman.
That affects my psyche to. You want to see silver linings and light at the end of the tunnel. Me coming face to face with my own mortality and losing friends way to early and the state of American culture being a fucking dump. That's where a lot of this is coming from. I'm not addressing anything political whatsoever on this record. It's just the little black cloud hanging over all of us. I'm writing from a place of mental well-being that isn't always good.
Switching gears a bit, I've got two final questions. One, because my friends would kill me if I didn't ask, what's next for I Am The Avalanche? Me and Mikey have been writing music together all year which can only mean one thing. We're trying to make sure that if we are writing, it's good and it's Avalanche. I don't think it's a secret that we've been writing songs together. We are getting to a place now where we've got some good stuff and need to keep going. That's the thing we need to focus on.
I don't want to go and play the same songs to the same people in Philadelphia, Boston, New Jersey, and New York. I think the most important thing is that needs to happen first. I don't see Avalanche as a legacy band. I don't see it as a nostalgia band. I see it as a living, breathing thing. It's been not very active, but active enough for people to know we're not dead. The last three years have been the best I Am The Avalanche shows ever. We're lucky. People still love the Avalanche. Mike and I are quietly trying to out do anything we've done in the past. I'm starting to see some good morsels happen and then saying, "Oh, that's Avalanche. Cool! Put that one in the books and write another."
I just don't want it to be, "Avalanche made a record. Cool…" I don't know, I reference The Movielife. I think Cities In Search of Heart is a great fucking record. It's some of the best songwriting that I've been a part of, but it doesn't sound like old Movielife. There was such a stretch between those things from the 2003 release. I don't want that to happen again. I'm proud of Cities In Search of Heart. It's great and will always be one of my favorite records I've ever done, but if there is going to be new Avalanche shit released, I want it to be the best shit we've ever done. Holy shit these guys are on top of their games and what the fuck is going on good. I believe that is exactly what is going to happen. It's got to be right and we are on the right path. It's got to be fucking great.
Bringing it back to the front end of this conversation, chatting before the interview about this being one of the best tours you've ever been on. After doing all these different tours you've been on the last couple years -- whether The Movielife and New Found Glory at the Electric Factory here or other big venues or solo shows with Spirit Houses at this venue almost a year ago -- do you see differences across your fan base between the three bands you are most known for and actively touring at this point? How does that all come together on your solo show? There's definitely old Movielife heads coming out. Movielife fans got into all of them, but not all of them. The last Movielife record sold 80,000 copies. The first Avalanche record did not sell 80,000 copies. Some of those people were like, "I'm good, I'm out. Vinnie smokes weed now. Shits getting a little more interesting and less cookie cutter pop-punk music."
That first (I Am The Avalanche) album came out slow. I don't listen to that album because it's too slow and that's because we smoked a quarter pound of weed. We also didn't know what we were yet. We played five shows. If we would've played longer and known what we know, we would've played it faster. Things drag on certain songs. That record is one of my favorites we've ever done. I never wrote music until that record.
I wrote two songs my entire life before that record -- "I Hope You Die Soon" and "If Only Duct Tape Could Fix Everything." Those are the only songs that I ever wrote music for. It would usually just be music and then I would write the lyrics over the music. The first Avalanche record is me writing my first record and I love it. I think it's cool as shit. I'm going to play a bunch of it tonight. I'm going to play some deep cuts from that record. At least I have them ready to go if anyone wants them.