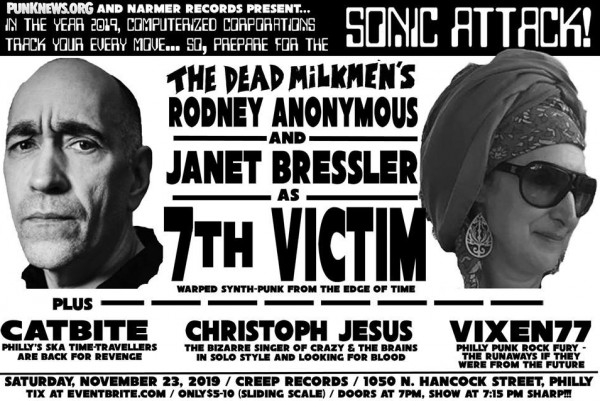 Tomorrow (this Saturday) is the SONIC ATTACK in Philly and it will be a RIPPER!!!
The Dead Milkmen's Rodney Anonymous and Janet Bressler will perform as 7th Victim, a wild-as-hell synth-punk duo. Before that, Catbite, bring their two-tone meets Sun rock'n'roll styles to the stage. And before that, Christoph Jesus, frontman of Crazy and the Brains will perform a set of classics, covers, and oddities. On top of that, the show opens with Philly punk champs Vixen77- think the Runaways meets the Dead Boys
The show is TOMORROW at Creep Records in Philly. The cost is $5-10 on a sliding scale. If you get an advance ticket, you also get a surprise goodie bag at the show, that includes a free record and cool other stuff.
Gates open at 7pm and the show starts at 7:15 sharp! This is NOT on punk time, so get there at 7pm, sharp! See you there! You can check out the facebook event page here.