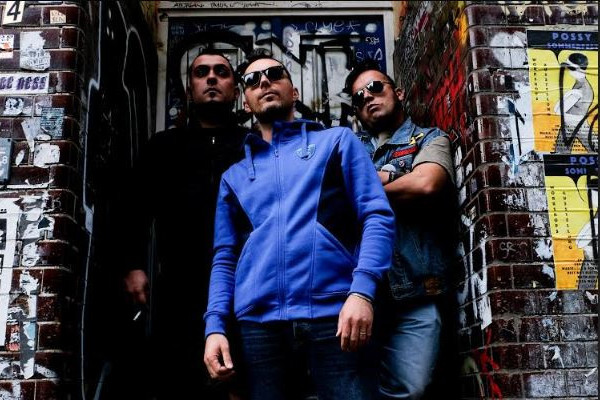 For over 20 years, the Italian trio LATTE+ have been spreading their brand of Ramones inspired punk rock throughout various venues all over Europe. For their newest album, the band is attempting to reach a more global audience with their first American vinyl release via ProRawk Records, a DIY label based out of the Chicago area. Punknews' Pete Vincelli had a chance to chat with guitarist and lead vocalist, Chicco. Check out the interview below.
Hey dude, thanks for doing this. Hey thank you man!
Let's talk a little about the band first. LATTE+, in some form, has been around since '97, right? Yes, from early 1997. 23 years in 2020. Before LATTE+ we were in a little local punk rock band called Anarchika, formed in 1991. We were teenagers, like 15. Always punk rock obviously.
When you started the band back then, did you think you'd still be making music over twenty years later? Absolutely no. This is incredible if I think about early days. We were just 3 or 4 friends without any idea about what we were doing or where we were going. LATTE+ is now something more than a family after all this time. I just can't think of my life without being in the band. How many difficulties and sacrifices during the years. It's just like raising a family.
That's awesome. It's so cool to see you're doing it for all the right reasons too. So the band name is inspired by A Clockwork Orange. Was there any specific reason for this or did you just see it as a cool name inspired by the drink "Milk Plus"? Well, we're huge fans of Stanley Kubrick so the name comes from the famous Clockwork Orange drink. It's a cool Italian name even if we always have problems with the "+" symbol because many people miss it and call us just "LATTE". The right way to pronounce is just like LA-TTE-PEW.
…and you guys all take on the last name "Lattepiu"? Is that a friendly nod to the Ramones? Kind of haha! No, we are just Chicco, Jay and Puccio. But you know what the Ramones means for us.
So a few albums ago, you made the decision to start writing songs in English rather than Italian. What made you guys decide to start singing in English and what challenges come with that? And what are some of the benefits from writing songs in English rather than Italian? To be honest we are born as "English" band. Our first demo in 1997 and the following album in 1999 are in English. Then we switched to Italian because we were tired of being misunderstood here. After 4 or 5 albums in Italian we decided to go back to the roots. With the internet, the songs in English run everywhere and they are listened and understood all over the world. It would be more difficult with our language. Even if Italian is a very beautiful and musical language.
That makes sense. So let's talk about the new album. The album title and the name of the first track is "Next to Ruin". What was the inspiration behind the title? "Next To Ruin" is where we are now. I mean the world. We are running fast to a total self-destruction. This is the inspiration behind this album, and the cover too. The cover is great, made by a great Italian artist, Daniela Ballone. This guy is sitting and watching television not caring about everything that happens around him. Everything is on fire around him but he, instead of getting up and reacting, remains indifferent. This is why "Next To Ruin".
Yeah, I think the cover art does a pretty good job of displaying this. One of the stand out songs on the record is "Everybody Likes Your Wife", which is obviously about Donald and Melania Trump. When you wrote the lyrics, did you actually intend it to mean "Everyone" likes Melania (which I don't think is really true in the USA) or was it simply an observation that Trump and his wife are not fit to be husband and wife? In other words, she's simply too good for a man like him? Ha, nice question. I know, in the States, she's not so appreciated. I'm talking about beauty standards. Here, everybody thinks that she's too much for him dude, too hot. Know what I mean?
Yeah, definitely. That's pretty much what I thought when I first listened to the song. I know some of the tunes can be slightly misinterpreted. For example, "Cookie" is about your cat and "I Miss You", is about your grandmother. Some listeners may think they are love songs. Are there any other tracks that you feel have been misunderstood? Well, I wouldn't say "misunderstood". There are many songs that probably people don't know what you are talking about. Maybe you are singing about a girl or a dog or about your mom or a cat. Everybody feels different listening to a song I think, and that's one of the powerful things about music. It's personal and unique. Anyway yes, "Cookie" has been one of my cats, he was very special and unique. "I Miss You" is dedicated to my grandmother. One of my favorite songs on Next To Ruin is "Lost In Berlin".
All great songs on this album. Why is "Lost in Berlin" one of your favorites? Lyrics and music. It's a perfect mix. When the lyrics are great and you write the perfect music under those words. It's great. It doesn't happen often. "Lost In Berlin" is a story about an American soldier during WW2. He's lost and he feels alone, scared, lost. I really love history, I spend a lot of time watching videos and reading books about WW2 and this song is something I can perfectly imagine in my head. That's why I love it. Because I feel it is real.
That's great when songs turn out like that. And it's cool that real stories drive your songwriting. Yes it is.
So the record is going to be released on vinyl for the first time in the US through ProRawk Records, correct? How did you you hook up with them? Releasing our Next To Ruin Vinyl in the US was one of our main goals for the record from day one of pre-production back in the studio in Empoli. But we didn't want to just pick any old label quickly just to have a US label. Or settle with a label who wasn't willing to put in the work. We actually looked around for a very long time for that perfect fit, and it seemed like the more labels that we checked into, the more and more we just kept seeing and hearing good things about this ProRawk. So we decided to check these guys out. We didn't reach out to them right away. Rather we did our due diligence and watched them and liked what we were seeing. After, we did end up touching base with them and it was just a very easy decision to make. Like us, they work hard and are very passionate about the punk rock music and the people in the community and we share the same ethics of getting the job done right. In addition, and something that we didn't expect to find, was the strong family-like atmosphere within the label that we feel truly grateful to have found at the ProRawk Records.
It sounds like you obviously put a lot of thought into this. I know the US makes it really tough for foreign musicians, but do you have any plans to eventually tour the United States or any other places outside of Europe? Not for now, even though it would be great to tour in the States.
Other than putting out this record, do you have any other plans in the works? Just try to play as much as we can in Europe for now. Next To Ruin kept us busy for some months so now the band is ready for shows and nothing else.
Sounds good, you're staying pretty busy. Well I hope the record does well and I hope the European shows go well. And maybe we'll eventually get you guys over here in the US. Would be so cool. Next To Ruin will be our first American release on vinyl and we really hope it works. And if it does, who knows? Maybe an American tour.
Well good luck with everything. Thanks again for taking the time to talk to me! Thank you Pete and thanks a lot to Punknews!