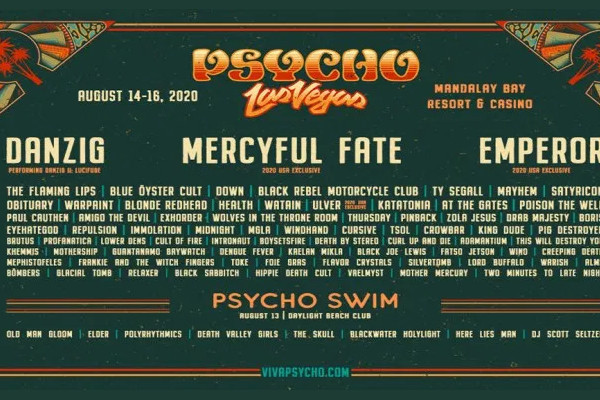 Psycho Las Vegas has announced rescheduled dates and their line-up. The festival will now take place August 20-22, 2021 at Mandalay Bay Resort and Casino with the pre-party Psycho Swim taking place August 19, 2021. All previously purchased passes will be valid for the new dates and refunds will be available from June 22 to July 22, 2020. The majority of bands that were scheduled to play the festival in 2020, including Danzig, T.S.O.L., and Blue Oyster Cult, will also be playing the rescheduled 2021 dates. Check out the full line-up below.
Psycho Las Vegas 2021 Line-Up
Danzig (performing Danzig II: Lucifuge)
Mercyful Fate
Emperor
The Flaming Lips
Blue Oyster Cult
Down
Mayhem
Satyricon
Obituary
Warpaint
Blonde Redhead
Health
Watain
Ulver
Katatonia
At The Gates
Poison The Well
Paul Cauthen
Amigo The Devil
Exhorder
Wolves in The Throne Room
Thursday
Pinback
Zola Jesus
Drab Majesty
Boris
Eyehategod
Repulsion
Immolation
Midnight
Mgla
Windhand
Cursive
T.S.O.L.
King Dude
Pig Destroyer
Brutus
Profanatica
Lower Dens
Cult of Fire
Intronaut
Boysetsfire
Death By Stereo
Curl Up and Die
Adamantium
This Will Destroy You
Khemmis
Mothership
Guantanamo Baywatch
Dengue Fever
Kaelan Mikla
Black Joe Lewis
Fatso Jetson
Wino
Creeping Death
Mephisofeles
Frankie and the Witch Fingers
Toke
Foie Gras
Flavor Crystals
Silvertomb
Lord Buffalo
Warrish
Alms
Bombers
Glacial Tomb
Relaxer
Black Sabbitch
Hippie Death Cult
Vaelmyst
Mother Mercury
Two Minutes to Late Night
Psycho Swim Line-Up 2021
Old Man Gloom
Elder
Polyrhythmics
Death Valley Girls
The Skull
Blackwater Holylight
Here Lies Man
DJ Scott Seltzer
| Date | Venue | City |
| --- | --- | --- |
| Aug 19, 2021 | Daylight Beach Club | Las Vegas, NV |
| Aug 20-22, 2021 | Mandalay Bay Resort and Casino | Las Vegas, NV |