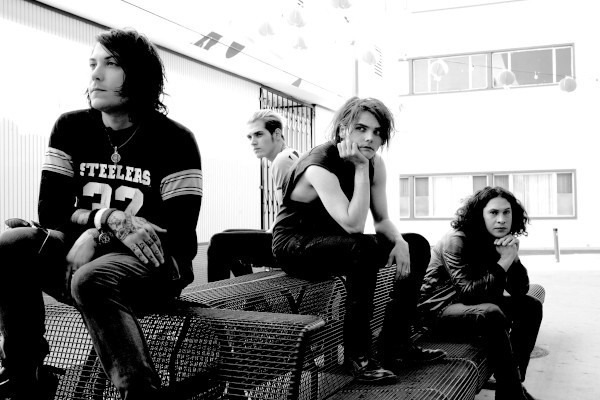 My Chemical Romance have announced rescheduled tour dates for 2022. A statement from the band reads in part,
"We are deeply sad, but those emotions are only a fraction of the depth of feeling we have all experienced watching the suffering and loss of the past year. We just want to be as sure as we can be that everyone is safe."
All previously purchased tickets will remain valid for the new dates and refunds are available. My Chemical Romance were also due to headline Riot Fest this year but will now headline the festival in 2022. Riot Fest will still be going ahead with their 2021 shows and will announce their full line-up in May. My Chemical Romance released The Black Parade/Living with Ghosts in 2016. See the statements from the band and Riot Fest, and the tour dates below.
| Date | Venue | City |
| --- | --- | --- |
| Mar 12, 2022 | The Outer Fields at Western Springs | Western Springs, NZ |
| May 17, 2022 | Eden Project | St. Austell, UK |
| May 19, 2022 | MK Dons Stadium | Milton Keynes, UK (Tickets for 6/17/21 honoured) |
| May 21, 2022 | MK Dons Stadium | Milton Keynes, UK (Tickets for 6/19/21 honoured) |
| May 22, 2022 | MK Dons Stadium | Milton Keynes, UK (Tickets for 6/20/21 honoured) |
| May 24, 2022 | Royal Hospital Kilmainham | Dublin, IE |
| Jun 04, 2022 | Sonic Park Fest 2022 | Bologna, IT |
| Jun 21, 2022 | Kunstrasen Bonn Gronau | Bonn, DE (Tickets for 7/6/21 honoured) |
| Jun 22, 2022 | Kunstrasen Bonn Gronau | Bonn, DE (Tickets for 7/7/21 honoured) |
| Aug 29, 2022 | Wells Fargo Center | Philadelphia, PA |
| Sept 05, 2022 | Scotiabank Arena | Toronto, ON |
| Sept 07, 2022 | TD Garden | Boston, MA |
| Sept 11, 2022 | Barclays Center | Brooklyn, NY |
| Sept 13, 2022 | Little Caesars Arena | Detroit, MI |
| Sept 15, 2022 | Xcel Energy Center | St. Paul, MN |
| Sept 16, 2022 | Riot Fest 2022 | Chicago, IL |
| Sept 20, 2022 | Prudential Center | Newark, NJ (Tickets for 9/21/21 honoured) |
| Sept 21, 2022 | Prudential Center | Newark, NJ (Tickets for 9/22/21 honoured) |
| Sept 24, 2022 | BB&T Center | Sunrise, FL |
| Sept 27, 2022 | Toyota Center | Houston, TX |
| Sept 28, 2022 | American Airlines Center | Dallas, TX |
| Sept 30, 2022 | Ball Arena | Denver, CO |
| Oct 03, 2022 | Tacoma Dome | Tacoma, WA |
| Oct 05, 2022 | Oakland Arena | Oakland, CA |
| Oct 07, 2022 | T-Mobile Arena | Las Vegas, NV |
| Oct 11, 2022 | The Forum | Inglewood, CA (Tickets for 10/11/21 honoured) |
| Oct 12, 2022 | The Forum | Inglewood, CA (Tickets for 10/12/21 honoured) |
| Oct 14, 2022 | The Forum | Inglewood, CA (Tickets for 10/14/21 honoured) |
| Oct 15, 2022 | The Forum | Inglewood, CA (Tickets for 10/17/21 honoured) |