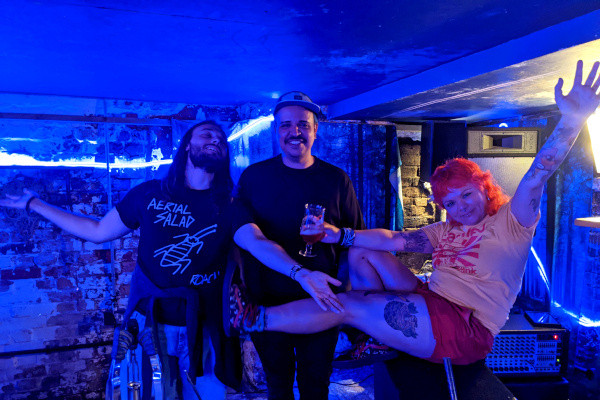 Today we are thrilled to bring you the premiere of the new album by Vampire Slumber Party! Each of the band members spoke to Punknews about the release and here's what they had to say, starting with guitarist and vocalist Yusuf who said,

I think these songs are a perfect snapshot of where we're at as a band; Pippa's on bass and singing more. Charlie's on drums. From solo project to real-world, three-dimensional three-piece. And I couldn't be more stoked with how it's turned out. It's also been really cool working with Scott from Brassneck Records. It's so rad when someone like that digs your music enough to get involved. So thanks to him as well."
Bassist Pippa had this to say about the album,

"We recorded the songs DIY at home and in a practice room, cuz it's cheaper than going to a studio. Yusuf mixed them himself and did a great job, and then we had them professionally mastered by Daly George at The Ranch Production House, who made them sound even better! I love playing covers and I'm glad we all agreed to include one, and fix the lyrics to kick out the misogyny! Wanna know what I'm talking about? Have a listen!"
And drummer Charlie commented,

"It was great to be able add my own touch to these already great, catchy songs. Recording drums isn't something I've had a chance to do much, so no better time than the present! Seeing it all come together with the tapes, shirts, and the feedback we've received… Yeah, it's been a great experience."
Vampire Slumber Party will be out everywhere on March 17 via Brassneck Records and you can order it on tape it right here. Listen to the album below!