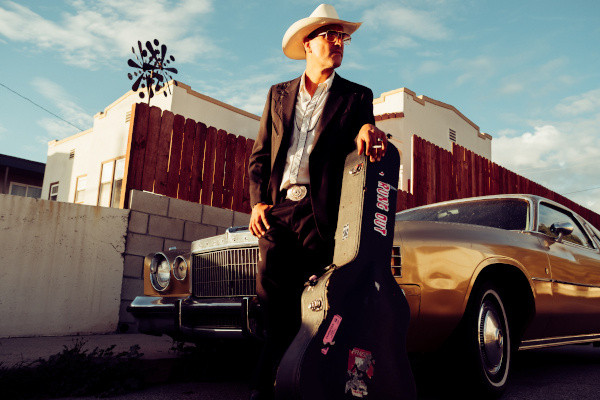 Jason Cruz, best known for being the lead singer of Strung Out, is getting ready to release his third album with Jason Cruz and Howl entitled Wolves. The album will be out on April 7 via Liars Club Records. Punknews writer Jason Baygood caught up with Jason Cruz over Zoom to discuss the upcoming album, his artwork, Strung Out, and lots more. Read the interview below.
Hi Jason. Thank you for taking the time to meet with me. I wanted to first clarify that you have a new album coming out. This would be your new album entitled Wolves of your band Jason Cruz and Howl.
Yes, that is correct. The album will be released on April 7th through Liars Club Records. They are based out of Agora, near Malibu.
First I wanted to discuss the history of Howl. Most are familiar with your work musically as the frontman of Strung Out. Your first album with Howl, Loungecore, was released over 10 years ago. What was your motivation for starting this style of the band outside of your work with Strung Out?
Strung Out is the type of band that plays "at" people, which I love. We play almost like a heavy metal band. We have been doing this for almost 30 years. With Howl, I wanted to do a band that brought people in. The overall feel of the band and songs are more intimate. These are songs that I couldn't bring to Strung Out.
It is interesting that you bring up the metal aspect of Strung Out. Being born in 1975, my first musical loves were hard rock and heavy metal bands. The crossover movement of the late 80s is what first drew me to punk and hardcore. I personally have always felt the same about you and the members of Strung Out. With Howl though, there is a definite country and Americana style throughout the music. Are these styles true influences or did that sound come through by accident?
That sound has always been within me. I was raised on many music styles including country and soul. I lived for many years in High Desert in Southern California. My parents got divorced when I was a teen. At the time, I hated living there. As I look back over 20 years later, I realize that time there left something in me.
Can you please give us some history on the band, specifically the members?
I first started the band with my brother who is an amazing Flamenco guitar player. Our initial songs had both a Spanish and Mexican feel to it, they had an almost romantic feeling to them. It had that feeling of culture which I refer to as "Catholic Damage." The band also featured Buddy Darling of the Darlings, Kristopher Comeaux of Red Jumpsuit Apparatus, and my best friend Chris Stein from Saccharine Trust. These were all great players who made me look good!
Who plays in the Howl currently?
My friend Chris Stein passed away a few years ago from cancer. I was completely brokenhearted and could not listen to Howl for years. Currently, Chad from Above The Noise, Jason Nelson, and my old drummer are with me in Howl.
I wanted to discuss a few observations I have made following listening to Wolves. Previously, Howl encompassed more of a true old-school singer/songwriter vibe to the music. On the new album, more contemporary sounds can be heard. For example, the song "Low Rider" to me has a dark wave feel, commonly heard from bands like the Cure. Was that incorporation of additional sounds to the mix intentional?
My first concert ever was Depeche Mode. I was always the black sheep in Strung Out in terms of what music I was listening to. I came from more of a country and goth background. The other guys come from more metal roots. That has always made us the black sheep band on FAT. Therefore, I would not at all say the incorporation of additional sounds was anything intentional. It's just something I have always had in me and who I am.
Maybe this is an age thing in terms of having many influences. I know we are close in age. Here in Chicago, Wax Trax Records was huge when I was in high school in the 90s. While I was primarily into Chicago bands such as Screeching Weasel and Naked Raygun, the presence of that label took me down a rabbit hole that led me to bands such as the Damned and Sisters of Mercy.
I love Sisters of Mercy. Their singer has an amazing vocal approach and presence live. There has never been anything sexy about Strung Out. I always wanted to do something that was sexy. Stung Out plays mainly to dudes who are crashing into each other, which I love. I still would like to see girls sway to the music which I feel is sometimes missing from punk.
There is definitely still a strong country and Americana influence on the new album. The title track "Wolves" has that heavy and emotional guitar strum. At first listen, I was reminded of songs such as "I Was Wrong" by Social Distortion. Tracks like "Good Hands" take on a more modern approach, not unlike bands such as Gaslight Anthem. I have always respected artists such as yourself, like Tim Barry from Avail and Kevin Seconds, who are not afraid to work outside of their core and niche sound. Was "Good Hands" written initially to be the standout single?
It was definitely natural how it progressed. You never know how a song will manifest. I simply go by my own instincts. The thing I love most about painting and songwriting is the ability to just let go and enjoy. I put faith in what I am doing and what I have been through. I look at it as celebrating the corpse of all the work I have put into what I have done.
I am glad that you have brought up being a painter and artist. I noticed that the pre-sale for Wolves includes a package that contains custom artwork for each of the songs. I know you have done this previously with the comic book created for the live Strung Out album. What is the background for this offering?
We live in a world today where nothing is tangible. I love vinyl but most people stream their music. It's almost similar to how people date by using an app on their phones. I have always said that I paint songs and that I sing paintings. This is a fun formula for me to follow.
I am extremely impressed with anyone who has artistic talent. That being said, I can see how artwork can be louder than the song on the album. My all-time favorite punk album cover art is Walk Together Rock Together by 7 Seconds. This meant so much to me as a young teenager discovering hardcore and punk. The album art expresses how people from all walks of life can come together in harmony over music and beyond.
I call it the use of symbolism. I don't like the idea of having to explain a song or a piece of artwork. I like to create a mystique through my work, which makes it overall more abstract. You can do that through the use of lyrics, chords, and colors.
I agree that both music and art are extremely subjective. No two people will interpret a song or piece of art the same way.
Yes, once that piece of art is in your hands, it is yours! The artist at this point is a piece of shit.
I noticed that Jason Cruz and Howl mostly play local shows. Have you done any touring to date?
We did a West Coast run many years back. This always has depended on the schedules of everyone in the band at the time. At the core, we are a dive bar band who just do this for fun. With a band like Strung Out, I tour 6 months out of the year. Also, we are all dads! For the benefit of the band and the appeal, you also don't want to make yourself TOO available.
That is very true. I won't name any names, but there are many bands who come through Chicago almost too many times per year. I find that these performances are not as special as a fest or one-off performance.
That is the tragedy of being a musician. You do need to tour to survive but if you go out too much though, you will end up ruining it for yourself.
Does Jason Cruz and Howl have any current show or fest plans?
We currently have our summer shows being planned out. I am currently writing the next album with Strung Out. With shows, I am taking the opportunities as they come. I am trying to enjoy it and not make it seem like work.
I have seen pictures of Strung Out in the studio online without much detail.
Yes, we are currently recording. I need to finish my vocal tracks. We have about 20 songs written and need to narrow it down to 12 for the album. The album will be released on Fat Wreck Chords. We will also be participating in a handful of the NOFX final shows as part of Punk in Drublic.
Getting back to Wolves, I have noticed a songwriting pattern which I love. That is what many call the Pixies approach of having songs that start soft, get loud, and then go back to being soft again. This is a great approach as it helps the listener really hear the vocals and lyrics. The song "First Born Son" is a great example. Was this something you thought out doing on your own or did that come from when the band came in to work on the tracks?
This was the result of initially writing the songs on an acoustic guitar. With Strung Out, the songs are a lot more complicated. The ending of Strung Out songs are sometimes what other bands would consider a complete song. With Howl, we start simple and see where the songs blossom.
The last Jason Cruz and Howl album was in 2014. Why is the time now for another album?
As I previously discussed, I lost my best friend Chris Stein. I told myself at the time that I was done with Howl. To carry on though, I had to use his spirit. My wife told me as well that I was sitting on a number of great songs. I really needed to re-evaluate many things as I had so much bottled in at the time. COVID for me was actually a positive thing, as odd as that may sound. It gave me more time to spend with family. This also gave me much time to write songs. Right now is almost the spring after COVID winter for me.