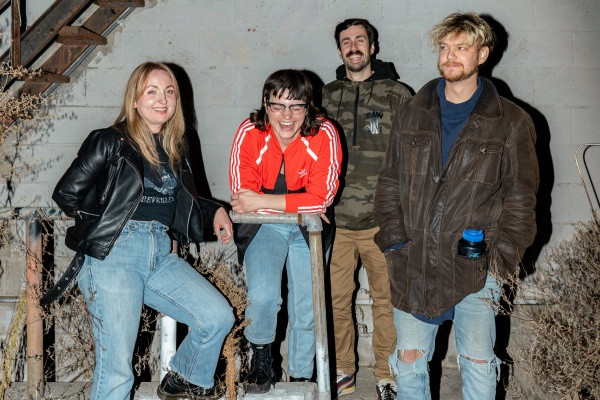 Today we are thrilled to bring you the premiere of the new video by London, Ontario-based punks Mvll Crimes! The video is for their song "FOODS I DON'T EVT" and was directed and edited by guitarist Patrick Briggs. Speaking about the song lead vocalist Jill Clair said,

"You don't need meat to live. It's important to think of the meat we eat at the exclusion of others - when was the last time you ate tongue or organ meat? What happens to those parts of the animal? Why are we killing an animal and only eating certain parts of it when the life that animal has is incredibly cruel?"
"FOODS I DON'T EVT" is off their 2022 EP YOU EMBVRRVSS ME. Mvll Crimes will be will be opening for Off With Their Heads on May 17, playing Pouzza Fest in Montreal this Friday, touring later in May with Dayglo Abortions on their Eastern Canada tour, and touring Canada with support from Haters and Bitter//Washed in June. Watch the video below!
| Date | City | Venue | Details |
| --- | --- | --- | --- |
| May 17 | London, ON | Rum Runners | w/Off With Their Heads |
| May 19 | Montreal, QC | Foufounes Électriques (Pouzza Fest) | |
| May 23 | Woodstock, NB | House Show | |
| May 24 | Moncton, NB | Xeroz | Opening for Dayglo Abortions |
| May 25 | Fredericton, NB | Broken Record Bar | Opening for Dayglo Abortions |
| May 26 | Saint John, NB | Panic Room | Opening for Dayglo Abortions |
| May 27 | Halifax, NS | Gus's Pub | Opening for Dayglo Abortions |
| May 28 | Charlottetown, PEI | Baba's Lounge | Opening for Dayglo Abortions |
| Jun 07 | St. Catherines, ON | Warehouse | w/ Haters |
| Jun 08 | SECRET SHOW | TBA | w/ Haters |
| Jun 09 | Acton, ON | Tommy's Bar | w/ Haters |
| Jun 10 | Toronto, ON | Junction Pop Up (Matinee) | w/ Haters |
| Jun 10 | Hamilton, ON | Doors Pub | w/ Haters |
| Jun 11 | Barrie, ON | Queen's Hotel | w/ Haters |
| Jun 12 | Peterborough | Red Dog | w/ Haters |
| Jun 14 | Thunder Bay, ON | Black Pirates Pub | w/ Haters |
| Jun 15 | Winnipeg, MB | Handsome Daughter | w/ Haters |
| Jun 16 | Regina, SK | Mercury Cafe | w/ Haters |
| Jun 17 | Prince Albert, SK | Spicy Time | w/ Haters |
| Jun 18 | Edmonton, AB | The Buckingham | w/ Haters |
| Jun 22 | Calgary, AB | The Palomino (Sled Island) | |
| Jun 28 | Nelson, BC | The Royal | w/ Haters, Bitter//Washed |
| Jul 01 | Rossland, BC | The Flying Steamshovel | w/ Haters, Bitter//Washed |
| Jul 03 | Kelowna, BC | Jackknife Brewing | w/ Haters, Bitter//Washed |
| Jul 04 | Squamish, BC | Sunny Chibas | w/ Haters, Bitter//Washed |
| Jul 05 | Vancouver, BC | Bully's | w/ Haters, Bitter//Washed |