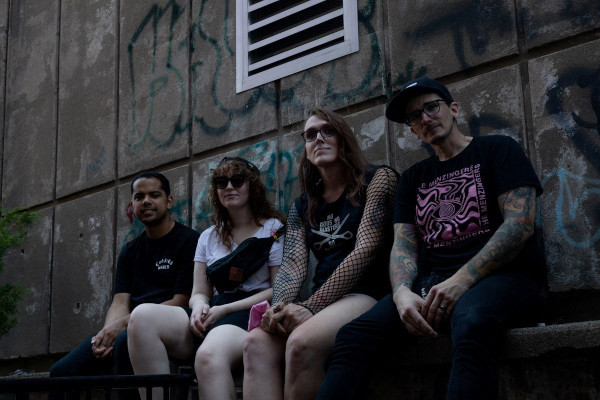 Today we are super stoked to bring you the premiere of two new tracks by Halifax punks Cluttered! The songs are called "Give Me" and "Napathy and Exhaustion". They were recorded in 2022 over the holidays and are the first official recordings with the live lineup of the band. Speaking about the recording process lead vocalist and guitarist Matty Grace said,

"We have mostly worked pretty remotely and that has involved Dylan and myself doing most of the instrumentation. It's really really rad to finally have AJ and Becca playing on the songs and that's going to be the case going forward."
She also broke down both of the songs starting with "Give Me" saying,

"The parallels between the music 'industry' and having a romantic pursuit towards an emotionally unavailable person are not lost on me. This song was written in response to those feelings and the balance between feeling like you're doing something positive and building something potentially rad versus the self-awareness of familiar traps and pitfalls. You can hear this clearly in the line 'give me desperation/give me fucking crumbs/give me everything and nothing/give me all you got'
She had this to say about "Napathy and Exhaustion",

"This song was written pretty soon after I relocated to Ottawa from Halifax. I was learning how to be a person in a new city and the multitude of feelings that have come along with it. Adjusting from a place you've called home for so long versus the hope that the new place can fill a void. In addition, it's definitely about the monotony of the day-to-day and the feeling of being so beaten down that you're just trying to find a bright side to continue waking up."
The two songs are collected as Two Tracks Before The Breakdown which will be out on Bandcamp on June 2 (tomorrow!). Listen to both tracks below!