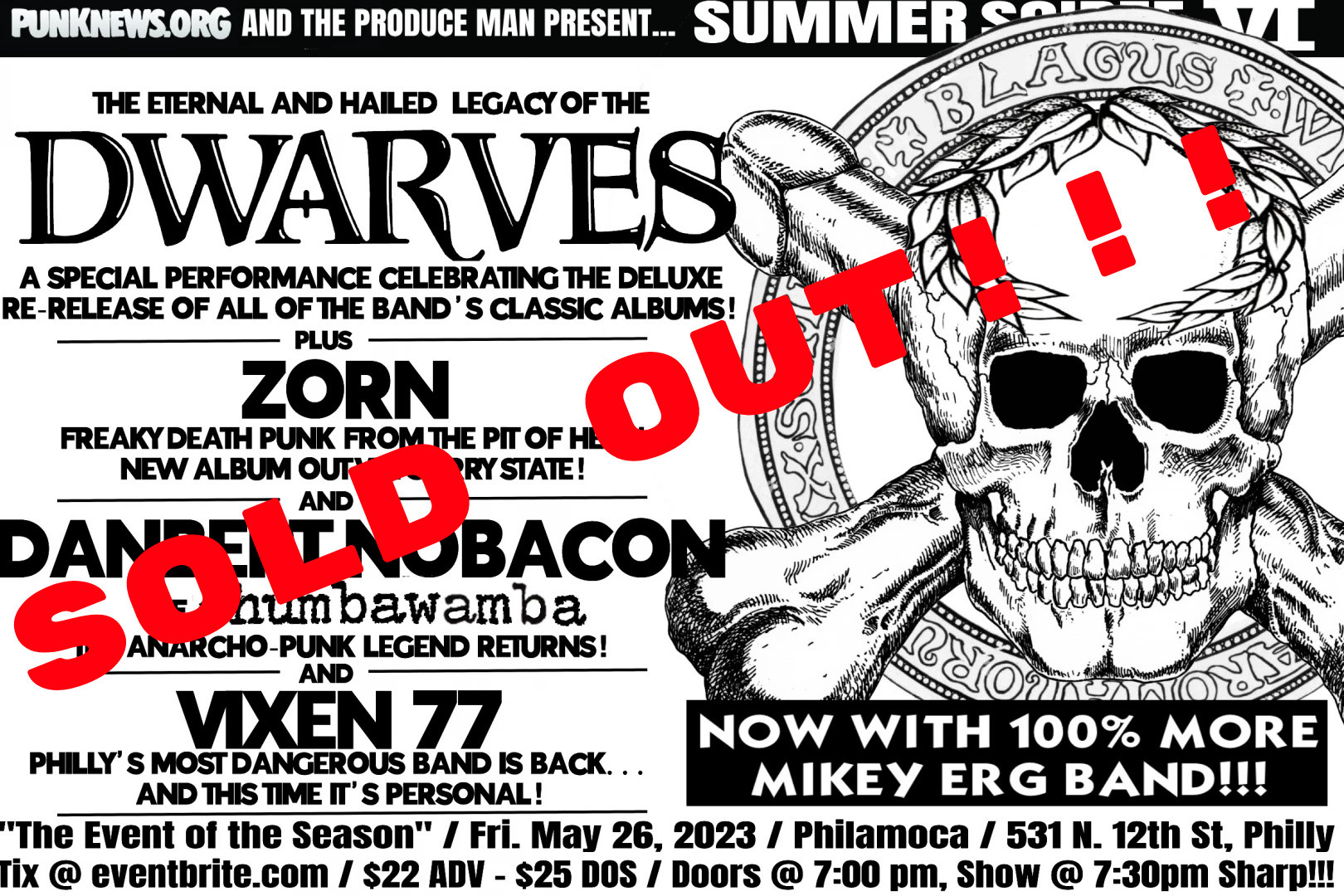 Welcome to Navel Gazing, the Punknews.org commenter community's weekly symposium, therapy session, and back-alley knife-fight. Chime in below with your latest playlists, record store finds, online time wasters, and site feedback.
This week's installment includes a recap of our annual Summer blow out, Summer Soiree 6, which took place on May 26 and included performances by Dwarves, Zorn, Danbert Nobacon of Cumbawamba, vixen 77, and the Mikey Erg band. It also included between the bands, a showing of the short films of Jesse Michaels. You can check it out below.
SUMMER SOIREE 6 My original plan was to go to Punk Rock Bowling and maybe not even do a Summer Soiree 6, with summer Soiree 5 (Joe Jack Talcum and Marissa Paternoster) having been a smashing success. In fact I was so set on PRB, I had purchased a "blind ticket" wherein you get a discount by buying a ticket before any act is announced… and then the acts were announced…
Now, don't get me wrong. The 2023 PRB lineup had some great acts- The Damned, Sloppy Seconds, Suzi Moon, Surfbort, Rancid- but I've seen all of those acts recently and there didn't seem to be a cohesive lineup where the whole event felt special, ala the year with FLAG, Damned, Specials, Fucked up, Coathangers, Sloppy Seconds, and way more. Still, PRB is always a good time, so I went ahead and booked my hotel (El Cortez- best place in Vegas), my rental car, and plane ticket.
…And then Dwarves announced a single East Coast date during PRB weekend- Maryland's Hell in the Harbor. Then and there, I realized that THIS was my chance to have Dwarves headline a Summer Soiree, something that I've had in the back of my mind since Soiree 2. So, I canceled ALL of my PRB plans, unloaded my ticket cheaply, and re-ignited Summer Soiree, which I sort of had put to rest, having ended on a high note. But, if there's one thing we do at Punknews is over do and never let a joke die. And thus, Summer Soiree was BACK.
So, as I'm sure you have seen, I started posting in February "come to this show, it WILL sell out." Plus, at a very reasonable $22 to boot.(more on that later).
I wanted each act to be unique and stand out from the other. And because this gig was very special to me, I reached out to who I think the perfect contrast to the Dwarves is- Danbert of Chumbawamba. I asked Danbert if he wanted to play, even though he lives on the other side of the country, and without hesitation, he responded "sure!" It's one thing when musicians are rad on record and have a powerful message, but it is entirely another thing when they prove themselves, time and time again, to be the real frikkin deal. Danbert, the anarcho punk icon who went on to sell millions and millions and millions of records, is the REAL FRIKKIN DEAL.
On top of that, I booked the awesome Vixen 77 who smash it out in the vein of the Runaways meets Bikini Kill as well as Philly death punk masters Zorn, who I knew would blow people's minds. We had the Mikey Erg band booked, but did not announce them for about a month as he was playing another Philly show before Soiree 6 and I didn't want to step on anyone's toes.
For the Dwarves themselves, the band just re-released their entire discography under their own umbrella, so the band and I decided to formulate the show as DWARVES LEGACY, in a way to celebrate the band's astoundingly awesome 40 year discography. To that end, I made special legacy albums of each of the proper albums that replaced an iconic rock cover with the Dwarves logo or imagery. Young and Good Looking subverted Joy Division's Unknown Pleasure heartbeat with a Dwarves skull form and also came with a button, sticker, and vanity mirror. Come Clean took on Sticky Fingers, real zipper attached, and swapped Andy Warhol's boyfriend with a dwarves model and also came with a button,sticker, and bar of soap. You get the idea. I also made 15 repros of the famous Dwarves demo tape We Kill Cock Thorbbin as well as "tour editions" (in contrast to legacy editions) of Young and Good Looking and Win Friends and Influence People which subverted Ramones and Frank Zappa, respectively.
Well, unlike most Soirees, the lead up to Soiree 6 went surprisingly smooth. I think everyone involved wanted it to be an ultimate banger. There were very few hiccups and we sold out a little while before the show itself.
And let me tell you, I have never had so many people try to get "guest listed" or "can I get in even though it's sold out" than this show. On one hand, I was annoyed as I had been banging the drum for months telling people to buy tickets, but on the other hand, it was a real thrill to see the show was so highly anticipated. It actually was so nutty than I got a text from a number I didn't know, telling me, quite rudely. About nine people to put on the guest list. About a day later, I got a similar text woth about four names. Later that same day, another text from another number with five names as well as a demand for multiple +1s. At first I thought the dwarves booking agent had given my number out and called her up, very annoyed. As it turned out, she did not give out my number- what happened is, my number is not super hard to find, and there was such a demand for sold out tickets that some miscreants tried to scam their way in by pretending to be people they were not! That doesn't even include the dozens of messages of "I meant tog et a ticket but forgot…" or "I had other plans but THEY FELL THROUGH!" I'll admit, it was exciting to have such a coveted event.
Anyway, for the actual pre-show prep, there isn't any real crazy story. Load in and set up went fine and everyone was on their A-Game. While setting up, I turned my head and there he was- DANBERT. All the way from the West Coast and he was just standing there like he had just come from three blocks down the street. It is true that the true powerhouses don't need to flaunt their excellence and Danbert is about as much as a powerhouse as it gets.
I will mention that the Dwarves arrived much later than everyone else. Normally, this would annoy me but a) they had literally just flown from Vegas that AFTERNOON and I had heard they totally rocked their PRB set, and thereby, had partied pretty hard afterwards. So, in this instance, I actually thought their late arrival was cool and hilarious- plus I knew they would destroy.
We held opening the doors for about 15 minutes as set up was slightly delayed and already, there was a massive line in front of the venue, the excellent Philamoca. I went outside and handed out glow bracelets, trinkets, and other random give-aways. People seemed psyched.
And they were. Because, as soon as we opened the door (classical music in the background befitting of a Soiree) the Dwarves merch table was bum-rushed and people were grabbing up the Legacy Editions right and left. A LOT of people grabbed one of each record, which was very rewarding for me. The band sold out of most of their records withing the first 10-15 minutes. It was crazy and people were psyched.
At the door, we also had programs that described each band and told some Dwarves history.
At about 7:45, the classical music cut out and explosions rang out across the speaker. Then, the sounds collapsed to an instrumental version of DJ Kool's "Let me clear my throat." In my Blue Punknews Tuxedo, I ran up on stage and screamed "Philadelphia, make some noise!!!" The crowd did indeed make some noise. Similar to Soiree 5, I intended to make it rain and had fake million dollar bills in my pocket, each of which bore the visages of all of the bands playing. However, unlike Soiree 5, when I hurdled the first batch into the audience, instead of the bills trickling down from the sky, they stuck together and smacked the back wall of the venue like a wad of bubble gum. While still hyping and yelling at the crowd, I grabbed the second wad of cash and tried to jiggle it so it would separate mid-air. I threw it with sort of a curve, but instead of it breaking apart, I'm pretty sure it just smacked some kid in the face.
Well, anyway, some more explosions blasted across the speaker and I yelled out all the bands' names, ending with the Mikey Erg Band, who immediately slammed into their set. I've said it before and I'm going to say it again, the Mikey Erg band are rockstars. Their songs are so good and they are so vibrant on stage. But, whereas a lot of road hardened bands have scripted moves on stage, the MEB seem totally organic and spontaneous. They played a bunch of newer tracks, including "Caroline told me so" and "Rumblestrip." The band rocked so hard, but kept Mikey's core 70s power pop bend under the power surge. The audience was totally into it. Mikey and the band have played thousands and thousands and thousands of shows, but somehow, they keep the excitement like they are playing their 7th ever gig. They rocked.
Next, on the movie screen, we showed Jesse Michaels' film Horizon Bastard, which is about a troubled person named Yunkie who wants to go out, but some strange thing is preventing him. For the first 30 seconds or so, people were taken aback by the sheer weirdness. But, as soon as they got it, they erupted in laughs. And plus, afterwards, it was very cool to hear people discussion the film's meaning and their own interpretation.
Vixen 77 took the stage next and if there is one thing Vixen 77 does, it's tear it the frik up and let me tell you, they tore it the frik up. The band is supporting their newish album Easy access and switched between more glammy tracks, and tracks that are basically hardcore or thrash tunes. Vixen 77 are very cool in that they focus both on socio-political issues and personal issues and make it seem like it all comes from the same spectrum. The riffs are killer, the vocals shred, the bass rumbles, the drums crack, and it was super loud and super fast. At the end of their set, they really revved it up and basically thrashed faster than Reign in Blood and knocked the crowd out.
The next Michaels film we showed was Exploring the film about three young women trying to make it in the big city. By then, people had gotten the general angle of the films and absolutely lost it when the "evil doer" was led into the apartment by the "no good boyfriends." And once revenge was taken on the evil doer, people absolutely lost their minds.
Next, Danbert took the stage with just his acoustic guitar. Despite the fact that he was the only acoustic act of the night, he immediately had people captivated. He focused mostly on his newest stuff, including a bunch of unreleased recordings and people were wowed. Am lot of his newest songs have multiple "voices" in them- at one part he's a blue collar worker, at another, he's the big boss trampling down on the middle class. It actually reminded me a lot of the different voices in Pink Floyd's the Wall and underscored that Danbert and the rest of Chumba have been infused with anarcho-political since the start. But, whereas many other political bands are always so serious, Danbert kept a sense of whimsy in his performance which really made the whole thing so much more effective. People were so into it, they started clapping about halfway through and didn't stop until the set was over. He also did a version of the Chumba classic "this girl" and you could hear a needle drop in the place. What a stellar set. What a punk rock champion!
The final film shown was Michaels' Operation: Condor, wherein Yunkie goes to try to finally win at game night. I won't give away the climax, but people were basically rolling on the floor, and still, discussing the perhaps, deeper meaning, to the film. What a thrill.
Zorn's set started with all the light sin the venue turned down. They opened with a trashing, twisting instrumental, building in intensity. Soon, a coffin was brought out by four pallbearers who dropped it in the middle of the audience. The audience, who I think were mostly unaware of Zorn, stood back in surprise. Finally, the lid blasted open and the band's singer, dressed in corpse paint and black metal gauntlets, sprung out, howling. From there, he jumped on the stage and back into the audience all while screaming about demons and witches and devils and all that scary stuff. Meanwhile, the band slashed out metal-meets-punk riffs that were as much hardcore as they were blackened. The audience was definitely blown away. At one point, one of the audience members jumped into the coffin and was locked inside. The set was over as soon as it started and people were definitely shocked… in a good way.
After some Jamaican dancehall blasted through the speakers, a sort of tribal drumming clomped through the venue… and the mighty Dwarves took the stage. The drumming sped up and sped up and sped up until the man himself, Blag the Ripper darted on stage and the band jumped right into "Dominator." What a fitting intro track.
The band definitely came to battle, perhaps ignited by the four previously killer bands. They sounded absolutely fantastic. Blag's voice has both a croon and motorhead aspect. Marc Diamond was slashing out riffs like a zorro, Nick Oliveri screams like a banshee, and drummer Snupac was definitely throwing the songs forward at super speed.
From "Dominator," they snapped right into "Way Out" and crashed from one song to the next. Surprisingly, they played two brand new songs –"Roxette" and "Voodoo," which sounded great. The rest of the set bounced between the whole discography, paying homage to all the band's facets. "Free Cocaine" exploded a la the band's early garage punk. "How it's Done" underscored the band's pop mastery. "We only came to get high" proved the band can STILL out hardcore and hardcore band there is.
The crowd went absolutely nuts and the mosh pit grew to about 50% of the floor space. However, the very cool thing was that while people were moshing and being actively, EVERYONE came to have a good time and no one was crowd killing. It was almost like before the show, everyone got on the same page and just decided to make the show as fun as possible.
About one-third of the way through the show, Blag announced that his mci was having issues and he kept switching mics with Nick. But from an audience perspective, the show sounded just fine. He asked the sound guy for help, but there seemed to be no response and somewhat got agitated.
The show was super packed so I had to literally mosh and push my way to the soundbooth. The soundman said "I have no idea what is going on!" "Great…" I thought. I moshed my way back to stage side and asked Mikey Erg what he though might be the issue. Mikey said, "I think the monitor is unplugged." I asked Mikey what that meant as my technical expertise is 0, and then Mikey just stared at me.
Some guy that I had never seen before then came up to me and gave me a mic and chord. He then yelled, "Maybe plug it in 18?!" I said, "I have no idea what that means!' He repeated the same phrase, so I repeated my reply. He then shrugged and disappeared into the crowd. I looked at Mikey and Mikey suggested changing the mic cable. The problem was I know nothing about this stuff and there were like 20 cables plugged into this and coming out of that. Somehow, I found Nick's mic line and fished it back to something it was plugged in. I swapped the cables and… the problem was not fixed. Blag was clearly getting agitated even more.
Then someone else came up and handed me ANOTHER mic cord and cable and then disappeared. I swapped them again and still, the problem persisted.
I then moshed back to the soundbooth to talk to the sound guy., He screamed, "I have no idea what is going on! I sent two people up there to plug it into 18 and nothing's happening!" Then, I remembered seeing THREE inputs, each was said 18. I asked, "the top 18, middle 18, or bottom 18?" He told me the correct one and I slammed danced my way back up with a third mic and cable. This is all the while the entire crowd is moshing and the band is slamming out track after track.
With Caitlin of Vixen 77 holding my phone as a flashlight, I located the top 18 and plugged in the mic.. AND IT FIXED IT… for about 5 seconds.
Then, I remembered what Mikey said about the monitor. Somehow, from the recesses of my brain, I remembered that the monitors are the black boxes on the front of the stage that let the band hear what they sound like- if the monitor had a problem, that would explain why the band was complaining about sound but they sounded amazing out in the audience.
At this point, the moshing was furious. But, I kind of tucked and dived out into mosh-central, just in front of the middle of the stage. I grabbed around the central monitor like it was a life raft, all the while people were ramming and slamming into me. For some reason, I ran may hands up and down the side of the monitor to try to find something… anything. MIRACULOUSLY, I did find a cable on the left side.. and it was LOOSE! I tapped it with my hand and ASTOUNDINGLY, the sound problem was immediately fixed! I have rarely been so relieved in my entire life.
Then, for the rest of the set, which included an astounding 24 sounds, the bland just blasted from track to track, sounding both savage and melodic. The trash portion on "Speed demon" was lightning fast. "Sluts of the USA" was insanely bouncy.
Near the end, the band did a killer version of "Everybody's Girl" with Brooke of froggy calling out the iconic "Eww.. you're creepy!" Then, just as the song was finishing, two giant mosh bots came out along wioth a giant HeWhoCannotbeNamed.
Within literally five seconds of "The Dwarves are still the best band ever", the crowd tour off their heads and within another 15 seconds, all three combatants had been reduced to their component parts. One guy was running around the pit trying to collect the robots' light up eyes. The pool noodle arms had been torn from the robots and HeWho and the crowd was now whacking each other with them. Meanwhile, no fewer than 300 balloons dropped down on the audience like a dance club and it was one of the wildest, most fun, craziest show concluders I had ever seen.
The band, now super crazed, tore through berserk versions of "We must have blood" and "unrepentant" while the bodies of the robots were flatted into six foot frisbees and launched around the room along with balloons. The Dwarves broke "Unrepentant" to a destructo-noise ending and leapt from the stage. No encore, no big goodbye, just a handbrake slam stop, the perfect way to end the show.
As people filtered out, we distributed goodie bags that had free records, candies, coupons, stickers, and other fun things. Despite the "violence" of the show, it really did seem like everyone had a blast. The evening was an absolute dream. In fact, it was so dreamy that as I, for the next hour and half, picked up piles and piles of trash with an actual snow shovel, I wasn't annoyed, but enthused, thrilled, and excited that the show had been soooo amazing and that everyone had so much fun, none more than myself. The Dwarves really still are the best band ever.
AND ONE MORE TIME… CHECK OUT OUR VERY RAD SPONSORS! (THEY HAVE COOL STUFF!)
ALSO, because this show is a larger scale operation than our previous soirees, we got some very, very, very cool sponsors to help out with the show! You absolutely must check out:

TATTOO MOM'S in Philly! If you are down on South street picking up some cool records at the shops nearby, you MUST stop into Tattoo Moms. Not only do they have a fantastic selection of brews, but they also have some KILLER food. The mom's burger is amazing and the Vegan Cheesesteak is the best vegan cheesesteak there is! Check them out here!

SIREN RECORDS in Doylestown, PA! If you want records in Bucks county then Siren Records is THE PLACE to be. They bring in new records all the time and if you want the hits, they've got 'em! Also, they have a knack for picking up killer used collections. They jt got in a rad '80s alt collection! We are talking primo stuff! Check them out here!

REVILLA GROOVES AND GEAR in Milltown, NJ! They have an insane selection of new records that come in daily! They've got some ultra-deals and some ultra, ultra rare stuff on the wall. They also have a great punk section (I got Stations of the Crass there!) Plus, twice a year they have a massive dollar sale of tens of thousands of records and it is a real blast! check them out here!.

ANGRY, YOUNG, AND POORin Lancaster, PA! This is THE punk shop in Lancaster county. They have a killer selection of new and used punk records, as well as sokme cool clothes, posters, and a ton of other stuff AND they've got a great mailorder where you can get some rare LPs and CDs! Check them out here!.

ROCK N ROLL KNIFE FIGHT in Landsdowne, PA! RNRKF rules Delaware county! They have an awesome selection of punk clothes, jewelry, and accessories. They've got all kinds of cool things you'd never think that you would see! PLUS they have some very cool original art AND some very rare CDs! Check them out here!.

JUPITER RECORDS in Wilmington, Delaware! Jupiter is just CONSTANTLY getting in awesome, used records (and they have new ones, too!) The shop is CRAMMED with everything from rock, to punk, to metal, to jazz, to world music, to this and that! Plus, they have a great dollar room and a ton of other cool things… such as Misfits action figures… Check them out here!.

GOOD BOY VINYL in New Castle County, Delaware! Not only does Good Boy get in rad used records daily, but they also get in the prime new releases! Also, if you are into jazz, THIS is the place to go. On top of that, they've got tons of great rock, alt, and everything else… and cheap CDs! Check them out here!.

SIT N SPIN RECORDS in Philly! DUDE, Sit and Spin is THE punk shop in Philly. They are just ALWAYS getting in very, very, very cool punk titles, new and used, Lps and singles. They also have a TON of metal. You want the ultra-rare? They got it! You want the cheapies? They got it! And they do mail order! Punx seal of approval. Check them out here!.

SKY VALLEY RECORDS in Somerdale, New Jersey! You want punk, metal, goth, industrial and all the mean stuff in South Jerz? THIS is the place for you! They are CONSTANTLY getting in cool new records, too! (I got a very rare Bauhaus LP here once…) This place rocks! Check them out here!.

GRINDCORE HOUSE in South and West Philly! Grindcore House has THE BEST coffee and tea in the city! It is delicious! AND, they have a ton of great treats, including vegan hoagies, donuts, Danishes, you name it. This place is a must! AND, they have hilarious merch! Check them out here!.

REPO RECORDS in Philly! Repo is an INSTITUTION! Every day, they get in cool used records, cool new ones, and they have an amazing CD selection! cheap hits and some rare stuff! And, they have a cat the runs the place- Sir Flatermause! AND, they have a Dwarves poster in the bathroom… Check them out here! RAINBOW RECORDS in Newark, Delaware! Rainbow is just down the street from UoD and they have ALL the big hit new records. AND, they have a TON of used records including a great $5 bin! (I got an Iggy Pop there once…) Also, be sure to check out the CDs in the back… some very rare ones are there… and be sure to check out their mystery bags! You won't be disappointed! Check them out here!.

PRINCETON RECORD EXCHANGE in Princeton! PREX is an institution. Every day they get a TOOOON of used records in and let me tell you, they go out the same day! Their discount CD wall is a thing of legend, stocked with the hits and some rare stuff, including EU import CD EPs! Also, they have a ton of NEW records and a GREAT $1 bin. Check them out here!.

CRATEDIGGAZ in Philly! You want Hip Hop?! Go, right now, to Cratediggaz. They have got a KILLER selection of new and used Hip Hop- the big hitters and super obscure private press stuff! And, it's one of the few places where you can get re-prints of classic Hip Hop Lps… I got a beautiful re-issue of Ice-T's Orignal Gangster… AND they get in some GREAT used punk (including Tim Armstrong records and some NYHC)! Check them out here!.