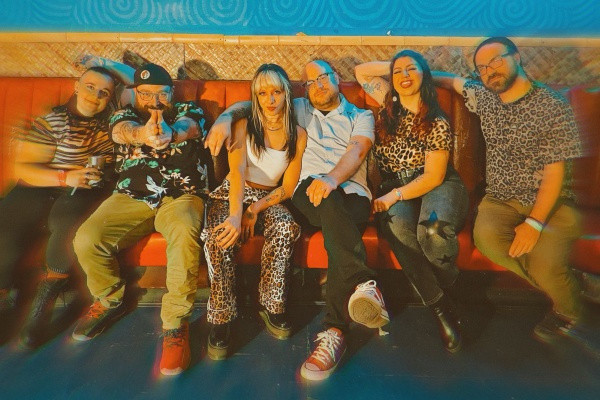 Today we are thrilled to bring you the premiere of the new video by New York ska band Stop The Presses! The video is for their song "Ride Or Die" which appeared on their 2022 album Got It (which we spoke to Ali and Danny aobut last year!). Speaking to Punknews about the song and video, the band said,

"Set to the backdrop of the Coney Island Mermaid Parade, 'Ride or Die' is a song about overcoming depression through community, friendship and love. Originally titled "Bad Thoughts", the song began as a way for Ali to cope with her depression, and toxic self speak.

Regret and self doubt literally keeping her awake at night. With a little love and compassion from her life partner, Danny, her 'Ride or Die', she is reminded to love herself as they swim through the tides of the human condition together. We hope you find your family and the support you need to grow".
Stop the Presses will be touring the US with J. Navarro and The Traitors starting later this week and will be touring the Western US later this month. Watch the video below!
| Date | City | Venue | Details |
| --- | --- | --- | --- |
| Jun 09 | Portland, Oregon | Hawthorne Lounge | W/J Navarro and the Traitors, Omnigone |
| Jun 10 | Seattle, Wa | Funhouse | W/J Navarro and the Traitors, Omnigone |
| Jun 12 | Sacramento, CA | The Starlet Room (Harlow's) | W/J Navarro and the Traitors, Omnigone |
| Jun 13 | San Francisco, CA | Bottom of the Hill | W/J Navarro and the Traitors, Omnigone |
| Jun 14 | Anaheim, CA | The Parish Room (House of Blues) | W/J Navarro and the Traitors, Omnigone |
| Jun 15 | North Hollywood, CA | Knitting Factory | W/J Navarro and the Traitors, Omnigone |
| Jun 16 | San Diego, CA | Soda Bar | W/J Navarro and the Traitors, Omnigone |
| Jun 17 | Mesa, AZ | The Nile Underground | w/Half Past Two |
| Jun 18 | LAS VEGAS, NV | RED DWARF | |
| Jun 21 | VICTORIA; BC | VICTORIA SKA & REGGAE FEST | |
| Jun 22 | WENATCHEE, WA | WALLY'S HOUSE OF BOOZE | |
| Jun 23 | BOISE, ID | NEUROLUX | |
| Jun 24 | SALT LAKE CITY, UT | BLACK LUNG SOCIETY | |
| Jun 26 | DENVER, CO | HQ | |
| Jun 26 | OMAHA, NE | REVERB LOUNGE | |
| Jun 27 | CHICAGO, IL | REGGIES ON THE BEACH | |
| Jun 21-25 | Victoria, BC | Victoria Ska & Reggae Festival | |
| Aug 19 | Pittsburgh, PA | Steel City Ska Festival | |
| Sep 02 | Scranton, PA | Camp Punkslyvania | |