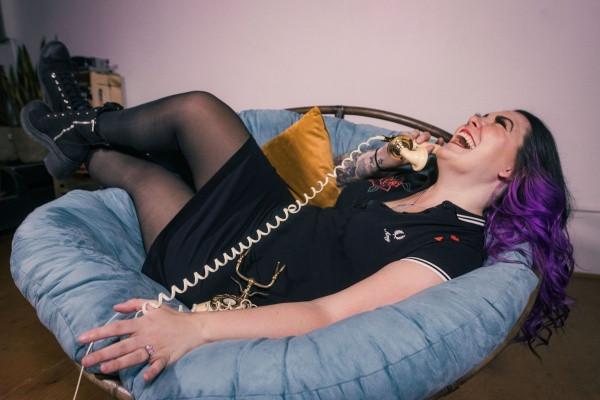 Today marks the release of Toronto-based Amy Gabba and The Almost Famous' new album, Screaming At The Top of My Lungs. The album is out now on Jump Up Records and features twelve outstanding tracks that showcase the band's versatility and knack for incredible songwriting. There is truly something for everyone on this record as the band kicks out tracks like the pure ska-pop of "He's All Yours", the raging punk of "How Dare You", the country-tinged "Ashes", and the bluesy rock of "Heavy" among others. Amy Gabba and The Almost Famous will be playing their album release show at the El Mocambo in Toronto on June 24 and you can get tickets to that show right here. The band will also be playing Buffalo Ska Fest and touring Ontario with Among Legends in July.
Punknews editor Em Moore caught up with Amy over Zoom to talk about the new record, the importance of collaboration, playing Punk Rock Bowling, true crime, and so much more. Read the interview below!
You recorded your album Screaming at the Top of My Lungs at Pot of Gold Recording in Orange County, California with Dave Irish. How would you describe the recording experience?
I feel really comfortable with Dave which is great, being in the studio with someone is a very intimate experience. You've gotta be super vulnerable. I think when I was younger, I would get really nervous. I don't know why but you always have this thing that happens where you're like, "Oh my god, what if I forget how to sing, and all of a sudden I wake up and I'm a terrible singer? What if I don't know how to do this? What if I can't do this?" You just start to doubt your abilities because you get so nervous even though you've done it a hundred times before and you know that you can. You just get those nerves. That's why I like working with Dave because he's like family and I'm super comfortable. He knows what I'm capable of and even when I'm like, "No, I don't think I can do that" he's like, "Yes, you can". He knows how to push me to get the best results out of me without being one of those studio tyrants. There are some people where the vibes just aren't good and I've worked with producers like that too. I think finding someone that you gel with is really important because then the whole process is going to be smooth. We did our first EP (2019's The Heart Is Stupid) with Dave and Ryland [Steen] and I've been friends with them for four or five years now. Anytime they roll through on tour we get together so it really doesn't feel like it's a very stiff, formal recording process. It's really just hanging out with your friends which is pretty neat.
You've mentioned that Dave Irish was one of the driving forces toward making Amy Gabba and The Almost Famous a reality. What is the story behind this?
I was never trying to be Amy Gabba and The Almost Famous. I was playing in my cover bands, I was doing stuff in music but I didn't have an original project that I was really pursuing. I started writing some punk and ska songs on the side and was like, "Maybe one day I'll do something with them". I remember being at Warped Tour in 2018 and Dave was like, "Hey! I hear you write ska songs". Our mutual friend Justin told him about it and he was like, "Can you send me a couple?" I was like, "Sure! Why not?" I didn't even know he had a studio and was a producer and engineer. I just knew him as the Interrupters' front-of-house sound guy. Then he emailed me back a couple of days later and said, "These are really good! Do you wanna come to my studio in Orange County and record some of them? It'll just be for fun and we'll see how they turn out". So I was like, "Ok, I'm actually going to be in California in December with my family" and he's like, "Why don't you come down a few days early? We'll hang out and see what happens". Of course I'm thinking that this guy has a basement or bedroom studio like what a lot of friends have, and not like I was judging at all. I was like, "It's going to be me and him, hanging out. Maybe writing some songs or whatever". I show up and there's a whole thing of studio musicians who have already learned the songs waiting and he's like, "Ok, here's what we're going to do". I was like, "Oh my god!" I was not at all prepared for what I was walking into. It's this million-dollar studio. It is one of the most beautiful things with state-of-the-art equipment. It's just incredible. There's Reel Big Fish records and Interrupters stuff on the wall and you're like, "Oh wow, ok. This is for real!" The songs turned out so well because he does such a good job. I remember getting them and being like, "These are too good to just hold onto secretly so maybe we'll put them on Spotify" and the rest is history. [laughs]
I didn't have a band yet in Canada. It was just me. I just wrote the songs and jammed them with some friends but that was it. As soon as we had the EP, it kinda went backward. Most bands have a band and they write together and they record together. For this, I had me and then we recorded those songs and I was like, "Well, I guess I need a band now". It happened in a really strange order. It was a total happy accident. That's why this time was totally different because we were like, "Ok, now we're doing it on purpose!" We could actually record with a little more intention and try to plan accordingly and have a bit more of a vision. It's also a lot more nerve-wracking because the first time we had no expectations and we had nothing to live up to. We didn't even know what we were going to do with them so there was no pressure or nerves or overthinking. This time around we were like, "Ok, this one has to be better than the first one but it still has to speak to the people who liked the first record but you have to evolve and grow up". You have to think about a lot more things when you're that invested at that point.
With our EP we had five songs and we picked five that worked really well together whereas with the full-length you need to have a bit more balance. We wanted to stay true to the ska roots but we also wanted to show that we're not just ska. We've got some punk songs, we've got some that are a bit more bluesy rock, and we've got one song that a lot of people call "the Miley Cyrus song". [laughs] There's a lot of different stuff that I write and we wanted to show that on this record. There's a little bit more to it than ska.
What influenced bringing in all the different genres?
I've always been like that. I live in Eastern Canada now but I'm from Alberta. I grew up singing all country music. I was singing in country bars when I was 10 or 11. Then I got really into blues and then rock. That's where the AC/DC and Zeppelin and those kinds of vibes came in. I didn't actually get into punk and ska until my mid-late 20s. People have always said, "I can hear a little bit of country in your songs. I can hear a little bit of this and a little of that". Those influences have always been a part of my writing style. For these songs, I just wrote songs that I felt like writing and then we picked from all the ones that we liked. We were like, "Well, maybe it's not going to be one genre but that's ok". We wanted there to be something for everybody and I think that's what this record does have. Some people don't like ska! I think they're crazy like do you hate puppies and kittens and rainbows too? But for people who aren't big ska fans, there will be more punk songs for them. For people who maybe don't like ska or punk and just like pop songs, there's stuff for them too. It's pretty neat to hear what the favourite songs are of the people who listen to different kinds of music. It's neat that everyone's favourites are all across the board. It shows that it's a bit more well-rounded and there's something for everybody.
It's really cool how everything flows together and there's so much variety. For example, "Ashes" is a complete country song.
I like how you said "Ashes" is a country song because you're the third person to say that to me and I'm ok with it but that wasn't really my intention. I actually had that song for a completely different band and it just didn't really work out with that band so I brought this song over. I wrote it about a really tough time in my life so it was like, "We should include 'Ashes' on this album". I think as we reworked it, it did start to sound more like country. It was funny because it was more of an alternative rock song at one point. It's really neat to hear everyone's different perspectives on it.
That's cool how it evolved.
It finds it's place. It finds it's home. Things settle where they're supposed to.
You helped fund this album through a Kickstarter campaign. How would you describe that process?
Stressful. [laughs] I don't think we realized how much work it was going to be and how much anxiety was going to be involved. It's difficult because we're still paying for so much out of pocket. We were able to get almost $7,000 US but then Kickstarter takes a big chunk of that and then there's taxes. The record on its own was $9,000 US. If you think about it, you're flying back and forth and there are session players you have to pay and that kind of stuff. You want to aim big for Kickstarter but if you aim too high and you don't reach that goal, you get nothing. I don't think a lot of people know that. If you have a $6,000 goal and you hit $5,995 you get nothing. It's crazy. It was very, very stressful and we had all these contingency plans being like, "What are we going to do if we don't hit this? What else are we going to do?" We were really lucky that it all came together in the end and we pulled it off. It was a very stressful sixty days and I've never posted on social media so much. It was a good challenge for sure. I'm not looking forward to it if I ever have to do that again because it was really hard on my mental health, but not in a bad way. It was a lot of work and it was a full-time job. But there's a lot of good that comes out of it because you learn resilience and you learn how to be relentless in working towards your goals. Being like, "Ok, failure is not an option here. We HAVE to hit this goal". I got to learn new skills with things like Canva. I started learning how to make reels and get them up on social media, which was something I didn't know how to do before. Nothing amazing happens inside your comfort zone so it's good that we did it but oof. It's not for the faint of heart, I'll say that much. It's not like you can just throw a Kickstarter up and sit back and relax and watch the money come in. You have to hustle every day that it's up.
You had a tattoo flash sheet featuring art for all the songs on the album as one of the tiers.
My guitar player Grason is flying in for the album release so we're each going to get one of those tattoos the day before the show. We're really excited! I'm going to do the "How Dare You" one and he's going to do the "Punching Underwater" frog.
We're getting them printed up so everyone who donated to the Kickstarter can get a copy of that poster and I think we'll have them at the album release show too which will be really exciting. Joel French did such a good job on them and he's such an amazing artist. It was so cool having artwork for every single track on the record and I love that style of artwork. The classic tattoo flash is something I love. I mean, I'm covered in tattoos. It's definitely something that spoke to a lot of the punks and people who love tattoos and people who love artwork in general.
You just mentioned "How Dare You" and the album takes its name from a line in that song. Why did you name the album after this line in particular?
All of the songs that I've ever written are about something personal in my life so I can't really be like, "This record is really personal" because everything I write is personal. A lot of these songs were written during the pandemic. "How Dare You" is actually about a really terrible thing that happened to me over the past couple of years and getting through that. Trying to rise above and trying to take back the power. I really feel like a lot of these songs are me screaming at the top of my lungs, being like, "This is how I feel. This is what I've been through. I'm going to conquer and I'm going to get through it and hopefully you will too. Hopefully this music helps propel you out of something that you might be dealing with". So Screaming At The Top Of My Lungs felt like a perfect fit. I love doing that. The Heart is Stupid is from a line in "Fuck You Cupid". I love those little Easter egg album titles where you can kind of take it from one of your songs. As soon as I thought about it, it was like, "Yes, that's it!" I don't think I even considered another name for the record. It was an obvious choice for us.
Are there any other Easter eggs hidden throughout the album?
I think subconsciously, I always reference little things. I wrote "Mary Go Round" after Lemmy had passed away so some of the lyrics in that song actually reference some Motorhead lyrics. There definitely are some others hidden in there. [laughs] You'll definitely hear influences or hear a phrase and be like, "I remember that from before!" I like to repeat certain things that I say. I remember posting on Instagram after going to a music festival when I was so exhausted and I got really sick and being like, "Oh my god, I could totally use a coma right now". [laughs] Just the joke of "I need some time off work to recover". That line appears in "Asking For It". It's pretty funny that little inside jokes with friends are in here now. It really is reflective of the way that I speak and the way I am as a human being too.
How would you describe your songwriting process?
One thing that's really cool about this record specifically is that there's so many different collaborations. It was just me and one other person on the first EP whereas with this one my friend Grason and I did four or five songs together. He lives in Salt Lake City and I live in Toronto so we were never in the same room while writing these songs. We were just demoing and he would send me a chord progression and I'd fire in some lyrics and send it back to him. We were just firing tracks back and forth from our living rooms. That's how we wrote "Punching Underwater", "How Dare You", "One of My Mistakes", and "Makes Me Want You More". Then I've got one song with my friend Matt where he's like, "I have this little chord progression in my head. Da-da-da-da-dadada". That got stuck in my head and in five minutes I had "Asking For It" put together just to that. My process can be different depending on who it's with but most of the time there's a chord progression that I'm working with that a collaborator or myself will write. Then I listen to that on repeat until there's a melody that won't go away. If I have something that I really need to get out then it's already in my head so the lyrics tend to come together quite quickly once there's a melody there. I think other people write that way too.
It's interesting because I co-wrote with a lot of people on this record but not one of these songs was written with two people in a room together. They were all done in parts like the music was separate then the melody and lyrics were done separately by me. It was put together in a totally different way than if two people with two guitars were sitting in a room and writing together. The pandemic opened a lot of doors for collaborating, I learned that especially from doing stuff with Mikey and His Uke. That's what we were all doing. We would send in our parts and they put it all together. It kinda occurred to me that I could write with whoever I wanted regardless of where they live or whether we're in lockdown. It didn't matter. The creativity didn't really stop. Now it's like, "I could write a song with someone in Europe or in Australia!" It really doesn't matter where people are located, you can work with anyone and everyone. That's one of the cool things that came out of COVID.
Would you continue to work like that in the future?
Yeah, I think so. I'm still open to writing with people in the same room but I think you need to at least get the ball rolling. You need to at least have that chord progression and some sort of musical backbone like here's a melody and maybe here's some lyrics. Then you grow on that. It almost always starts with a verse and a chorus. Then from there, you decide how the song's going to come together like, "Do we want the song to be multiple choruses or pre-choruses? Do we want a solo or a breakdown?" Then you can fill in the blanks from there. Getting it started is the hardest part. I think for me, my writing style is that I need to bake through that on my own. I need a few days of just listening to that on repeat before it comes to me. It's hard to write a song on demand in a room. I've never been able to be like, "Hey, come over Saturday at 2 and we'll write a song!" It needs to be at least started at that point. I can't start from scratch on demand, there needs to be something already there to build on.
That makes sense. It's hard to go [snaps fingers] be creative!
Yeah! [laughs] "He's All Yours" is funny. My friend Kyle from the Filthy Radicals and I were out at the Bovine one night and we hung out at his house after. He had this poppy guitar riff and was like, "Can I play you something? I have this thing and I'm not sure what to do with it". The riff turned out to be the guitar riff for "He's All Yours" and the "he's all yours" part came to me on the chorus but then we just forgot about it for a year or two. Then when I was working on the record I was like, "What other demos do I have kicking around?" and I found that one. After two years I was like, "Ok, here's what we'll do with the verses". Sometimes it takes years of something sitting there and not knowing what to do with it until you have that lightbulb moment and it comes together. It's funny.
I try not to force things with songs. If I'm forcing it, then I know I need to close the book and walk away and wait until there's something that has to get out. I think that's when the best songs have happened, the ones that come together in 10-15 minutes lyric-wise because you know exactly what you want to say. If I'm purposefully trying to write a song but have no idea what about then those are the songs I don't love as much because it feels too forced.
Ryland Steen, Aaron Barrett, Scott Klopfenstein and Matt Appleton of Reel Big Fish, Jason Freese, Billy Kottage of the Interrupters, and Tara Hahn and Max Beckman of Half Past Two are among the people who play on the record. How did you decide who to work with? What has working with them been like?
Most of that was David. He has so much creative control with this record when it comes to behind-the-scenes stuff because he's in California and a lot of those people are either in California or connect with him on a regular basis. Because David works with the Interrupters so much, Billy was an obvious choice. Billy used to be in Reel Big Fish and David did a bunch of their studio albums. He has permission to do that. I trust David more than anyone so if he's like, "Hey, I asked this person to be on the record", it's cool. I didn't even know Jason was going to be playing on "Asking For It" until it was done. He only did the one song and David sent it back and I was like, "Who's playing synth on this song? This sounds totally different than what Billy did" and he's like, "Oh, it's not Billy". So I was like, "Who is it?" and he was like, "Oh, just Jason Freese". I was like, "JUST Jason Freese!? No big deal". I'm sitting there trying to catch my breath like my frickin hero! Josh and Jason Freese are two musicians that I look up to more than anything in the world and I didn't even know that they were asked to be a part of this until the song was done. Dave's just so cool and calm about it all. Then he's like, "I asked Scott Klopfenstein to come in and do that part on 'Hey Little Rich Girl'. It sounded cool, what do you think?" and I'm like, "Cool! Thanks for handling it, that's great!" We knew we needed people to do these things and that's why I love working with David because I don't have that stress. He handles all of it. If they're not in California and they have a home studio then they send him in tracks. He brings the jigsaw puzzle together once he gathers the pieces from everybody. I can't take credit for that. Dave just goes to who he trusts and who he's worked with in the past and it all comes together. I'm really lucky that he does that because if I was out there trying to headhunt these people like, "Hey, come play on my record! You don't know who I am" it would be a lot more difficult. Dave is really a huge part of what makes this record so special.
I did not know those people or ask them to be a part of it and Half Past Two is the only exception. I'm friends with Half Past Two. We ended up being internet friends over the pandemic because we were like, "Hey, we have the same producer! We record at the same studio!" So for the second record, Dave was like, "Hey, do you mind if Max does the rhythm guitar?" and I was like, "Sure!" He had some really good ideas. Before you knew it it was the four of us - me, Ryland, Dave, and Max all workshopping our demos in the studio being like, "Ok, maybe we'll chop this chorus up. Maybe we'll insert a solo here", all those last minute touches. I did know that Max would be a part of it. Some of them were surprises and some of them weren't.
Aaron did the first record so I wasn't sure if he was going to do this one too because he'd moved away to Florida. Then the stars aligned and he moved back to California while we were doing the record and was like, "Yeah, I'll do it!" It worked out so well because Aaron brings such a flavour to the record. But even with the first one, I didn't know that Aaron was playing guitar on that record until after it was done. Dave's just so cool about it where he's like, "Oh yeah. It was just Aaron, no big deal" and I'm like, "Ok" trying to not lose my mind over it. It's pretty cool. I remember showing up and Aaron is just in the studio and I'm like, "Oh my god, I think I need to go outside and hyperventilate for a minute". He's so nice and so down to earth. On stage, you see Aaron Barrett like, "Everyone's an asshole!!" and you expect this manic person in real life. He's really just so chill and so kind. He was like, "I really like your songs. They're really good". He's a man of few words. He doesn't talk constantly, he'll just be quiet. It's pretty cool that now we've formed a friendship and have spent some time together in the studio but at first it was a whirlwind where I was pinching myself like, "Am I dreaming? How are my heroes a part of this?" I'm really, really lucky.
Your cover of The Specials' "Hey Little Rich Girl" is a big part of the album and you have a video for it that was directed by Chris Graue. I believe he played in the band at some point too?
He did! He lives in California. When we did that video we had just officially booked Punk Rock Bowling and I was so excited! So I was like to Ryland and Chris, "You guys should come and play the show at Punk Rock Bowling! You're already American, it's not that hard for you to come on over". I think Ryland's schedule was a little crazy because he's in America as well as they tour regularly. But Chris was like, "Yeah! I'll come out and play keys for you. Why not? What date?" He came out and had never played with us before. He just did that one show and we had the best time. He's so talented and hilarious and amazing. He played the Punk Rock Bowling show with us a couple of weeks ago. That's the only show that he's played with us. He's such a multi-talented guy. He does music videos for everyone in California. If you're in a punk or ska band in California, he's probably done a video for you. He also plays horns, keys, and guitar and he has his own separate ska band called Lo(u)ser. It's really cool how much he has on the go. It was really an honour to work with Chris and we had a fun-filled weekend in Vegas together for sure.
What impact have the Specials had on you?
When I first got into ska, the Specials, Mad Caddies, and Reel Big Fish were the three bands that I was in love with. I went to the record store and I got every record that I could find on vinyl by those three bands. I probably listened to "Little Bitch" on repeat in the morning every day for two years. It almost sounds like a Rolling Stones ska song and it gets me fired up. You know how you have that one song that gets you stoked for a night out or stoked for the workday. It just starts your day off on the right foot. "Little Bitch" and a lot of those early Specials tracks always stuck with me. I always loved "Hey Little Rich Girl" but then I heard Amy Winehouse's version of it and I was like, "Oh, this is really different too!" A lot of people don't even know she had a cover of that. Our version is like Amy Winehouse and the Specials together. That's how it got inspired.
The Specials are a foundation for me and ska. I can't even think about ska without thinking about that band. Terry Hall passed away recently and we were like, "This song definitely has to be on this record". It was something that we started working on during the pandemic. We recorded it before any other song. It was recorded first because it was going to be a pandemic release. Then we were like, "No, it's too good. Let's throw it on the record". Dave doesn't really like to do the long-distance recording thing which I understand because there's a vibe in the studio when you're all together. During the pandemic, I couldn't fly there and the borders were closed for so long I was like, "Can we just do something? Let's do a cover!" That cover was never supposed to be part of the record it was like, "I just want to do something. We're sitting at home, let's just put something out". But then things reopened a lot earlier in California and things started to get busy so "Hey Little Rich Girl" got put on the back burner until we were all in the studio again putting the track together. A lot of these things are all over the place but then you just see it all come together like one big puzzle. The dust settled and everything landed where it did. It couldn't have worked out any way other than how it did. It's perfectly balanced in that way.
Like everything was meant to be.
Exactly! The things that weren't meant to be kind of just excused themselves from the room and didn't come back so it all worked out. [laughs] We originally had different songs for this record. We were supposed to record in April 2020 and obviously, that was cancelled and we couldn't go to California because the hospitals were overrun and the borders were closed. Most of the songs that were supposed to be on this record aren't on it because we wrote new songs. I think it's good that it happened because these songs are way better and we know it. Everything happens for a reason, I know it sounds so cliche, but I'm glad. As much as those years were really, really hard, we have a much better record now because of it.
Your video for "One of My Mistakes" was inspired by true crime shows. How did the idea for the video come about?
I'm a true crime junkie. Anyone who knows me on a personal level will know that. It's so weird, I don't like horror movies because they scare me but I will fall asleep to true crime every night. Tell me how that makes sense. [laughs] When Grason and I went to California for the first time to record, we had a hotel room in Orange. We got into that room and turned Forensic Files on and the TV didn't turn off for the whole week we were there. It was just day and night of Forensic Files constantly playing on a loop.
We were thinking up music video ideas and were like, "What could be some different things to do?" and I was like, "It'd be so cool to do a true crime music video! But I don't know what song would work well with that". But then I thought of "One Of My Mistakes" where I'm talking about getting out of it alive and I was like, "That could kinda work!" I knew I wanted to make it seem like maybe I had murdered my other boyfriend like a Black Widow thing and I wanted to have the, "Don't worry, I don't want you to have that same ending" jokey tongue in cheek bit. Then Martin, who did the video, was like, "What if we do it like you're live streaming? And the cops are on their way to you?" and I was like, "That's genius!" As much as everyone thinks that we're rich, we're not and it's very expensive to make music videos. It was like, "How can we do this DIY?" I filmed my stuff by myself in my condo building. I rented the little media room in there to do it and we used stock footage we found online to get all of the police stuff. It was a really cool way to do a neat music video without having to spend $5,000 like people usually do. [laughs] Especially if you want to do multiple music videos. If you're just doing one, cool, pour your budget into that video.
We have "Hey Little Rich Girl", "One Of My Mistakes", and we still have videos in the works. We just did the one for "How Dare You" in Vegas. It's not out yet but it will be soon. Chris is coming to Canada in July to shoot pictures of Mustard Plug so he's like, "What if I come a few days early and we do a couple more videos?" You've gotta be conscious of time and money and how far you want to stretch it especially when you're a DIY band. We don't have a big label paying for all this stuff, we pay for it ourselves. We've applied for grants and stuff to help with that but we always try to find ways to do things ourselves rather than paying other people to do it all for us. The "One Of My Mistakes" video was a good experiment to be like, "Hey, we actually can do this ourselves". It was really encouraging because you're like, "Ok, that worked out. Maybe we should try to do more stuff like that". I love that song and I love how that video turned out. I was so nervous because going into it you're like, "This could be totally cheesy and terrible" but it wasn't. It was good.
June 24 is your album release show at the El Mocambo in Toronto and this is your only Toronto show for this year. What are you looking forward to the most about it?
I've never played the El Mocambo and since it's had that crazy renovation it's a dream stage to be hitting. I'm super excited. The sound is amazing, the audio/visual effects that they can do there are just unreal. Vanessa Vai is the front-of-house soundperson who takes care of all that so she was taking me through everything that they can do and I was just blown away. We're playing with the Filthy Radicals who are like our family. Everyone in that band I consider a brother or sister. They are super important to me. I really wanted to play our first show with them but that didn't work out with scheduling so I was like, "Ok, the second album release you guys are in on this for sure!" I'm also really excited for Harley Olivia and Jacob Bihun because they're two other acts that are in different genres. They're not ska but I love that because we're not all ska either. The bill is stacked in a really interesting way where Jacob's got more bluesy rock vibes and Harley is more of a pop-rock goddess. She's so inspiring and so confident. I really respect every musician that's on this bill. I'm stoked about that. We've got Grason flying in from Salt Lake City for the show. My dad's coming in from Alberta. Emily Bones from the Anti-Queens co-wrote "The Way We Changed" on the record so she is going to come sing that song with us during the show. I've got Kyle and Niki of Filthy Radicals coming up for "He's All Yours". We've got some really cool guest stuff happening. We're really trying to make this a big production and I think it's going to be. That's why we're not playing in Toronto for the rest of the year because this is the show to come to. This is the show we're pumping all our effort and resources into.
How would you describe the ska scene in Toronto?
I love the ska scene in Toronto but I think there needs to be more. I would love to see some more Toronto ska bands. There are some people who are doing some great things. Will from The Checkerboards started a group chat called "Ska Bands of Ontario Community Group". Then we started adding some people from Montreal and some people from Buffalo. It's neat that Buffalo is so close. I'm seeing a lot of Buffalo - Toronto collabs which is cool. Classy Wrecks and us are playing with the Working Class Stiffs in Buffalo on June 17. It's pretty cool. It's a thin ska scene in Ontario. If you're thinking about starting a ska band, please do because we need more ska. The good thing about ska is there are bands like Among Legends, I don't know if they consider themselves to be ska, but they do have some definite ska songs. Just like us like, "Yes we're ska but we're not all the way ska". I don't think you have to be all the way ska to be included in that group. There's bands like Big Brother who I just saw are going to Japan which is super exciting. There are bands who will go into hibernation where you won't hear from them for a while but then they pop up with a new record or a tour or something and you're like, "Good! They're still around!" I think it's great.
I think it's become more of a family and it's becoming more so every day but I would love to see more ska bands. Ska's not dead! Please start a ska band! Especially with everything that's happening right now, there is a love and a demand for that. I saw a post on Instagram the other day from Brazil that was like, "Ska's not dead! We just played to 30,000 ska fans!" The want and desire for that music is there. Even for us, I can say our music is streamed ten times more in the States than it is in Canada. I don't know if that's because there isn't as much of a desire for ska in Canada as there is in the United States but you can really see which countries and even which states are really digging ska a lot more than the other ones. I think Canada could definitely beef up their roster a little bit.
If there were a lot more ska bands out there then the ska bands that are out there now would have a lot more exposure and see a lot more action. You learn about other bands by seeing other bands. If we want to grow the ska scene, I think there's strength in numbers. There's going to be more shows and people are going to hear about bands that maybe they haven't heard about. I think there's a lot of things that we can do to grow the scene and make it part of everyday life as opposed to a ska show popping up once every three months or something.
You are playing Buffalo Ska Fest in July. What are you looking forward to about this?
We are! We're the only Canadian band on that bill. We get to do a little dress rehearsal at the same venue on June 17 and then we're back on July 22 for Buffalo Ska Fest. We're playing with so many ska bands that I love and adore and even bands that I'm just discovering. I was in Buffalo in January or February to see a band called Do It With Malice who were playing with Working Class Stiffs. I'd never heard of them and they are amazing! They have this powerhouse singer and they've got horns. I remember sitting there being like, "Oh my god, I want to play a show with these people!" Then we got booked for Buffalo Ska Fest and they were on the bill and I was so excited. There's bands like Skamagotchi and Girth Control which are two of the best band names I've ever heard but I hadn't heard of them before either. So now I'm listening to their stuff. It's a cool way to expand that scene and discover new ska music. I'm really, really excited to be a part of that.
What are you listening to now?
I listen to a ton of ska every day all day, it's how I try to take on the world. I feel like you can't have a bad day if you start your day with ska. I'm always listening to the Specials, Reel Big Fish, and the Interrupters - you can't discount the impact they've had on ska in general and how incredible their songs are. I go through my phases too. I'm on a really big Paramore kick right now. I have so much respect for Hayley Williams and I always love to listen to bands that challenge me. I can't sing like her but my goal is that someday I want to be able to do what she does with the energy she does it with. I've been really listening to them a ton. I've been trying to run on the spot while I sing Paramore and build up that lung strength. [laughs] I've been listening to a lot of Filthy Radicals, Doghouse Rose, Bad Waitress, Among Legends, Working Class Stiffs, and Do It With Malice. My favourite bands are the Flatliners, the Replacements, and the Menzingers. After The Party has been on repeat. It's an older record of theirs but I absolutely adore the Menzingers.
I've been listening to a lot of Dirty Nil too which is a band that I got into later. I saw that they're coming to Toronto in October and I'm like, "I have to go to that show!" I've never seen them live and everyone says their live show is unreal. Someone told me they saw them play in Cambridge and I wanted to go to that show but I couldn't because I was in Europe. He said it was a room of maybe 100 people and it was totally sold out. I would have killed to see the Dirty Nil play to an intimate audience somewhere the size of the Bovine. All three of them are so talented and their songs are so good. I feel like that would've been a really amazing experience so I'm excited to finally see them live in October.
They're amazing live!
I love that when you see a band live and you're just like, "YES". Weezer and Incubus were like that for me. I heard their songs and was like, "Yeah, they're fine" but seeing them live I was like, "Holy crap! This is the best band I've ever seen!" It's neat when you get hooked on that live performance and you chase that because you're like, "I want to feel that feeling again!" Comeback Kid was like that for me. I'm not a hardcore fan because as a singer I really gravitate towards music I can sing along with. It's just kind of natural that you listen to things that you see yourself playing so hardcore was never really a thing for me. It never really hooked me until someone took me to Comeback Kid. I had my arms crossed like they were dragging me in. I remember watching Andrew Neufeld reaching out from the stage and grabbing my soul. I even told him after like, "Dude, I want to be you. If I can do that to an audience the way that you gripped me. I felt like I was under a spell, it was the coolest experience". I love when a band does that to you, just changes your life. I went home so inspired and now when I'm on stage I'm like, "Channel your inner Andrew! That's what you gotta do. You have to connect with people like the way he does". I always call it homework when you go to shows because you're always grabbing inspiration from everywhere, whether it's from the music or the live performance or from the guitar solos or just from the energy. I love it when that happens at a show.
What's next for Amy Gabba and the Almost Famous?
[laughs] People have been asking what's next for four years and in that time it's been "A new record!" and now I can't say that anymore because it's finally here! We have a busy summer ahead. We've got a bunch more shows in Ontario for July. We're going to have some new music videos done. We've already got one shot for "How Dare You" and we're going to be doing two more with Chris Graue when he's up here in July. There's some touring to be done. We've talked about the shows in Buffalo and there's some other US dates that we're in the process of working out. But after that, I think I need a little bit of a break. [laughs] You can't pour from an empty cup and I think it's important to talk about this stuff. I am very grateful for everything but people don't realize how much work goes into this. I work a full-time job too. I do have other responsibilities. We recorded all last year and finished the album in December then we started the Kickstarter in January. Since this album has been done, it has just been like, "Go, go, go, go". The minute I wrap at my day job, my night job starts because that's when all the music work gets done. I am looking forward to unplugging a little bit in August and September. I'm thinking we'll ramp up again in the fall or spring and tour super hard. We've got a record that we're insanely proud of and I think it would be letting this record down if we didn't tour the crap out of it. So that's what we're hoping to do in late 2023 and 2024. Definitely taking a little break before because you've gotta make sure that you're not already exhausted when you're starting to do something like that. I don't want anyone to feel ripped off or like they're not getting 100% of me.
| Date | Venue | City | Details |
| --- | --- | --- | --- |
| Jun 17 | Mohawk | Buffalo, NY | w/Working Class Stiffs, The Classy Wrecks |
| Jun 24 | El Mocambo | Toronto, ON | w/The Filthy Radicals, Harley Olivia, Jacob Bihun |
| Jul 13 | Silence | Guelph, ON | w/Among Legends |
| Jul 14 | Ask A Punk | Barrie, ON | w/Among Legends |
| Jul 15 | Vertagogo | Hamilton, ON | w/Among Legends |
| Jul 16 | The Whiskey Rocks | St. Thomas, ON | w/Among Legends |
| Jul 22 | Mohawk Place | Buffalo, NY | Buffalo Ska Fest |