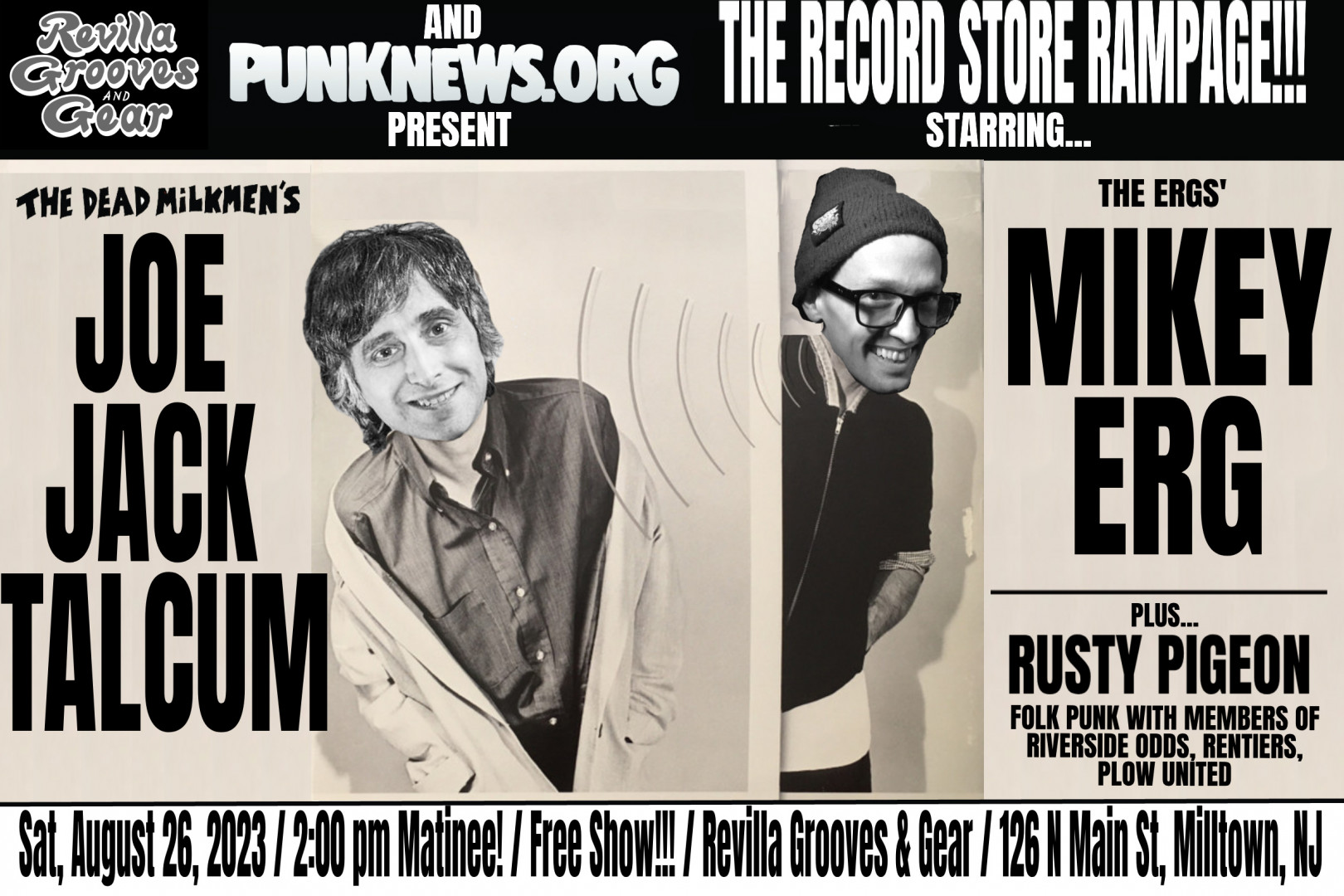 IT'S CLASH OF THE TITANS! That's right! On August 26, Punknews and Revilla Grooves and Gear are bring to you the RECORD STORE RAMPAGE!!! AND IT'S A FREE SHOW!!!! Joe Jack Talcum of the Dead Milkmen and Mikey Erg of The Ergs! co-headline!
Joe is about to release the Record Store EP via Powertone and the DMs just released their killer new album Quaker City Quiet Pills. (Also, DMs play Philly this Friday, FYI). Who knows what Joe will paly? Solo cuts? DM hits? Rarirites? Daniel Johnston covers? All of the above? This set will be awesome!
PLUS, the show is co-headlined by pop-punk-prince Mikey Erg! Mikey released a killer solo LP last year and has been cranking out the 7-inchers right and left! Like Joe, you never know what you will get! Will he play Ergs classics? Or maybe a deep b-side cut? Or maybe a '90s alt-rock cover? Who knows but it will be fantastic!
PLUS, the show is opened by Rusty Pigeon, the new-ish folk-punk band with members of Riverside Odds and Plow United! YES!
OH WAIT, also, THE SHOW IS FREE! AND IT IS A MATINEE! AND IT IS IN THE BEST PLACE TO SEE MUSIC- A RECORD STORE!
On August 26, come on down to Revilla Grooves and Gear in Milltown, Nj. That's located at 126 N Main St, Milltown, NJ 08850.
THIS IS A MATINEE SHOW! Doors are at 2pm and the show is at 2:30pm sharp! THIS IS NOT A NIGHT SHOW! THIS IS A MATINEE!!